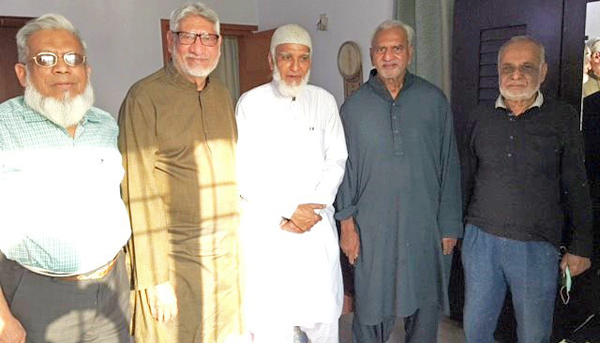 Left to Right: Engr. Iqbal Ahmed Khan, Muhammad Salim Hamid, Kamal Ahmed Farooqi, Ghulam Qutubuddin Khan, Mohammad Abdul Matin
The monthly progress meeting of Saudi Aramco Ex-Employees Association (SAEEA) was held on February 13, 2021 at Faran Club, Karachi. The meeting was held after four months only because of current epidemic.
The attendees were as follows:
Kamal Ahmed Farooqi (KAF)
Engr. Iqbal Ahmed Khan (IAK)
Muhammad Salim Hamid (MSH)
Mohammad Abdul Matin (MAM)
Arif Qamar (AQ)
Ghulam Qutubuddin Khan (GQK)
The highlights of the meeting were as follows:
This was the first meeting of current year (2021). KAF thanked all attendees who spared their time during the current viral situation.
A big number of Saudi Aramco ex-employees passed away during very short period time. They are: (1) Mohammad Akhtar. He was on a visit from USA to Pakistan. (2) Shaikh Mohammad Ahmad; Canadian National (3) Syed Shujaat Ali; American National (4) Samad Khan (5) Raees-ur-Rahman (6) Wajihuddin (7) Fazal Hameed
All attendees agreed having SAEEA 23rd reunion on March 28, 2021 at Arena Club. KAF requested AQ to make necessary arrangements and advice outcome enable us to inform all the members accordingly.
As a result of current epidemic, SAEEA could not arrange any gathering for the last one year; subsequently no annual subscriptions (July 01, 2020 to June 30, 2021) were made. Therefore, the 23rd reunion expenses will be charged on number of person(s) basis. SAEEA will collect the annual subscription (July 01, 2021 – June 30, 2022) during the next reunion.
Members of HALQA-E-SHERO-ADAB have been contacting KAF for having the third gathering soon. KAF will discuss the possibility for arranging the program; with Shabbar Abidi, who is In charge of this Group.
SAEEA launched its new Website "SAEEA.PK". KAF requested all SAEEA Members and others to maximum use the website and contact IAK for placement of news of their families.
SAEEA WHATS APP GROUP: Members of SAEEA have been using SAEEA what's App group for news and chat. It was agreed to keep two separate groups; first one "SAEEA MEMBERS" to use for SAEEA news only. The other group 'SAEEA CHAT" to be used for other placements. KAF requested IAQ to start the new group "SAEEA CHAT" asap and inform all the Members accordingly.
SAEEA visited Anwar-ul-Hai who has undergone a very serious surgery. The surgery was performed by Surgeon Yousuf; who is the son of SAEEA Member Manzoor Shaikh. A separate report has already been published on Surgeon Yousuf. Also, a visit report on Anwar-ul-Hai will be published soon.
Muhammad Salim Hamid presented SAEEA account.
IAK updated about SAEEA web.
KAF prayed for all sick people; mainly (1) Mrs. Kamal Farooqi (2) Mrs. Bilal (Bahu of KAF) (3) Khalid Khan, from Treasury Department (4) Alimullah (5) Abdul Ghaffar (6) Anwar-ul-Hai (6) Najib Hyder Rizvi (7) Sami Khan (the complete family is victim of Covid-19) (8) M. Salim Hamid (9) Iqbal A. Khan and others.
If you have any questions then please call Engr. Iqbal Ahmed Khan on +92-321-701-4929 or write to him on [email protected].