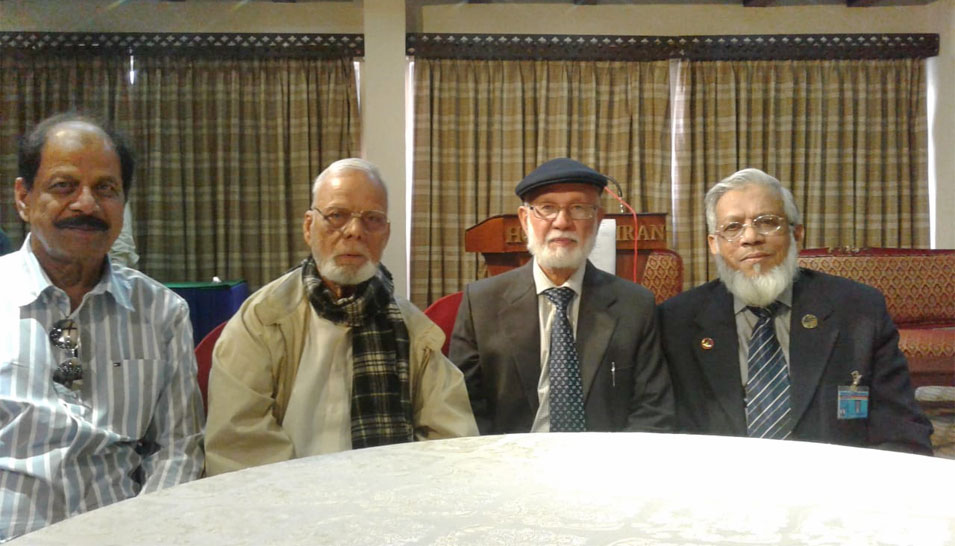 Iftikhar Baig, Saeed Rajput, Engr. Syed Waqar Fakhri and Engr. Iqbal Ahmed Khan
Saudi Aramco Ex-Employees Association (SAEEA) celebrated its 22nd Reunion on January 05, 2020 at Hotel Mehran, Karachi, Pakistan. The highlights of the function are as follows:
A total of 132 persons attended the function (79 male, 41 female and 12 children).
Four new members; Amjad Hussain, Ahmed Jamal Qureshi, Irshad Ahmed and Wajhiuddin joined SAEEA as a new member. Amjad lives in Lahore; became our member but could not attend the event as he is from Lahore, a place around 1000 KM from Karachi. In addition, Moin Hashmi is an old Member but attended reunion very first time. The reason is that he lives in Islamabad; the place around 1500 KM from Karachi.
All attendees met with their old buddies and enjoyed the event.
The event started with the recitation from the Holy Qur'an by SAEEA Vice President Engineer Iqbal A. Khan; followed by NAAT by Engineer Syed Waqar Fakhri.
In his speech, Kamal Ahmed Farooqui, President, updated attendees about the activities of SAEEA in between 21st and 22nd reunions. .A total of five members, wives of three members and daughter of one member passed away during this period. Several friends have been sick and could not attend the reunion.
Kamal Farooqui briefed about a newly established group by the name 'HALQA E SHERO ADEB' for those friends who are interested in Urdu literature and poetry. The responsible person is Shabbar Hassan Abidi who was not available for the last function because of his Wife's sickness but is now available. His wife passed away on November 24, 2019. Once Shabbar is settled, he will then arrange the 2nd session of HALQA E SHERO ADEB.
SAEEA had established a Whats App Group for all members. However, because of extraordinary input, the members are not getting SAEEA messages clearly. Kamal Farooqui requested the members not to place unnecessary material. Only news about SAEEA may be placed.
SAEEA planned injecting a mini-speech from a qualified person to educate the members. In this connection, a qualified Lady Dentist Dr. Sidra Hussain, was invited to brief about dental diseases and treatment. She briefly delivered the speech describing in and out of dental problems.
During the event, Zafar Ahmed and Sabir Ali Khan played musical instruments and the audiences enjoyed it very much.
One new member, Iftikhar Baig sang very melodious songs.
On behalf of SAEEA, Kamal Farooqui presented a marriage gift to Shabeel A. Khan, son of Shafiq A. Khan (Joint Secretary SAEEA). Shabeel got married on December 29, 2019 where several SAEEA members and office bearers attended the ceremony.
The food and atmosphere of the Hotel were tremendous and very well-liked by all attendees.
Kamal Farooqui, President of SAEEA thanked all participants and requested them to be more active and close with SAEEA.
Ghulam Qutubuddin Khan is currently out of Pakistan his absence was very much felt by all the attendees.
Kamal thanked all Friends and families for their hands in making the 22nd reunion a SUCCESS.
Kamal prayed for sick people and made Doa Maghferah for diseased friends.
The program concluded at 3:30 PM after getting several group and individual photographs.