North Laines Shopping Alleys, Brighton, United Kingdom
Separate from its tempestuous politics, the U.K. has been getting a lot of positive attention of late for other, more upbeat reasons. Unless you've been hiding in a cave for the past month, you're likely already aware that the 2018 FIFA World Cup is underway in Russia. The home country's Sbornaya [Сборная] ("National Team") posted a 5-0 shutout win over Al Sogour Al Akhdar [الصقور الخضراء] ("The Green Hawks") of Saudi Arabia on the 14th of June at Fisht Stadium in Sochi in the opening match of the tournament. Competition has since progressed all the way to the finals.
In semi-final matches this week, on Tuesday Les Bleus ("The Blues") from France defeated De Rode Duivels ("The Red Devils") from Belgium, while today (Wednesday) the Three Lions from England fell to the Vatreni ("Blazers") from Croatia in an intense, action-filled battle for the ages decided in overtime. As a result, a few days from now one tradition-laden titan of the sport—France—will face the second-smallest nation to ever reach a World Cup Final, Croatia. At stake along with bragging rights is the coveted FIFA World Cup Trophy, crafted from 18-carat gold with a malachite base and depicting two human figures holding up the Earth.
England's ascent to the penultimate stage of the world's most popular sport explains why you've been hearing strains of "God Save the Queen" emanating from tellys and car radios a lot of late. The Three Lions may have fallen short in their quest to be crowned #1 in the world on the soccer pitch, but they fought a valiant fight against the Croatians, a team that played with fire in the bellies in keeping with their nickname.
The song being played in Moscow's Luzhniki Stadium when the champions are crowned on the 15th will not be "God Save the Queen" after all. It will be either "Le Marseillaise" for France or "Lijepa naša domovino" ("Our Beautiful Homeland") for Croatia. The day before—the 14th of July—is Bastille Day, France's national holiday. The question then is, Will that elevate Les Bleus' level of play the following day and propel them to victory? Or will Croatia fulfill its dream of pulling off one of the greatest surprises in World Cup history? Stay tuned, as old-time radio announcers used to say.
Despite England's loss in the World Cup semis, the U.K. cities of Bristol, facing the Atlantic to the west, and Brighton and Hove, facing the English Channel to the south, can each legitimately lay claim to being the best in the world in their own way. Earlier this year, you may recall, AXP featured Bristol in an article about the upcoming 7th Annual UKaramcons Reunion scheduled for the 21st and 22nd of September in Bristol. In that piece, we noted that, in 2009, Bristol had been included on DK Travel Guides' list of the top ten cities of the world, along with Cape Town, South Africa; Buenos Aires, Argentina; Gdansk, Poland; Vilnius, Lithuania; Seattle, USA; and others. More recently, in April 2018, the English Channel city of Brighton and Hove was named the #1 "Hipster City" in the World, beating out urban centers like Portland, USA; Lisbon, Portugal; and Helsinki Finland. Seattle made this list as well, making it an impressive two for two.
"What's a 'hipster'?" you wonder. We asked ourselves the same question and went looking for an answer. Here's what we found.
Believe it or not, there's something called "The Hipster Index" created by the folks at MoveHub.com, a website dedicated to helping people contemplating overseas moves compare leading international shipping companies to determine which one best suits their needs at a cost-effective price. With tongues firmly planted in cheeks, they explain their approach this way:
"We pride ourselves on asking the important questions here at MoveHub. In this day and age, there's no time for frivolity. Serious times demand serious questions, and ours was, 'What's the most hipster city in the world?' Our pretentious brethren deserve attention. It's all they really want. So we rolled up our plaid sleeves and worked out exactly where to find them. …
"Our new, improved, alternative Hipster Index combines five data points: the number of vegan eateries, coffee shops, tattoo studios, vintage boutiques, and record stores per 100,000 city residents. Combined and weighted they produce a Hipster Index score out of ten for each city. To prevent inflated numbers—and preserve our sanity—we excluded cities with populations below 150,000.
"We looked at 446 cities across 20 countries. That's 2,834 record stores, 7,772 vegan eats, 14,588 tattoo studios, 15,549 vintage boutiques, and 93,203 coffee shops covering a combined population of over 200,000,000 people. Serious. Bloody. Business."
Based on MoveHub's somewhat scientific criteria and methodology, Brighton and Hove, with a Hipster Index score of 8.1632, edged out Portland, Oregon, with an HI score of 8.1631, by the slimmest of margins, thereby winning the right to wave oversized foam finger hands in the face of the world emblazoned with the message, "We're #1!" That makes Brighton and Hove THE place to go if you're a true fan of veggie burgers, great coffee, tattoos to wall-paper your body with, retro clothes and trinkets from yesteryear, and old 33⅓ RPM vinyl record albums (a.k.a. "LP's" to Brits) from the Beatles and Beach Boys and Byrds. A smattering of annuitants I know are vegans, and most Aramcons past and present love their morning cup of Joe. A notable number of today's brats have embraced tattoos, while their parents and grandparents, in general, take a noticeably dimmer view of body art (present company included). My guess is, it's a 50/50 split between annuitants that appreciate the offerings found in vintage shops and those that would rather spend their money on something more modern and less time-worn. Personally, I fall somewhere in the middle on the vintage shopping scale. Vinyl records are another item where greater interest is being shown today by younger generations of brats while oldsters like myself have long since donated our collections of scratchy vinyl albums to charity or sold them off at yard sales in favor of CDs, downloaded songs from iTunes and Vivo, and streaming music from Rhapsody and Amazon-—whenever, that is, we're not listening to a radio station or TV music channel playing oldies, classic rock, country-and-western, or, in a few rare cases, classical, music.
Move Hub had this to say about Brighton and Hove's victory in the Hipster World Cup: "The results will come as no great surprise to Brits. Fashionable, overpriced, and the only place in the country with a Green Party MP, Brighton and Hove has long been renowned for its hipster credentials."
Which UK city would you pick to spend some time in were you forced to choose—Bristol, or Brighton and Hove? Both boast solid credentials for world-class status, depending on the criteria used to judge. Based on our research, you can't lose either way. If you have time and a hankering to taste more of what life has to offer, why not try both?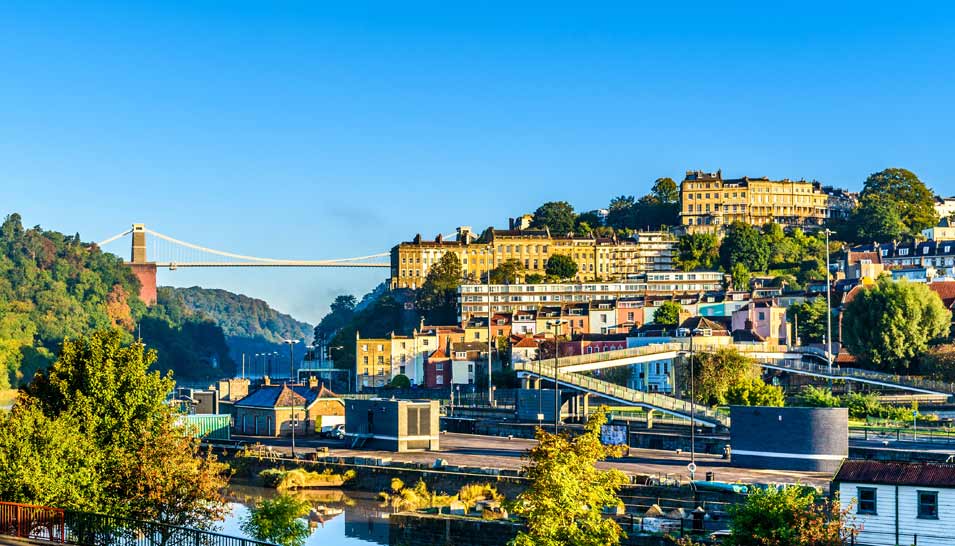 Clifton Village, Suburb of Bristol, United Kingdom
As mentioned earlier, this year's UKarmacons Reunion is scheduled for Bristol on the 21st and 22nd of September, giving Brits reading this newsletter a two month window of time to decide on whether or not to attend. Here is information on the event straight from the organizers:
The Tom Henderson Memorial Golf Tournament will be held on Friday 21st September and the dinner will be held on Saturday 22nd September.
Hotel prices are as follows: Friday 21st September Single room £100, Double room £110 per night (including breakfast). Saturday 22nd September Single room £135, Double room £145 (including breakfast)
We have 70 rooms being held for the reunion, but you will need to make your own booking and secure with a credit card. Please ring the Bristol Hotel 01179 23 0333 then dial 1 for reservations and quote 'Ukaramcons reunion 2018' to make your booking. These rooms will be released to the general public on 31st August 2018. There is an NCP car park beside the hotel. Guests at the hotel pay £5 per day for parking. Anyone attending the dinner only is entitled to a 50% discount on parking cost for the evening.
Once you have reserved your room please email us at [email protected] to reserve your place at the dinner, or ring Jim and Veronica 01249 783389.
Should you live near Bristol and do not need to stay at the hotel, you are welcome to attend all the activities. Just let Veronica know if you wish to attend the dinner on Saturday 22 September.
The Bristol hotel enjoys an unbeatable waterfront location in the heart of one of the UK's most exciting cities. The hotel's River Grille and Shore Café Bar offer relaxed harbourside dining for all occasions coupled with lovely harbourside views.
With its lively harbourside position, the hotel is at the heart of a thriving creative quarter, restaurant and nightlife scene and perfectly placed to access Bristol's theatres, museums and art galleries; shopping in Cabot Circus, home to ninety shops including Harvey Nichols and House of Fraser; local attractions like the Clifton Suspension Bridge and SS Great Britain.
Bristol Temple Meads Station is a 15-minute walk away, and has high-speed connections to all major UK cities. Bristol airport is a short distance away with connecting flights to Europe and beyond. There is a shuttle bus service from the airport to Bristol Temple Meads Station.
Golf tournament details and an outing on Friday night will be confirmed nearer the date.
Your co-hosts are looking forward to meeting and greeting you all and spending time with special friends to create another memorable UKaramcons reunion.
Veronica, Sue, Jim, Mike