Syed Mohammad Hasni
انتقال پر ملال - إِنَّا لِلّهِ وَإِنَّا إِلَيْهِ رَاجِعون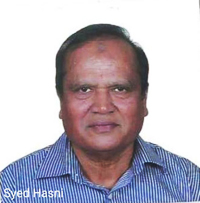 Syed Mohammad Hasni
Our colleague and friend Syed Mohammad Hasni #71903, Saudi Aramco Retiree passed away on Thursday, June 24, 2021 around 05:00 PM (Pakistan Standard Time) in Lahore due to brain hemorrhage.
He was settled in Richmond, Texas, USA after his retirement and was residing with his kids there. His wife passed away soon after his retirement. He has worked as Supervisor in Aramco Material Services for 34 years.
He was on a visit to Pakistan to meet his friends and relatives.
May Allah SWT forgive him and bless his soul with Jannah Al-Firdous. Give patience to his survivors, Aameen.
He is survived by four sons and two daughters.
For condolence his son Atif can be contacted on Mobile: +18323353144 (WhatsApp).
Late Mr.Hasni with his four sons on Eid Day