James Emmit Northcutt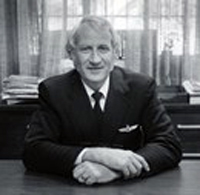 James Emmit Northcutt was born on November 11, 1934, in Crystal City, Texas, and passed away on February 6, 2020, at the age of 85.
James graduated from Brackenridge High School in San Antonio, Texas. After high school, he became a mechanic at Kelly Air Force Base which eventually led him to his dream job as a flight engineer. He flew freighters for several more years before he joined ARAMCO.
He and his wife moved to Boerne, Texas, where he retired in 1995. James stayed involved in the flying community and had his own plane at Boerne Stage.
He is survived by his wife, Charlotte; his three sons, Mike, Steve, and Mark; six grandchildren; and three great-grandchildren.
A service will be held on Thursday, February 13, 2020, at 11 a.m. at the Ebensberger- Fisher Funeral Home in Boerne, Texas.
To leave condolences for the family and to view a video of James' life, please visit www.ebensberger-fisher.com and select obituaries. Arrangements with Ebensberger-Fisher Funeral Home of Boerne.