All photos by Willard Drumm
©Aramco Expats 2016
Willard Drumm was a senior Aramco executive through the 50s into the 60s. In his work he traveled to most of the company's sites and installations in the kingdom, ranging from the Rub Al-Khali to the offshore field at Sufaniya. At home in Dhahran he and his wife hosted sumptuous parties – by Dhahran standards, enjoyed the beach, the town's big events like the Nativity Pageant, the annual County Fair and mostly the company of good friends.
Fortunately for us, Willard was an enthusiastic, accomplished photographer. Thanks to him we have this fine collection of color pictures that truly capture the people of Aramco and the places of Arabia from 60 years ago. Much of this world has vanished and most of the people have long since passed away, but these photographs remain as a testament to their spirit and a sense of place that we all share.
PLACES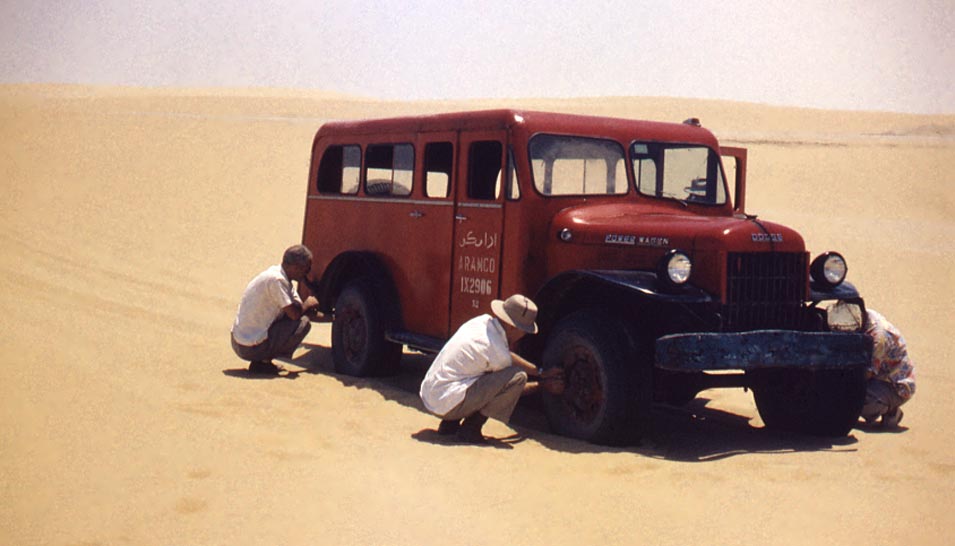 Deflating the tires of a Dodge Power Wagon for driving through soft sand. Painted cherry red, this crew cab wagon was, even then, rare in Aramco's fleet. In today's most complimentary sense of the word … it's one cherry ride.
Engineers and geologists scouting the terrain.
Rescuing a sedan stuck in the sand along the Tapline Road.
The executive engineers and managers board the DC-3 for the flight to Sufaniya.
Flying North they pass over the mighty oasis of Qatif.
One of the first drilling platforms at Sufaniya. This one is only in fifty feet of water.
As the technology became available, the company moved to drilling ships like the ADT which required considerably less steel and could be floated away to drill again.
The Bulk Plant at Dhahran where oil for the local market was processed into diesel, gasolinnce and aviation fuel.
The view from Dhahran to the northwest. The Dammam Dome is in the background and the minarets of the Dhahran mosque are visible to the right.
Looking to the northeast, the gulf traces blue in the distance and there is virtually nothing between it and Dhahran. Today, you'd be lucky to see the water for all the buildings of the modern metropolis.
The international Tennis Star Pancho Gonzales visits camp on a worldwide exhibition tour.
There's nothing like a day at the beach.
Babe with Dhahran District Manager Ned Scardino and his wife Mabel.
---
Tim Barger is the author of Arabian Son, a collection of stories about his perilous adventures growing up in Dhahran through the 1950s and 60s...

ARABIAN SON: 21 Stories
by Tim Barger
E-book: $4.95
Paperback: 142 pages ~ $14.95
ISBN: 978-098820505-5
Available at Amazon