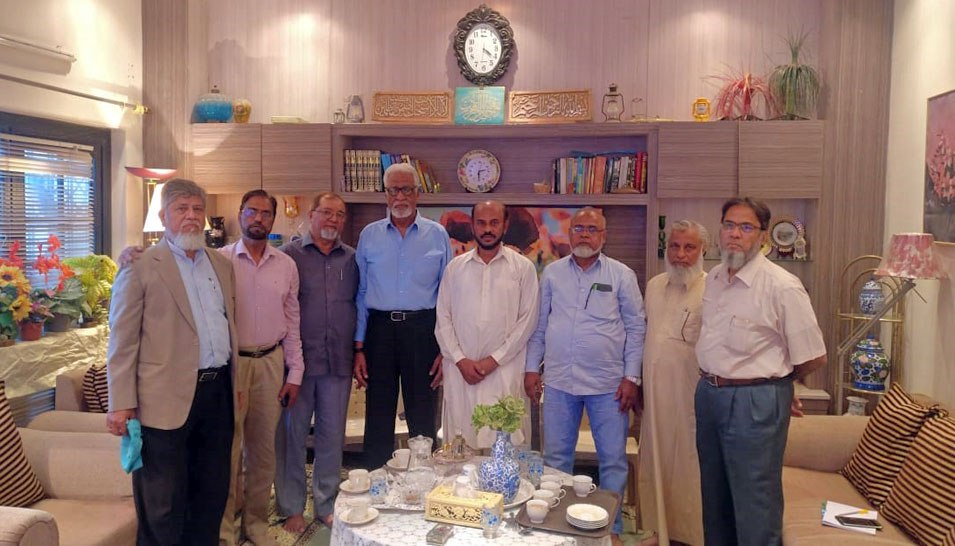 "This is the power of gathering: it inspires us, delightfully, to be more hopeful, more joyful, more thoughtful: in a word, more alive." ~ Alice Waters
Syed Abdul Qader, Badge #142674, invited a few old friends for lunch. We gathered at his residence. The following employees in the picture from left to right are:
Mohammed Ifteqaruddin - Badge No. #140948, Ras Tanura Refinery Maintenance (33 years)
Anwar Ali Khan - Badge No. #141671, Ras Tanura Personal (37 years)
Fazal Mohammed - Badge No. #142678, 12 years of service
Mir Masud Ali - Badge No. #141024, RT Utilities Department (14 years)
Syed Abdul Qader - Badge No. #142674, RT Refinery Operations (20 years)
Syed Imtiaz Ali - Badge No. #142283, Rastanura Refinery (10 years)
Syed Khaja Khaleelur Rahman - Badge No. #142145
Abdul Hameed
The above event took place after a span of ten months due to COVID-19. Though we worked for different departments at Aramco, a common feature was that we all belong to the princely city of Hyderabad, India. It was a wonderful gathering, recalling the golden days, memories of service and challenges.
"Keep your face to the sunshine and you cannot see a shadow." ~Helen Keller
The quote by Helen Keller applies to this meeting as, although we became senior citizens, everyone looked energetic without the stress of global or personal issues.
"It always seems impossible until it's done." ~Nelson Mandela
When I thought to gather information and write this article, it seemed not possible. But as per the above quote, I gathered all my energies to complete it for my global friends and readers.
During the meeting, we discussed the matter of conducting elections for the "Saudi Aramco EX-Employees Association" Hyderabad, India. I would like to announce that the elections will take place on Sunday, February 28, 2021." The venue will be Abul kalam Azad Oriental Research Institute" at 1600 Hours.
I would like to share my personal experience with retired global Aramcons and advise them to come together in their communities and enjoy moments with friends and family.