by Scott Baldauf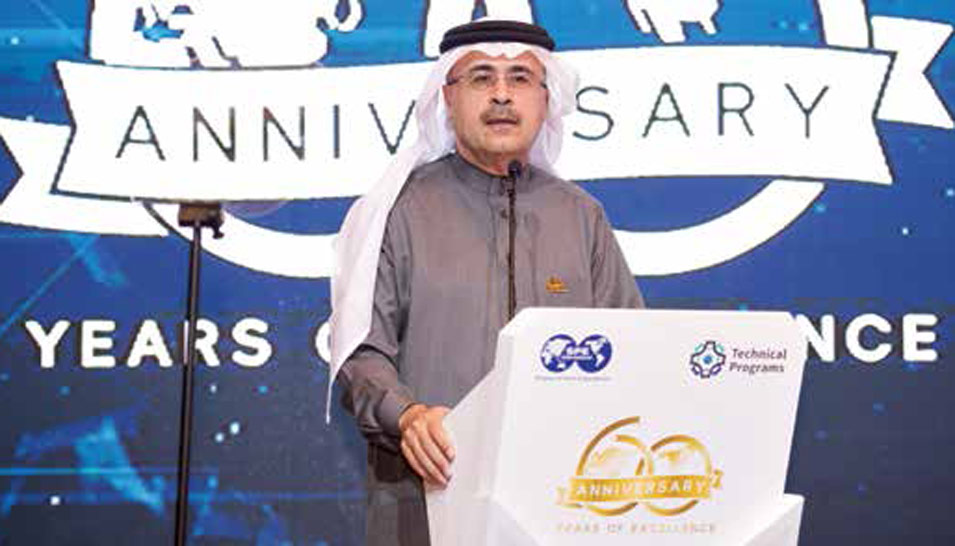 Keynote speaker Amin Nasser challenges the Saudi Arabia Section of the Society of Petroleum Engineers to do more to attract young talent through promoting technology. Nasser also used the occasion to assert the oil and gas industry's critical role in providing much-needed petroleum, not only today, but in the future as well.
In his address celebrating the 60th anniversary of the Kingdom of Saudi Arabia Section of the Society of Petroleum Engineers (SPE-KSA), Saudi Aramco president and CEO Amin Nasser made it clear that the next 60 years may be the oil industry's golden age.
There are those who tell us that petroleum is a "sunset" industry, Nasser said, that electric vehicles and alternative fuel sources will render oil and gas a "fossil of a bygone era."
"But I can tell you, with even greater conviction, that I am as passionate about the future of the industry today as I was as a young member of SPE," Nasser said. "Because, ladies and gentlemen, I believe what some have mistaken as the 'sunset' of our industry is, in fact, the 'dawn' of an industry in transformation."
The world "needs more, not less, petroleum," Nasser added. The world's population is projected to grow by an additional 2.5 billion persons by mid-century, and at the current pace of development it would take EVs and renewables years, even generations, to shoulder a significant portion of that growing global demand. In addition, as the company shifts more of its crude oil production away from transportation fuels toward chemical production, there will be even more need for exploration and long-term investment in technologies, new discoveries, and most importantly, a new generation of petroleum engineers to take the oil industry to new heights.
"In the face of such historic pressures, if we are to remain competitive — an industry moving mankind forward — something extraordinary is required," Nasser said. Saudi Aramco, as the world's largest oil company, has been doing its part, investing in technology and boosting its capital program even during industry downturns, and organizations such as the SPE also have a tremendous role to play.
"With a 60-year track record of accomplishment and success, I believe SPE is capable of shaping the agenda of our industry,"
Nasser said.
Six Decades of SPE in the Kingdom
With more than 158,000 members in 143 countries, 73,000 of them student members — the SPE is the largest individual member organization serving managers, engineers, scientists, and other professionals worldwide in the upstream segment of the oil and gas industry. Its mission is to collect, disseminate, and exchange technical knowledge concerning the exploration, development, and production of oil and gas resources, and to provide opportunities for professionals to enhance their technical and professional competence.
Founded in the U.S. in 1957, the SPE reached Saudi Arabia just two years later in 1959, and this is the 60th anniversary. Today, the Saudi Arabia Section of the SPE is the largest section outside of the U.S. In this "Diamond" 60th anniversary year, the SPE's global body, SPE International, has named a Saudi member, Sami A. Alnuaim, to be its president. Alnuaim is the manager of the Petroleum Engineering Application Services Department, supporting Saudi Aramco's Upstream Operations, including reservoir simulation of GigaPOWERS models. A member for 30 years, Alnuaim has won numerous awards, including the 2010 and 2011 SPE Distinguished awards for the Middle East and international levels.
With an impressive turnout of more than 600 guests, the SPE-KSA section's anniversary was celebrated in the King Abdulaziz Center for World Culture (Ithra). The celebration's unique attendance served as an empowering tool for communication and inspiring young talents to become future leaders in a well-recognized industry.
In a question-and-answer session moderated by Bander Al-Khamees, Nasser took questions from the audience and discussed a number of important topics, including: how the company supports the Kingdom's transformation through Saudi Vision 2030; how the company shoulders its responsibility to reduce the impact of its carbon footprint; and how Saudi Aramco supports localization of goods and services through its iktva program.
Promoting the Good We Do
But while the evening was a celebration of 60 years for the SPE in Saudi Arabia, Nasser urged SPE's Saudi Arabia Section to do more to promote the positive stories of how the oil industry benefits society. "The SPE has done a good job for the industry, but it should do more to attract young talent," Nasser said. "If we look at the next 60 years, we should attract more young talent by promoting technology."
Technology, Nasser said, is the future of the oil industry, and with Fourth Industrial Revolution technologies and innovations, we not only can become better able to discover and develop the petroleum resources that the world needs, we can do so in efficient and environmentally friendly ways. It is the young people of today — who make up roughly 60% of Saudi Aramco's workforce — who can help us navigate the way to those future solutions, Nasser said.
Mohammed Y. Al Qahtani, Saudi Aramco's senior vice president of Upstream, also applauded the SPE Saudi Arabia Section's 60th anniversary. "With our 60th anniversary milestone comes a historic challenge," Al Qahtani said. "We find ourselves working to reduce the environmental footprint of hydrocarbon, continuing to meet growing global energy demand while at the same time exploring the powerful opportunities of the Fourth Industrial Revolution to deliver greater value to the world.
"In this sense, even as we celebrate a rich, unrivaled legacy of achievement, I believe SPE-KSA will make its greatest contributions in the years ahead," Al Qahtani added.
Nasir K. Al-Naimi, vice president of Petroleum Engineering and Development, said: "A flagship group such as the SPEKSA is recognized as a world-class section. It is capable of shaping agility and has the ability to cope with the high rate of growth in the industry through the hundreds of programs for disseminating knowledge, promoting ideas, and seizing opportunities."
Hundreds of participants in the organization's 60th anniversary watch a giant video presentation. (Photos: Yara Ziyad/MPD)