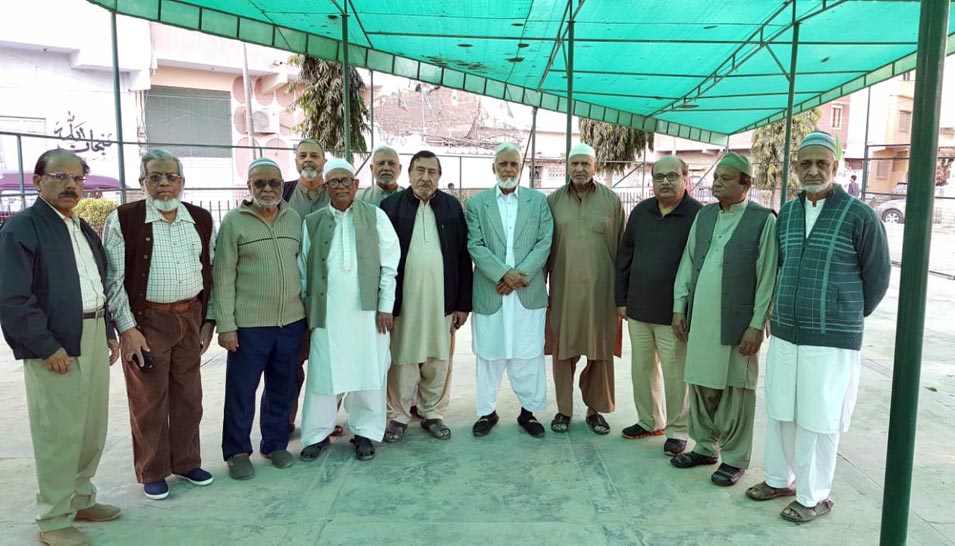 From left to right: (1) SAEEA Joint Secretary, Shafiq A. Khan (2) SAEEA VP, Engineer Iqbal A. Khan (3) SAEEA Coordinator, Mohammad Abdul Matin (4) Abdul Razzak Mansoor (5) Muhammad Muslemeen (6) SAEEA President Kamal A. Farooqui (7) SAEEA General Secretary, Ghulam Qutubuddin Khan (8) Zaki Javed (on a visit to Pakistan) (9) Ovais Akram Ali; and (10) Qazi Ahmed Naseer.
Back row: from Left to right (a) SAEEA Event Organizer, Arif Qamar; and (2) Syed Shabbar Hasan Abidi
SAEEA visited SAEEA Finance Secretary, Muhammad Salim Hamid's house as his mother passed away on February 02, 2019. A large number of relatives and family friends attended the funeral. In addition, several ex-Aramcons also attended.
SAEEA representatives met with M. Salim Hamid, his brothers and other family members and passed SAEEA condolences to them. Later, among others, SAEEA Represented attended the funeral prayers.
If you have any questions then please call Engr. Iqbal Ahmed Khan on +92-321-701-4929 or write to him on iqbalkhan.2010@live.com