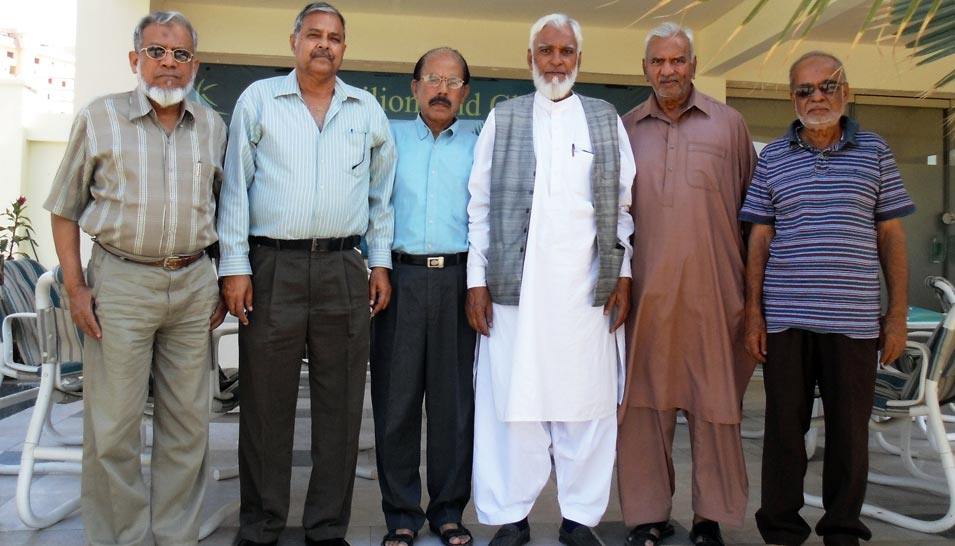 Engr. Iqbal A. Khan, Arif Qamar, Shafiq A. Khan, Kamal A. Farooqi, Ghulam Qutubuddin Khan, Mohammad Abdul Mateen
The meeting of Saudi Aramco Ex-Employees Association (SAEEA) held on October 29, 2016 at Pavilion End Club, Karachi.
The attendees were as follows:
Kamal A. Farooqui (KAF)
Engr. Iqbal Ahmed Khan (IAK)
Ghulam Qutubuddin Khan (GQK)
Mohammad Abdul Matin (MAM)
Shafiq Ahmed Khan (SAK)
Arif Qamar (AQ)
Arif Qamar, Kamal A. Farooqi, Mohammad Abdul Mateen, Shafiq A. Khan, Ghulam Qutubuddin Khan, Engr. Iqbal A. Khan
The meeting started with recitation of Holy Quran by the President, Kamal A. Farooqui.
KAF updated all attendees about SAEEA activities during October, 2016.
Several Friends have been requesting for a mini get together. KAF advised that there will be 16th reunion during November, hence, the proposed meeting will be held during December, 2016.  KAF and AQ will continue to look for a good place for the picnic.
KAF, with the agreement of other Attendees, decided to have 16th reunion/picnic on December 04, 2016 at Pavilion End Club.  All Attendees inspected the place and unanimously agreed to have the reunion at Pavilion End.  The Club has very large sitting place.  In addition, several swimming pools and attractive games for children are available.  A detailed program will be published soon through email, Whats App and SMS.
The original proposed date for 16th reunion was November 20, 2016.  However, Shabbar Abidi, a very active and supportive SAEEA Member, advised that the proposed date was not advisable because of some genuine reasons. KAF and other SAEEA Office bearers appreciated Shabbar's recommendations and moved the date to Dec. 04. KAF expects the same attitude from the other SAEEA Members as well.  Thanks Shabbar.
KAF emphasized that the Whats App Group is meant for very general information/discussions and should not be used for political/religious matters.  Violators to be dropped from the Group.
IAK briefed about SAEEA website and Whats App.
Certain SAEEA Members have been sick; like. (1) Muhammad Salim Hamid (2) Shafiq A. Khan (3) Syed Najib Rizvi (4) Mahmood Ahmed (5) Rahat Hussain (6) Mrs. Qamar Khan (7) Ghulam Qutubuddin Khan and several others.  KAF prayed for fast recovery of all the Friends and requested all Members and other Friends to pray for them.
SAEEA visited Muhammad Salim Hamid to inquire about his health.
SAEEA also visited Rahat Hussain; however, could not find him at home as he was in the Clinic at that time.
If you have any questions then please call Engr. Iqbal Ahmed Khan on +92-321-701-4929 or Write to him on [email protected]