SAEEA Celebrated its 15th Reunion, 6th Anniversary, Eid Milan and 3rd General Elections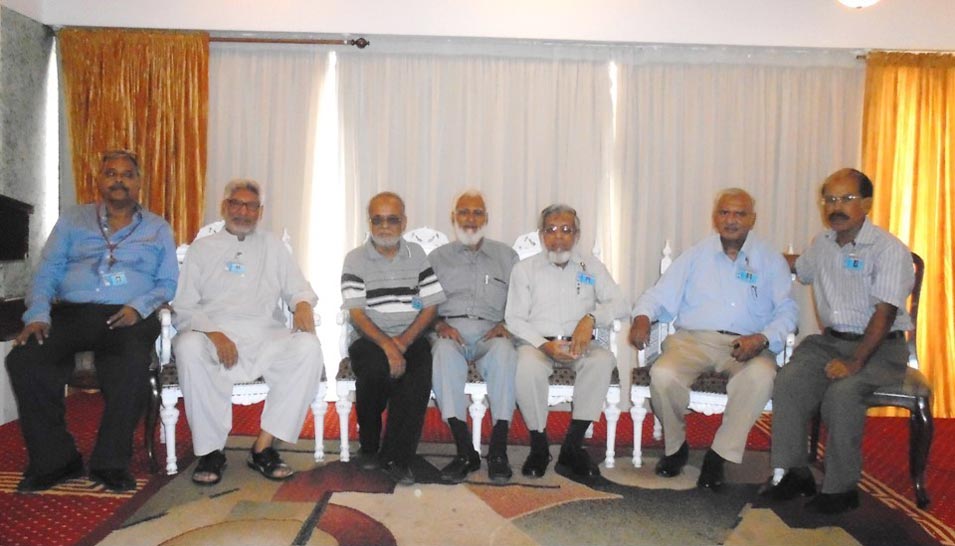 Saudi Aramco Ex-Employees Association (SAEEA) celebrated its 15th Reunion, 6th Anniversary, Eid Milan and Third General Election on July 31, 2016 at Lasania Restaurant, Gulshan Iqbal, in Karachi. The highlights of the function are as follows:
A total of 113 persons attended the function (81 male, 26 ladies, 4 children and 2 infants)
All attendees met with their old buddies and enjoyed the event.
Five additional person; viz Abdul Sattar Khan, Jawed Anjum, Mohammad Zafarullah Khan, Mohammad Shahid Khalil and Syed Mohammad Talha. Mohammad Zafarullah Khan and Jawed Anjum live outside Pakistan and currently on visit to Pakistan. Mr. Khalid Khan, lives in Islamabad also attended the event. Ex-Employee Mir Hidayatullah lives in Lahore and is currently in Karachi also attended the event as a GUEST.
Function Secretary, Syed Shahid Ali started the event with the recitation from the Holy Qur'an by Engr. Iqbal Ahmed Khan.
In his speech, Kamal A. Farooqui, President, updated the attendees the activities and achievement of SAEEA from the day of its inception.
SAEEA announced several times for the third general election; formed a Committee headed by Rais Akhter and his Group. However, no one approached in contesting the election. Therefore, Rais Akhter announced the current team to continue till the next term i.e. 2018.
In future, once election date is announced with a cutoff date and nominations are not received, then existing Managing Committee will be declared as to continue for the next tenure.
As a result of increased market price, the President SAEEA Mr. Farooqi announced a little increase in yearly subscription.
Accounts for the fiscal year 2015-16 were displayed at the venue for all the members to review and write their comments if any.
SAEEA distributed several gifts among Gents and Ladies.
SAEEA also organized a mini musical program, which is an extra flavor for the event. Syed Mahmood Ali and a Guest Artist sung few songs. All participants enjoyed the music.
Kamal A. Farooqui, President of SAEEA thanked all participants and requested them to be more active and close with SAEEA.  For the same purposes, SAEEA established a Group in WHATS APP system. Now, all the Members have four ways to approach SAEEA; in person, thru e-mail, website and SMS. KAF requested all participants to avoid political, religious or personal material in Whats App and in other sources. SAEEA bye laws do not allow these kinds of postings among SAEEA Members. This is very important. Friends may use their personal addresses for the same purposes, if they like. All Members and their families enjoyed the delicious lunch buffet at the restaurant.
There were three deaths in between the 14th and 15th reunions. Several Members of SAEEA have been sick for ages. KAF prayed for all of them.
The program concluded at 4:00 PM after getting several group and individual photographs.