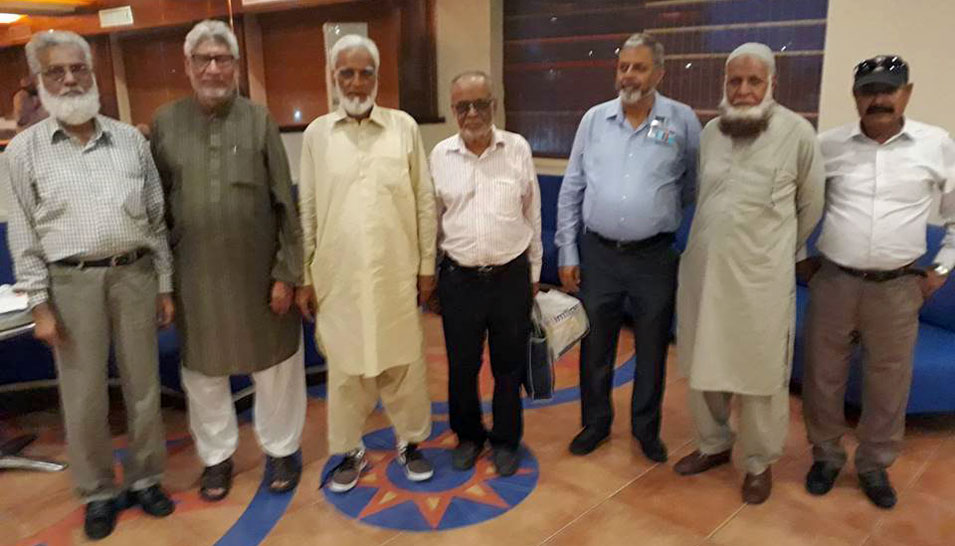 Jamiluddin Shaikh, Muhammad Salim Hamid, Kamal A. Farooqi, Mohammad Abdul Matin, Arif Qamar, Aziz Ur Rehman Khan, Sabir Ali
Saudi Aramco Ex-Employees Association (SAEEA) celebrated its 21st Reunion on August 31, 2019 at Arena Club, Karachi. The highlights of the function are as follows:
A total of 106 persons attended the function (69 male, 18 female and 19 children). If you compare SAEEA previous Reunions, this time too, the number of attendees was not very encouraging. The main reasons are; it has been raining for the last one week; children schools are open now and the event was on Saturday instead of Sunday.
Two new members; Mirza Iftikhar Baig and Muhammad Sabir joined SAEEA as new members.
Ataurrahman is an old member of SAEEA; moved to USA. Currently, he is on a visit to Pakistan and attended the event along with his grand children.
All attendees met with their old buddies and enjoyed the event.
The event started with the recitation from the Holy Qur'an by SAEEA Vice President Engineer Iqbal A. Khan; followed by NAAT by Engineer Syed Waqar Fakhri.
In his speech, Kamal Farooqui, President, updated attendees about the activities of SAEEA took place in between 20th and 21st reunions. A total of nine members passed away during this period. Several friends have been sick. SAEEA office bearers have been visiting almost all the places.
Kamal Farooqui briefed about a new established group by the name 'HALQA E SHERO ADEB' for those friends who are interested in Urdu literature and poems. The responsible person is Syed Shabbar Hassan Abidi who is not available these days because of his wife's sickness. Once Shabbar is free, we will then arrange the 2nd session of HALQA E SHERO ADEB.
Several prizes were distributed amongst the audience thru lucky draw.
During the event Zafar Ahmed and Sabir Ali Khan played music instruments and the audiences enjoyed very much.
Kamal Farooqui, President of SAEEA thanked all participants and requested them to be more active and close with SAEEA.
Kamal thanked all Friends and families for their hands in making the 21st reunion a SUCCESS.
The program concluded at 6:30 PM after getting several group and individual photographs.
Zoya Imran in action playing at the Bowling Alley of the Arena Sports Facilities
Bushra Irshad in action playing at the Bowling Alley of the Arena Club Sports Facilities
Zafar Ahmed Khan is playing a (Hindi) film song on a flute while Sabir Ali Khan is playing on the drums ( Part 1 )
Zafar Ahmed Khan is playing a (Hindi) film song on a flute while Sabir Ali Khan is playing on the drums ( Part 2 )