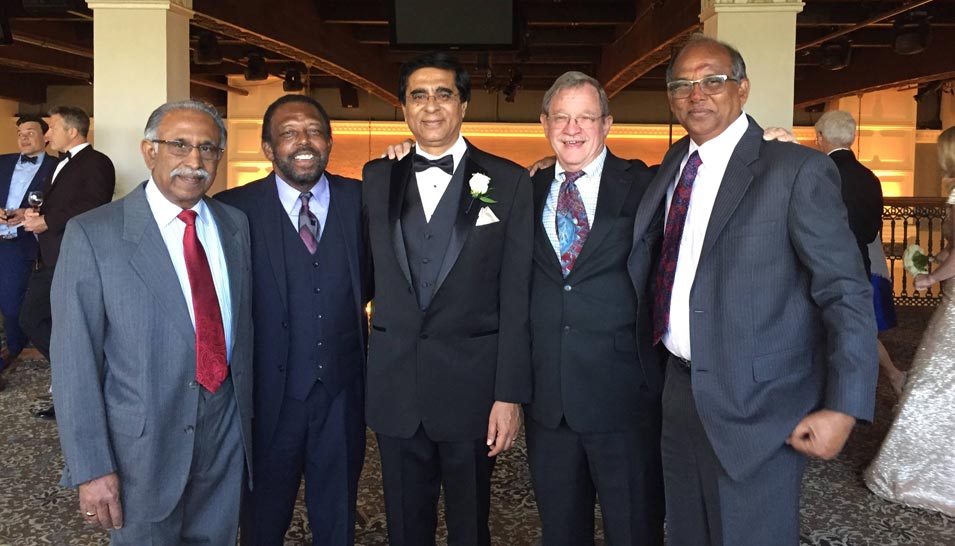 Over 38 years ago, back in 1980, a fantastic group of Aramcons were hired and many of them resided in the old Abqaiq Aramco Construction Camp (ACC) which was located just outside the Abqaiq Main Camp boundary. In those days, Aramco Management decided that these types of camps should be divided by nationality and each section had different dining halls so that foods could be prepared to suit their native tastes. At times, there were more than 40 different ethnic groups living together in this "little United Nations".
Sometimes there were conflicts, especially on the soccer pitch or the basketball court. However, they were often just friendly different interpretations of the rules or the use of home rules which the other teams did not understand.
However, one of the greatest things to happen was the cross-pollination of cultural ideas and political and religious discussions and the enlightenment that occurred frequently among friends. There was an exceptional group of guys who formed a natural bond based on curiosity and genuine friendship that was quite different. These guys really enjoyed each other's company and soon their bonds of friendship turned into authentic love for one another.
As they continued with their Aramco careers, they stayed in close contact with one another, sharing the good news about births, adoptions, promotions, collaborating on various projects at work and even seeking the counseling of one another concerning deeply personal issues.
Recently, on May 19th, this group gathered for a wedding and amazingly, all, but one of the friends was there. Oh no, it was not the Royal Wedding of Prince Harry and Meghan, no, this event was much more important. It was the marriage of Mr. Anand Koshy to Ms. Lisa Koverko in Toronto, Canada. The wedding was a beautiful fantasy that came true. However, the reunion of these special friends, on the other hand, was of earthshattering proportion.
For the most parts of their time in the Kingdom, this group worked and lived in Abqaiq. This multi-ethnic group of old ACC friends consisted of:
Gabriel Fernandez and his wife, Uma
Simon Peter and his wife Valsa
David Karbach and his wife Ishrat
Bhanu Jain and his wife Sangeeta
Wilfred Carvalho and his wife Jasmine and their daughter Maria
Cornell Seymour and his wife Shirley
Dilip Koshy and his wife Melly (Parents of the Groom, Anand) and their daughter Asha
The only person missing from the original group of friends was Chacko Abraham and his wife Lisa who have settled in Bangalore.
The night before the wedding the group met at a local restaurant to share old memories and to catch up. As you would expect, the topic turned to primarily the kids and the grandkids. From all accounts, there are several second-generation engineers making up the group along with Ph.D.'s, MBA's and scientists and socially conscientious careers among all of those kids who all grew up in the "Friendly City" of Abqaiq.
Enjoy some of the photos taken during the festivities of this "Great Reunion"!