We all know that Ramadan is about prayers, fasting, and family, but of course, food plays a central role in activities over the Holy Month. Here are some Ramadan recipes that are delicious and certainly worth trying.
These recipes by Munira Al Ashgar are republished from the 2009 Dhahran Women's Group cookbook Cuisine Caravanserai.
Baba Ganoush (Mutabbal)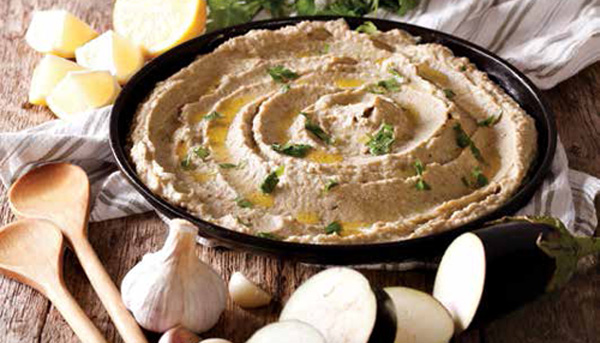 Ingredients:
4 eggplants, medium size
½ cup Tahini (sesame paste)
Oil, lemon, salt, and garlic to taste
Parsley and/or paprika (optional)
Method:
Wrap each eggplant in aluminum foil.
Bake in a preheated oven at 400 degrees Fahrenheit for one hour or until eggplants are soft.
Let them cool, then peel off the skin.
Mash well to make a consistent paste. Add all other ingredients and mix well.
To serve: put in small serving bowls. Smooth top and depress center slightly. Add one tablespoon of olive oil into each bowl. Garnish with parsley and/or paprika. Use as a dip.
---
Jareesh
Ingredients:
4 cups Jareesh (split wheat grains), soaked in water
1 onion - cut in small pieces
1 kilogram of lamb - cut into cubes
10 cups water
Black pepper, salt, and cube stock to taste
2 cups plain cream yogurt
100 grams butter
1 tablespoon dry lemon powder
Method:
Fry onions until golden brown in color, reserve two tablespoons for topping.
Add lamb and fry for a few minutes. Add water.
When the lamb is tender, add pepper, salt, and cube stock. Add Jareesh and stir gently, on a low heat.
When the Jareesh is cooked, add 2 cups of plain cream yogurt and stir gently.
Heat butter. Pour butter, dry lemon powder, and leftover fried onions over the Jareesh.
---
Al Kabsah
Ingredients:
1 onion, chopped
2 teaspoon Bazar mix (special spice mix available in Middle Eastern or Saudi supermarkets)
1 ½ teaspoon lume aswad (powdered lime)
1 teaspoon cardamom
1 pound meat or chicken, cubed
2 teaspoon salt
3 tomatoes - cut into small pieces
2 cups Peshawar rice
3 ½ cups water
4 tablespoons oil
For garnishing:
2 tablespoons almonds
2 tablespoons pine nuts
2 onions
¼ cup raisins
Method:
In a deep pan, sauté the onion until translucent.
Soak the rice in warm water for 15 minutes.
Soak raisins in warm water for 15 minutes.
Add half of the Bazar mix, salt, lime, and cardamom and stir.
Add the meat or chicken and fry for 3 to 4 minutes; add salt and tomatoes, stir occasionally.
Cover the pan and let simmer on a medium heat until the tomatoes are dissolved.
Pour 3 ½ cups boiling water over the meat and cook over low heat until well done. Remove chicken or meat from the water.
Add soaked rice to the tomato and spice mix. Stir, so rice does not stick to the bottom of the pan. Boil over medium heat for about 3 minutes, then simmer on low for about 25 minutes.
Sauté the almonds in 2 tablespoons oil and keep aside. Sauté the pine nuts and keep aside, and finally, fry the 2 onions and keep aside.
Drain raisins and squeeze to remove excess water.
In a pan, add the raisins, the remainder of Bazar mix to the pine nuts and almond mix, and stir over low heat for 3 minutes.
To serve, plate the rice on a large platter and place meat on top.
Garnish with the nuts and onion mixture.
---
Biryani Rice
Ingredients:
1 whole chicken - cut into pieces
4 cups rice
2 big onions - cut into circular pieces
1 ¼ cup oil
2 fresh tomatoes - cut into slices
4 cubes chicken stock
1 teaspoon black pepper
2 tablespoons curry powder
3 pieces cloves
2 pieces cinnamon stick
4 pieces cardamom
2 pieces bay leaves
1 tablespoon chopped coriander
Method:
Fry onions until brown in color, add the garlic.
Add chicken, tomatoes, and all other spices.
Cook on low heat until the chicken is cooked. Once cooked, remove the chicken and keep warm in the oven.
Boil the rice and when it is half cooked, add in the tomato and spice mixture.
Cover the pot and continue cooking until rice is completely cooked.
Plate the rice on a large platter and serve chicken on top.
---
Basboosa
Ingredients:
½ cup white sugar
1 cup plain yogurt
1 and ½ cup vegetable oil
1 and ½ cup semolina flour
3 tablespoons flaked coconut
1 tablespoon baking powder
1 and ½ cup water
1 and ¾ cups white sugar
2 tablespoons rose water
6 whole almonds, split in half
Method:
ln a medium bowl, mix together the first set of ingredients: ½ cup sugar, yogurt, oil, semolina flour, flaked coconut, and baking powder. Set aside for 30 minutes.
ln a small saucepan over medium-high heat, stir together: water, 1 and ¾ cups white sugar, and rosewater. Bring to a boil, and boil for 3 or 4 minutes.
Remove from heat, and set aside to cool. Bring to room temperature.
Preheat the oven to 350 degree Fahrenheit (175 degree Celsius).
Spread the semolina batter into the bottom of a 9x13 inch baking pan.
Slice into squares or diamonds, and place an almond half onto each piece.
Bake for 20 minutes in the preheated oven, until light brown.
Switch the oven setting to broil, and broil until the top is golden, for 2 to 3 minutes.
Remove from the oven and pour rose and sugar syrup over the squares. Serve warm.
---
Luqaimat
Ingredients:
1 cup flour
1 teaspoon dry yeast
¼ cup warm water
Pinch sugar
½ teaspoon salt
1 egg, beaten
For syrup:
1 ½ cups sugar
1 cup water
½ teaspoon lemon juice
Method:
Dissolve yeast and sugar in warm water; keep aside for about 5 minutes.
Mix flour and salt. Add beaten egg and the dissolved yeast.
Knead well with your hands, until the mixture is very smooth. Cover and keep in warm place for 2-3 hours.
ln a deep frying pan, pour 3 inches of oil and heat until very hot. Dip a tablespoon in cold water and then scoop out ½ tablespoon of the dough and drop into hot oil. The dough will swell and float to the top. Turn the ball to ensure that all sides are fried. Continue until all the dough is used.
Remove the Luqaimat balls when golden brown.
Meanwhile, make the syrup by dissolving 1 ½ cups of sugar in 1 cup water. Bring to boil.
Add ½ teaspoon of lemon juice. Simmer on low heat for 15-20 minutes. Let it cool down.
Pour over the Luqaimat balls and serve immediately.
---
Date Bars
Ingredients:
2 ½ cups flour
½ cup icing sugar
1 teaspoon baking powder
1 tablespoon cinnamon
2 tablespoons yansoon (anise)
1 teaspoon nutmeg
1 cup butter or margarine
½ cup evaporated milk
1 egg
2 cups seedless dates
½ cup sesame seeds
Additional quantities of powdered: 1 teaspoon yansoon (anise); 1 teaspoon cinnamon; 1 teaspoon nutmeg
Method:
Mix all the dry ingredients: flour, icing sugar, baking powder, cinnamon, anise, and nutmeg.
Add shortening or butter and mix well.
Add in the evaporated milk and eggs. Knead well with your hands.
Spread half the dough in a 9x13 inch baking pan, pressing down the bottom.
In a separate bowl, mix dates, half of the sesame seeds, and spices: anise, cinnamon, and nutmeg.
Spread the date mixture into the pan, pressing down lightly.
Spread the remaining flour dough into the pan, over the date mixture.
Sprinkle with remaining sesame seeds.
Place in a pre-heated of 350 degree Fahrenheit oven and bake for 30 minutes.
Cut into one-inch squares and serve.