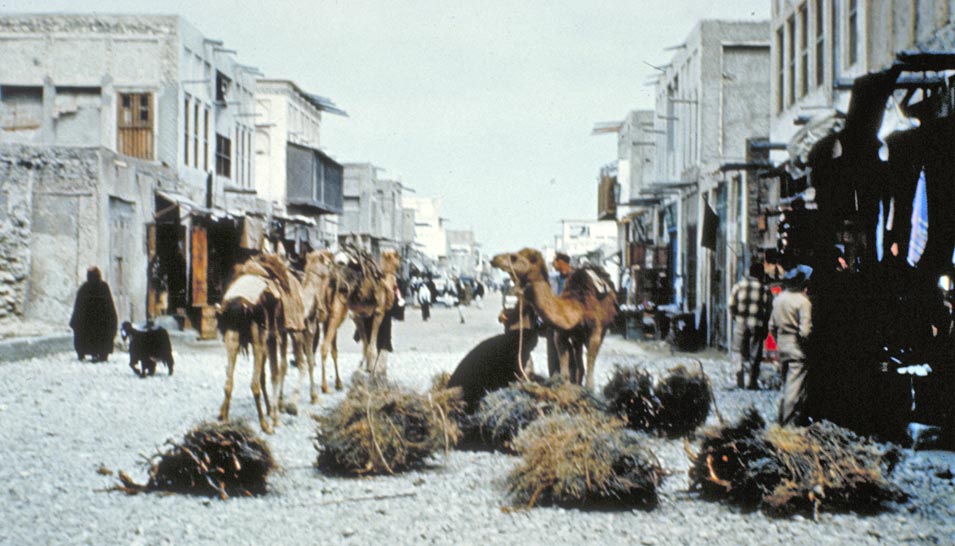 When American families first began arriving at Dhahran, al- Khobar was still pretty basic. Here's the main street in late 1940s.
In the old days, the only other pockets of "civilization" in the area besides Dhahran were the indigenous Saudi towns of Dammam and Al-Khobar, one hour and 15 minutes away, respectively, and the Aramco camps of Ras Tanura (where the refinery was located) and Abqaiq (near the gigantic Ghawar oil field), each about an hour.
As a young boy, I often accompanied my family on the short drive east from Dhahran to pungent al-Khobar (al-KO-bar) on the Gulf shore. It's dirt "main street" was lined with ramshackle, half-finished concrete-block buildings on either side. There may have been other streets and structures, but we usually just hung out on the unnamed main drag, where most of the little sand-strewn shops were located and barefoot, crusty-heeled money-changers squatted on low stools. The town had a complex, invigorating aroma of sea air, undeodorized sweat, exotic incense and strange spices set out in the open air, which the heat and engulfing stillness rendered ever muskier, especially in summer. I found the aroma mysterious and a bit intoxicating.
The only marginally distinctive feature on the dusty road to Khobar and back was a single concrete-block gas station about halfway, identical in color and texture to the desert. If you blinked, you missed it; it blended so well with its surroundings, you could barely make it out even if you planned to stop there for gas.
Sometimes a camel or two glanced at us listlessly from the distance as we drove by. Occasionally a big, fat daub, a lizard like the Arizona Gila monster but chubbier and the color of sand, might stare at us motionless from the roadside, blinking nervously.
Author's Bio: With his recently-published set of colorful recollections, 3,001 Arabian Days: Growing up in an American Oil Camp in Saudi Arabia (1953-1962), A Memoir, Aramco Brat and annuitant Rick Snedeker (Badge Number 199932) joins a distinguished list of Aramcons who have captured their memories of life in the Kingdom on paper. As the title indicates, Rick focuses on his growing-up years in Dhahran as the son of Albert Coleman Snedeker—known as "Big Al" to his friends—a manager in the Aramco Traffic Department responsible for keeping company camps well-supplied with the foodstuffs and sundry necessities of daily life throughout Aramco's critical growing-up years in the '50s and '60s. As Aramco grew to maturity, so did Rick.