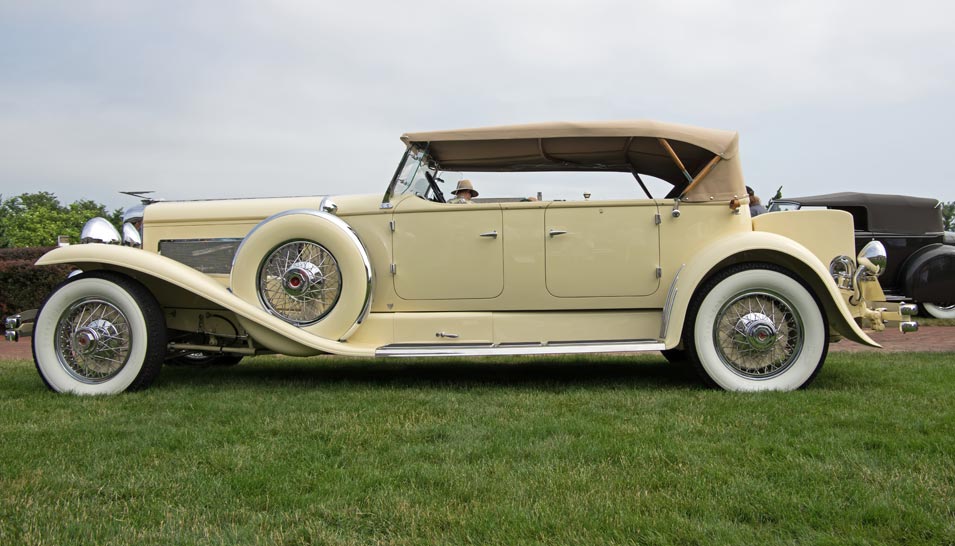 A few weeks back I was shopping for groceries when I heard the man behind the seafood counter say to the customer standing next to me, "It's a real doozy!" He was referring to a monstrous king salmon large enough to feed an army arrayed on a bed of ice in a nearby cooler. When I asked him if he knew where that colorful phrase came from, he was stumped. "No I don't," he answered. "I haven't a clue. It's just something that my father used to say. I picked it up from him." I explained to him its origins, and he smiled and thanked me.
"Now that I know the real story behind it," he said, "I think I'll use it more often. I just hope that someone will ask me where it came from, now that I know the answer." In case you're not familiar with the phrase, it essentially refers to something as being outrageous, unique, exceptional, remarkable—or, in certain usages, even bizarre.
If you asked any classic car aficionado where that phrase came from, he or she almost certainly would know the answer. It is generally recognized that the phrase, "It's a real doozy," originally referred to one of the most elegant makes of cars in all of automotive history, the Duesenberg. In the Duesenberg's heyday in the '20s and '30s, the popular spelling of the phrase was, "It's a real Duesy." Today the spelling has morphed into either "It's a real doozy" or "It's a real doozie." While it's true that etymologists continue to debate whether the expression actually owes its provenance to Duesenberg automobiles, I nonetheless prefer my version of its history. It has far more charm, plus it's the story told to me by my father, who remembered seeing a Duesenberg on a trip to Chicago in the mid-1930s as it tooled down the city's famed Magnificent Mile (better known as Michigan Avenue)—and my father was always right, as most fathers are.
Built in Indianapolis, Indiana, Duesenberg automobiles were marketed as "The World's Champion Automobile - Built to Outclass, Outrun, and Outlast Any Car on the Road." The Duesenberg marque achieved such a reputation for opulence, their advertisements featured a simple four-word tagline: "He drives a Duesenberg." Movie stars like Clark Gable, Carole Lombard, and Gary Cooper drove Duesenbergs, adding to the prestige associated with the name. You had to be rich to own a top-of-the-line Duesy. It is estimated that, in today's dollars, a Duesenberg would retail for over $1 million. In 2010, a 1931 Duesenberg Model J Long-Wheelbase Coupe that originally sold for $17,000 brand new sold at auction for $10.34 million. Now that's what I call "a real Duesy."
Dr. Syed Azam Sher recently shared his appreciation of classic cars with AXP and brought to our attention the second annual Qassim Heritage and Classic Cars Festival held in April at the Al-Nakhla Center in Buraidah. Organized by the Qassim Tourism Development Board, the festival featured over 400 vintage cars, most of them from the Kingdom, some of them from abroad.
Many of the automobiles were mid-twentieth century American models, including an impressive selection of what are popularly known as "muscle cars"— a variety of high-performance automobiles famous for their outrageous horsepower and blinding speed off the starting line. Baby boomer annuitants—males in particular—who were teenagers in the U.S. in the '60s would salivate en masse at the sight of so many 426 Hemi Plymouths and Dodges, SS 396 Chevelles, Cobra 428 Ford Torinos, Pontiac GTOs, and assorted other muscle car models lined up in long rows, every one of them meticulously restored. Saudi Arabia is home to a number of renowned classic car collectors, and it's likely that among them they count a Duesy or two in their collections. It's not clear from the images I've seen from this year's Qassim Festival, however, whether a Duesenberg was on display this year.
The most famous classic luxury cars on public display in the Kingdom can be found at The National Museum in Riyadh. There you will see a glorious collection of eye-popping vintage Rolls Royce cars that once bore King Saud on his trips around the country. It is said that Ibn Saud preferred to ride in the front seat, where he had a better view of the road than in the back.
Readers living in the Kingdom who are appreciative of classic cars would be wise to keep a lookout for announcements regarding the next Qassim Heritage and Classic Cars Festival. For car-loving readers living elsewhere, there are literally hundreds of museums scattered around the world dedicated to the automobile. A perfunctory web search turned up car museums in Argentina, Australia, Austria, Belgium, Brazil, Bulgaria, Canada, the Cayman Islands, China, Croatia, Cyprus, the Czech Republic, Estonia, Finland, France, Georgia, Germany, Greece, India, Italy, Japan, Latvia, Monaco, the Netherlands, New Zealand, Poland, Romania, Russia, San Marino, Serbia, South Korea, Spain, Sweden, Switzerland, Turkey, Ukraine, the United Arab Emirates, the United Kingdom, and the United States. If the country you live in is not on that list, there is still a good chance that someone somewhere within your nation's borders has a car collection he'd like to show off. You just have to look for it.
If you live in the U.S. like I do, here is information on three museums I have personally visited and can heartily recommend (Hint: Each of them features at least one classic Duesenberg in its collection):
The Driving America Exhibition at the Henry Ford Museum of American Innovation, Dearborn, Michigan
In the museum's own words: "Explore the world's premier auto exhibit showcasing an unparalleled collection of historically significant vehicles." For more information, visit https://www.thehenryford.org/visit/henry-ford-museum/.
The Petersen Automotive Museum, Los Angeles, California
In the museum's own words: "Experience the Petersen Automotive Museum one of the world's premier automotive museums. Located in the heart of Los Angeles, the Petersen features 100,000 sq. ft. of exhibit space, 25 galleries, thousands of stories, and over 300 vehicles." For more information, visit https://www.petersen.org.
America's Car Museum, Tacoma, Washington.
In the museum's own words: "Celebrating America's love affair with the automobile. We guarantee an unforgettable experience. With so many vehicles under one roof, we have something everyone will get excited about." For more information, visit https://www.americascarmuseum.org.
AXP would like to thank Dr. Sher for bringing this fascinating subject to our attention.