Saudi Aramco Former Employees Association (Lahore, Pakistan) Independence Day i.e. 14th August
This was our 122nd party and we are here to celebrate Independence Day i.e. 14th August 2016, Day of happiness, Day of joy and the Day of Sacrifices. We are celebrating this special occasion at one of the best Restaurants in Lahore. At the start of the luncheon party, special prayers were offered for the prosperity of Pakistan and its people. The slogan of Allah-o-Akbar and Pakistan Zindabad i.e. Allah is great and Long live Pakistan were said in loud voice.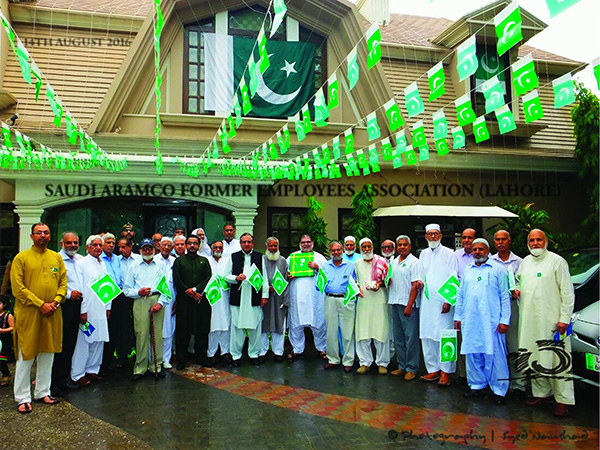 Standing Left to Right
Engr. Syed Naushad Y. Shah (Photographer), Muhammad Akram Hayat, Malik M. Saeed, Malik M. Maqbool, Khawar-ul-Islam, Muhammad Saud Jamil, Muhammad Ashfaq (Secretary), Sh. M. Afzaal, Intizaar Husaain Shah, Shahid Hanif, lrfan Qayyum Qureshi, Abdul Rehman, Syed Siddiqi, Amjad Hussain Langah, Abdul Qayyum Qureshi, Junaid Usman, Muhammad Jmail, Ahmed Ali Khan, Abdul Ghaffar Khan, Harooon Rashid Butt, Ishkaq H. Khan, Muhammad Abbas, Abdul Qayyum Khokhar, Muhammad Iqbal, Munawwer Ahmed, Khalid Farooq, Muhammad Akhtar.