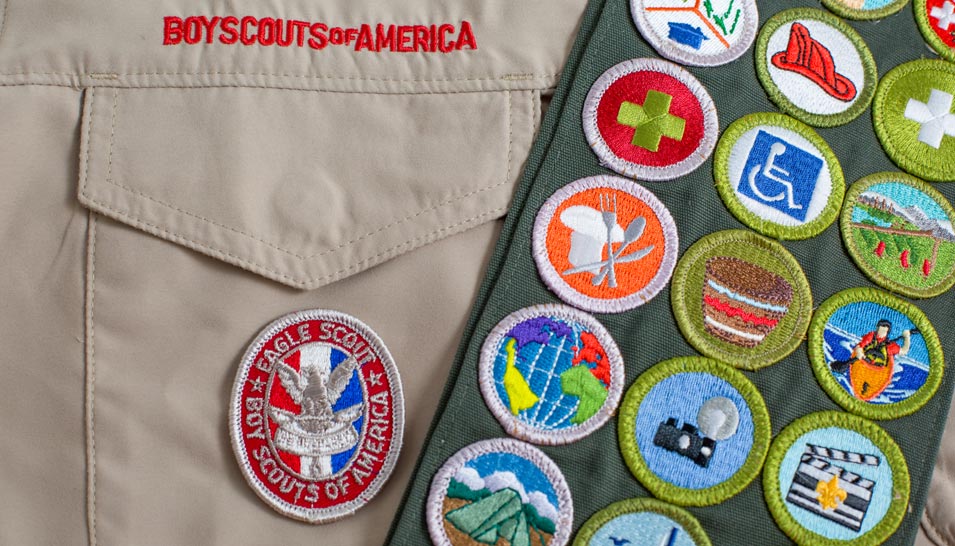 In the special world that is ExPat life in the Aramco camps of Saudi Arabia, institutions taken for granted by people living elsewhere than in the Kingdom such as Little League baseball, Toastmasters, and Boy Scouts are alive and thriving. Aramco Brat Chris Behringer, son of Peter Behringer (Badge #197035) and Miriam Behringer (Badge #519909), can bear witness to the latter. Among his most memorable achievements while living in the KSA was earning his Eagle Scout rank and helping young Saudi Scouts learn safety skills. For two decades—from June 1991 to December 2010—Chris lived with his parents in Dhahran. Today he is a resident of Clinton, North Carolina. Chris remembers Saudi Arabia as a "perfect place for families and growing up." Thousands of ExPats and Brats the world over would agree with him.
OA Event - January 05, 2009
Chris at the park, 1992
The requirements Chris was required to meet in order to become an Eagle Scout were numerous and rigorous. A partial listing of four includes:
Dr. Chris Behringer
Demonstrating the Scout spirit by living the Scout Oath and Scout Law.
Doing his duty to God and country
Living the Scout Oath and Scout Law in his everyday life; and
Understanding how the Scout Oath and Scout Law will guide his life in the future.
Becoming an Eagle Scout also required Chris to earn a total of 21 merit badges, including First Aid, Citizenship in the Community; either Emergency Preparedness or Lifesaving; and 18 others. Considering Chris' eventual choice of a lifetime career path, he learned his Eagle Scout lessons well. As Chris explained to AXP recently:
"I'm going back 'home' to Dhahran this March 2019 for the Aramco Reunion as Dr. Chris Behringer. I was a genuine Aramco Brat, born in the Kingdom in the Dhahran hospital. I attended DH Elementary and Middle schools and the ISG Dhahran High School (DHS). Since graduating from Medical School in May 2018, I have been working as a Resident Physician in North Carolina. I received extensive training in neuromusculoskeletal medicine and completed the Basic Acupuncture and Moxibustion Training Program at the Beijing University of Chinese Medicine."
There are fewer callings in life more devoted to serving the community and others and to saving lives than the medical profession. AXP solutes Chris as a credit to the Boy Scout tradition and, more specifically, as a credit to the Boy Scout tradition in Saudi Arabia.
When not attending to the needs of others, Chris finds time to pursue his favorite hobbies: Muay Thai kickboxing, working out, cooking, reading, watching documentaries, and playing video games.
Chris in Muay Thai Kick Boxing, 2017
While in Saudi for the reunion, Chris will be presented with a wide range of activities to fill his days, as will hundreds of other AXP readers planning to attend. He will no doubt enjoy the Dhahran Camp Bus Tour. And what Aramcon or Brat would want to miss the Shawarma Lunch?
The highlight of the reunion for many will no doubt be the Welcome Dinner Gala hosted by President/CEO Amin Nasser. If Chris was lucky, he signed up early for the Al-Ula/Madâin Sâlih trip for which there is now a wait-list. (Readers may remember, Madâin Sâlih was featured in November 2018 in AXP's "Seven Wonders of Arabia" series. It was the first site in the Kingdom to be inscribed as a World Heritage Site by UNESCO.)
The balance of the program is filled with a US Consulate Reception, a Desert Excursion, a game or two of baseball, a tour of the King Abdulaziz Center for World Culture & Aramco Energy Exhibit, and much more.
To Chris, and to all of our readers planning on attending the 2019 reunion in Dhahran, we here at AXP wish you a safe journey. Our president, Vicci Turner, will be there. Be sure to say hello if you see her. She's looking forward to this chance to reconnect with old friends and make some new ones.