"No matter how many plans you make or how much in control you are, life is always winging it." These are words of wisdom spoken by my father and, even now in retirement, I find them always to be true.
Recently, I called one of my nephews who runs a remote tour business under the name Rovers Pakistan and inquired about any trips he offered to explore the hidden beauty of Baluchistan. He sent me an overview of an overnight tour to Ormara Beach which was very reasonably priced. This Ormara Beach tour struck me as the perfect family adventure and I was eager to speak with my family about taking the trip together.
At a lunch party hosted by my daughter, I discussed with her family and her in-laws the possibility of taking the trip to explore the hidden beauty of Baluchistan. The family hadn't been together on a trip in a decade. According to the information I received from my nephew, the Ormara Beach tour required at least fifteen members to fill up the Toyota Coaster vehicle which would transport us. In all, there were nineteen family members who opted to attend:
Engr. Iqbal Ahmed Khan
Hakim Abdul Bari
Mrs. Afifa Abdul Bari
Dr. Ata Ur Rehman
Dr. Kiran Ata Ur Rehman
Zubair Kamali
Umaima Bari
Anus Abdul Bari
Zubair Abdul Bari
Hadia Abdul Bari
Khaula Sheikh
Hamid Khan
Ahmed Khan
Rabia Junaid
Obaid Ur Rehman
Habib Ur Rehman
Mariam A. Rehman
Usama Ul Haque
Mother-in-Law of Hakim Abdul Bari
Syed Furqan Ali - The Tour Manager
(From Rovers Pakistan Travel Agency)
Rovers Pakistan has a reputation for being the best adventure tour company and is rated highly for customer satisfaction. Their adventure tours include transportation, lodging and meals. Customers are provided with details about each part of the adventure including the relevant places and stopovers along the way.
On the fine morning of August 21, 2021, the Toyota Coaster arrived at my daughter's house where all nineteen passengers gathered, ready for the adventure to begin. We were all excited to explore the hidden beauty of Baluchistan, The Land Of Beauty.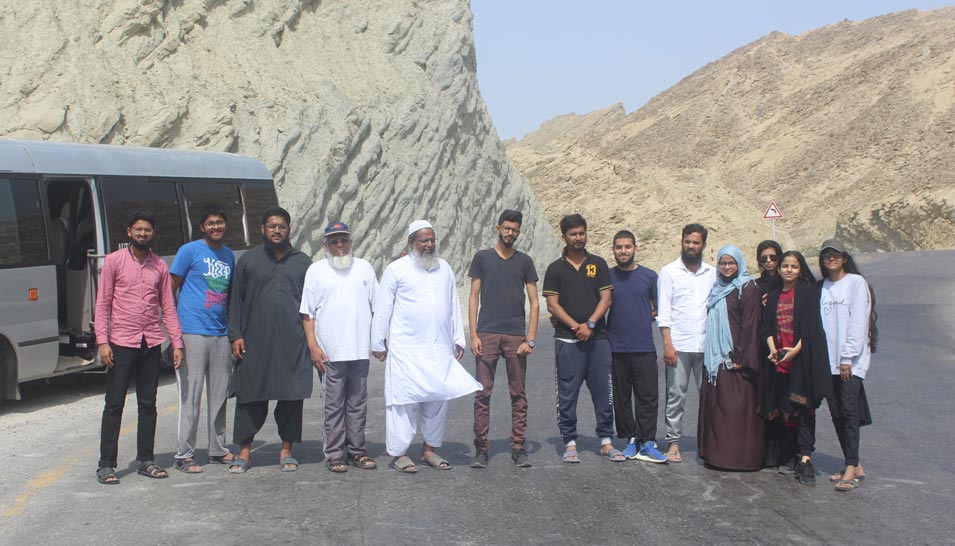 Hamid, Habib, Anus, Iqbal Khan, Abdul Bari, Ahmed, Usama, Obaid, Zubair, Umaima, Rabia, Khaula, Hadia all are on the Makran Coastal Highway enjoying the Hingol National Park view from a height.
Pakistan is a land rich in natural beauty and scenic natural wonders extending from the north to the Arabian Sea with the green peaks of Khyber Pakhtunkhwa to the deserts of Sindh and Baluchistan. Baluchistan, "the land of Baloch," is one of the four provinces of Pakistan with many natural resources and hidden beautiful scenery. Baluchistan shares an international border with Iran and Afghanistan whereas within the country it shares a border with Federally Administered Tribal Areas (FATA), Sindh and the Arabian Sea. The province possesses huge potential for the development of tourism with many untouched wonders to explore. It is a magical place to visit. It is also the largest province in terms of land area, forming the southwestern region of the country, but is the least populated. Baluchistan possesses a wealth of inexhaustible, renewable resources. It is the second major provider of natural gas in Pakistan. The province is mostly undeveloped and, for this reason, the economy mainly depends on natural gas from the Sui Gas Field. Besides this, the Gwadar port is a new milestone in the development of Baluchistan. This port is the key to the China-Pakistan Economic Corridor which is a collection of developing projects between Pakistan and China.
The journey through Makran Coastal Highway and Hingol National Park is scenic and covers a series of sightseeing locations. The places we stopped during our nine-hour journey are as follows:
Winder Town
Kund Malir Beach
Hingol National Park
Princess Of Hope
Ormara Beach
All are enjoying their breakfast at Winder Town Restaurant while on their way to Ormara Beach.
Winder Town: Our first stop was at Winder Town Restaurant for breakfast. It took two hours and 15 minutes to reach Winder from Karachi, a distance of 74 KM or 46 miles. We all enjoyed a mouthwatering breakfast followed by a photo session. (If one travels by personal car, the time noted is only one hour and 30 minutes.) A number of fruit farms are in the vicinity of Winder Town.
Habib, Ahmed, Usama, Obaid, Zubair, Anus, Zubair Kamali and Hamid enjoying the fresh breeze and the noise of waves at the viewpoint of Kund Malir Beach.
Kund Malir: The famous beach of Kund Malir is located near Hingol National Park about 150 KM from Zero Point along the Makran Coastal Highway. It is located 236.8 KM west of Karachi. It took us almost 4 hours to reach the beach. The drive between Kund Malir and Ormara is considered to be scenic. There are no food or fuel facilities available on the way after Zero Point.
Kund Malir beach is considered to be one of the most beautiful beaches in the world. It is a desert beach which makes it unique in some ways. It is a serene and soothing place to visit. We stopped for about a half-hour at the Kund Malir scenic viewpoint to rest and to see the Arabian Sea from around a 100-Meter elevation. It was a charming view for everyone.
While driving on the Makran Coastal Highway towards Ormara, we crossed through the Buzi Pass. Indeed, the drive itself on Makran Coastal Highway is very scenic and beautiful. Similarly climbing up to the top of Buzi Pass is also a breathtaking experience. From there, you can see the Arabian Sea, a huge swath of eroded land, and a canyon extending from the coast - a geological wonderland.
Engr. Iqbal Khan under the signboard for "Princess of Hope" on the Makran Coastal Highway.
Princess of Hope: Baluchistan is undoubtedly a "Land of Beauty", from the land of deep valleys to mesmerizing waterfalls; Baluchistan is filled with both natural and man-made, breathtaking sights. Fruit trees, rocks, mountains, historical sites, the deep seaport Gwadar, etc. In short, everything in Baluchistan is unmatched in beauty. If you love travelling and exploring new places, then "Princess of Hope" and "Peculiar Sphinx" of Baluchistan are definitely a treat for you while visiting Baluchistan.
Princess of Hope and Peculiar Sphinx are located in Hingol National Park. According to historians, both of these structures are approximately 740 years old.
Princess of Hope is a natural rock formation. For many years, sea breezes from the Arabian Sea have crafted this rock formation to resemble a princess-like sculpture. The name Princess of Hope may come from the fact that the rock formation bears a striking resemblance to a princess looking up to the horizon for hope. The name was given to this marvel by the famous Hollywood actress Angelina Jolie in 2002 when she visited this place. If it weren't for her, most of us, unfortunately, wouldn't have known this place. At first glance, it appears to be the work of a skilled artisan who had beautifully carved such an elegant masterpiece. This beautiful statue stands high and proud along the Makran Coastal Highway. The whole area is covered with many other beautiful mountains and other intriguing weather-sculpted rock formations as well.
It is a lonely place where the Princess of Hope stands and her only companion is a "Peculiar Sphinx". Yes, a sphinx in Pakistan! Most of us know of sphinxes as statues in Giza, Egypt. Sphinxes in Egypt were constructed during the reign of Pharaohs and depicted the pharaoh as being the son of the powerful sun god. Sphinx, thus, were regarded as important religious sites.
The "Peculiar Sphinx" or "Sphinx of Baluchistan," however, gained the publics' attention in 2004, when the Makran Coastal Highway was opened for transport. This sphinx is naturally made, the same as the statue of Princess of Hope, and thus, it is not intricately carved like the man-made one in Egypt. However, it's still worth visiting and exploring.
The statue of
Princess of Hope
is standing alone in the Hingol National Park.
Hingol National Park - Heaven on Earth: Hingol National Park is spread over an area of about 1,650 sq. KM along the Makran Coastal Highway and is the largest of the national parks of Pakistan. It is located approximately 190 KM from Karachi. The area was first declared reserved in 1988.
The park area covers parts of the three districts of Labella, Gwadar and Awaran containing a variety of topographical features and vegetation, varying from arid sub-tropical forest in the north to arid mountains in the west. Large tracts of the park are covered with drift sand and can be classified as coastal semi-desert. The National Park includes the estuary of the Hingol River which supports a significant diversity of bird and fish species.
Another important feature of the Hingol National Park is a mud volcano, the only one in South Asia and at the same time the highest located mud volcano in the world. Its geological features aside, the 1650 square KM park is also an important habitat for Ibex, Gazelles, Urals and a large number of bird species.
Just opposite to Hingol National Park is the famous Golden Beach, also known as Kund Malir beach. This beautiful beach has the bluest water you'll find in Pakistan. It is also very clean and the sand is so gold that it perfectly complements the blues of the sea. You will often find the beach empty most of the days because of the remote location and lack of facilities.
It also has deserts that meet the sea, national parks and rivers. Hingol National Park is one of these parks, and the biggest in Pakistan. It offers a live experience of watching wildlife in their natural habitat. These include around 35 species of mammals such as foxes, hyenas, Urals, Sindh ibex and 65 species of reptiles and amphibians including turtles, crocodiles, geckos and more.
Despite being a dry and sandy region, Baluchistan has the most beautiful beaches with bioluminescent waves, straight out of a fairytale. However, some of its remote beaches are still unreachable because of no proper roads and basic facilities, and some have not even been named yet.
Dr. Ata Ur Rehman and Dr. Kiran Ata Ur Rehman are enjoying the cool water of Ormara Beach.
Ormara Beach: We began our trip leaving Karachi at 07:00 hours and arrived at our destination, "Ormara Beach," at 15:00 hours. We were allotted a two-bed resort and six tents in camp for the young members of our team. We were assisted by Rover Pakistan management to get settled.
Lunch at Ormara: After settling in, we were served lunch which we all were in real need of. We had a delicious chicken Karhai with hot Naan, salad and cold drinks.
Enjoy Ormara Beach: After lunch, everyone headed down for a dip in the ocean. Everyone took part in the enjoyment. As for our tour manager, Syed Furqan Ali left us in good hands with his colleague, Mr. Umer. Mr. Umer went along to explore the beach and interact with our families.
High Tea: One more group of Rovers tourists arrived and at about 17:30 hours, High Tea was served to all Rovers members. The High Tea service consisted of all fried items including Won Tons, Samosas and Rolls served with hot Chai. Everyone enjoyed one more delicious meal with the waves and soothing winds in the background and a view of the setting sun.
Photoshoot: We had a small photoshoot with everyone while the golden hour lasted and the camps were all set and lights were turned on. We were free to do anything for around two hours before movie time started.
The movie session is ongoing at Ormara Beach with tents in camp all around, all are enjoying.
Movie: A vote was taken to determine which movie among five titles would be selected for the evening showing. In the end, "Zindagi Na Milegi Dobara" was chosen. Everyone took their seats to enjoy the show. At the interval, the movie was paused for dinner.
Dinner: In the big hall of the resort, dinner was served to all members. Dinner included Chicken Tikka with Paratha, Biryani and salad along with cold drinks. For dessert, there was delicious "Kheer." Hot Chai was also available on demand.
Open Skies: After everyone was finished with their dinner, it was back to the movie. Watching a movie under open skies in a cold wind was very different. Some people went to bed while the rest of us completed the movie.
Bonfire: After all the elders went to sleep, it was time for a bonfire. The bonfire was set up and lit. Along with the bonfire, there was music to fit everyone's taste. It seemed like a good moment for the receding tide, slow waves, good music, and being with your loved ones. It was a night to remember.
Guitarist: After a while, when nearly everyone slept, there was a guitarist who was not with our group but he was willing to stay with us and jam on songs for a while. He played the guitar and sang songs. We sang along with him. It was as though there wasn't a care in the world at that time. We enjoyed as many of the special details - the bits and pieces - of the night as we could.
Breakfast: By now, it was 4 AM and only a few hours before breakfast so we slept and aimed to wake up before the sunrise which was determined to be at approximately 06:15 hours (which we missed due to our dumb luck) but to conclude the trip the breakfast of halwa poori with Chai was amazing.
The front view of Winder Town Restaurant where we were fed breakfast and lunch by Rovers.
Ma'salam to Ormara: After breakfast, we said goodbye to all of our new friends at Ormara Beach and we started our return journey at 08:30 hours. With our return trip, passing all our sweet memories, we again stopped at Winder Town for lunch. After lunch, we reached home safely.
The trip was memorable and we all thank Rover Pakistan for arranging such a wonderful trip with all the delicious meals included. We suggest to all that it's worth visiting the natural beauty of Baluchistan.