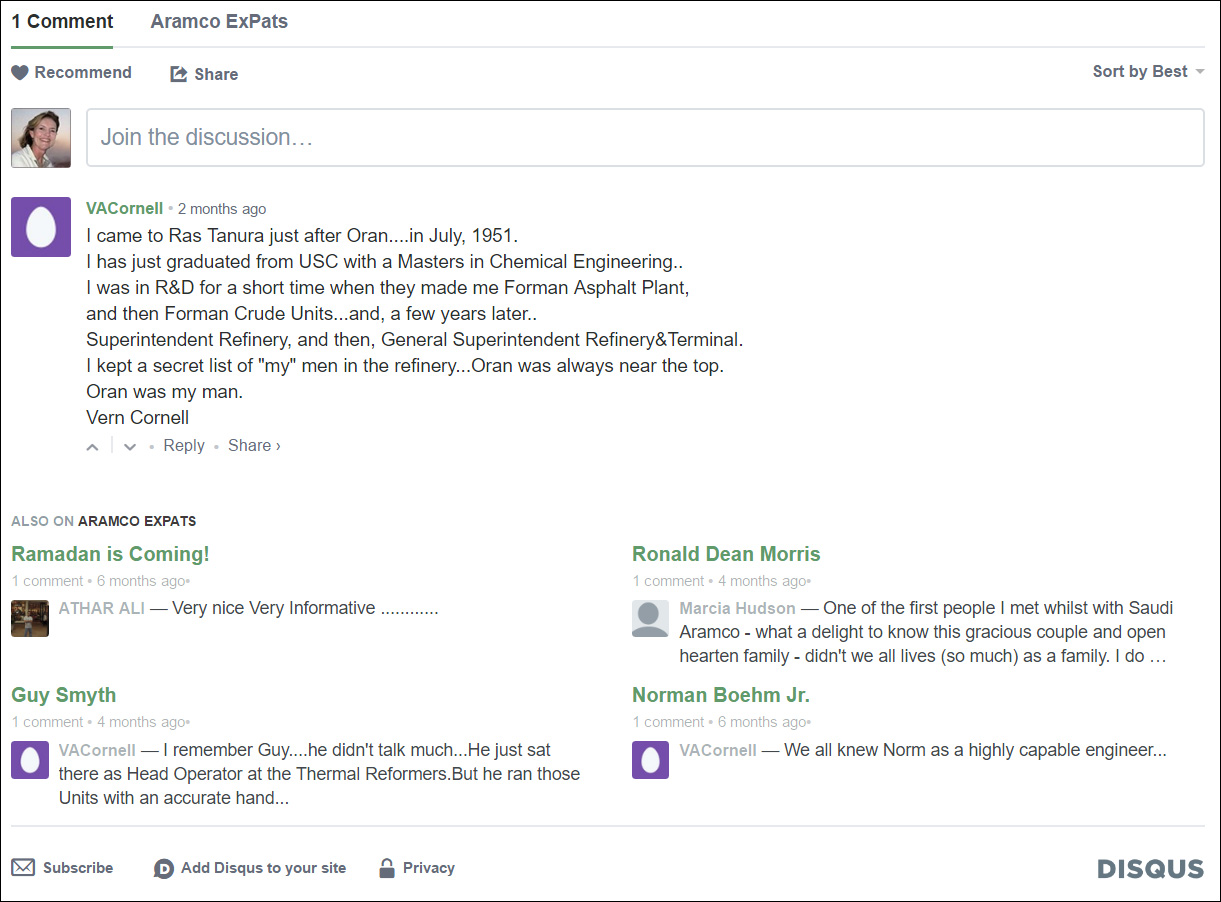 Earlier this year, we entirely rebuilt AramcoExPats.com from the ground up, introducing a new look and feel while retaining the best features of our previous website. We did this in part as a planned evolution, where upgrades and improvements are essential if we are to successfully serve your needs. We did it as well as a security measure to better protect our website, our visitors, and Aramco itself from unwanted intrusions by malicious outside parties. Cyber attacks have become a 24/7/365 concern in today's web world, and we are doing everything we possibly can to eliminate the threat they pose.
Measures we've taken include a major make-over of our comment feature on the Aramco ExPats Forum, Obituaries, Articles and Galleries. Whereas before you could easily post your comments at will just by entering text in the appropriate box, today in order to submit comments you must first log in through Disqus or the popular social networking sites, Facebook, Twitter or your Google Account.
In its own words, "Disqus is a networked community platform used by hundreds of thousands of sites all over the web … complete with social network integration, advanced administration, and moderation options, and other extensive community functions."
Since introducing the newest iteration of AramcoExPats.com with the Disqus comment system we have noticed a significant drop in the number of comments posted by our readers. If you have been hesitating to offer your comments – for whatever reason – we would like to encourage you to join again in our online discussions. For over a decade it has been one of the most dynamic, informative, and enjoyable features of our website. You can help us recapture that magic.
Making comments using Disqus is easier than you might think. Remember, if you have a Facebook, Google, or Twitter account, you can login to Discus with any of those three social logins. Users will only need to authenticate with Disqus one time.
We, the staff at Aramco ExPats strongly encourage you to get back on board with Disqus. We're waiting and missing for you!