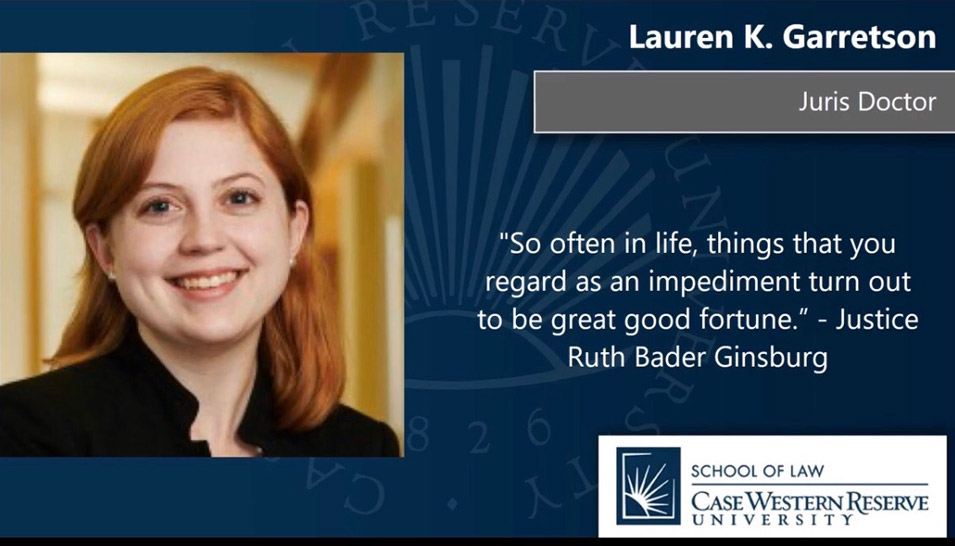 Lauren K. Garretson graduates Case Western Reserve School of Law in Cleveland Ohio, Juris Doctor with intent to join the law firm of Ulmer, LLP, with offices located in several cities in Ohio, as well as New York and Washington DC. Her grandparents Byron and Sarah Garretson, Aramco 1982-1995, couldn't be more proud of her accomplishment.
Lauren is the daughter of Byron and Sarah's middle son, Dr. Ken Garretson, and wife Elizabeth Garretson. The Garretson's have an older son, Dr. Kyle Garretson. While the Garretson's eldest sons didn't join them in Saudi, their youngest, son, Dr. Kory Garretson, grew up there and the family could be found on the tennis courts and at Kory's swim meets as well as baseball and soccer games in Dhahran, where they resided during their tenure with Aramco. Kory went on to attend boarding school at St. Marys Hall in San Antonio, college at Wake Forest, and then dental school in San Antonio.
Byron worked in Communications, mainly engineering but also fairly long assignments in Comm. Operations (in building 840).