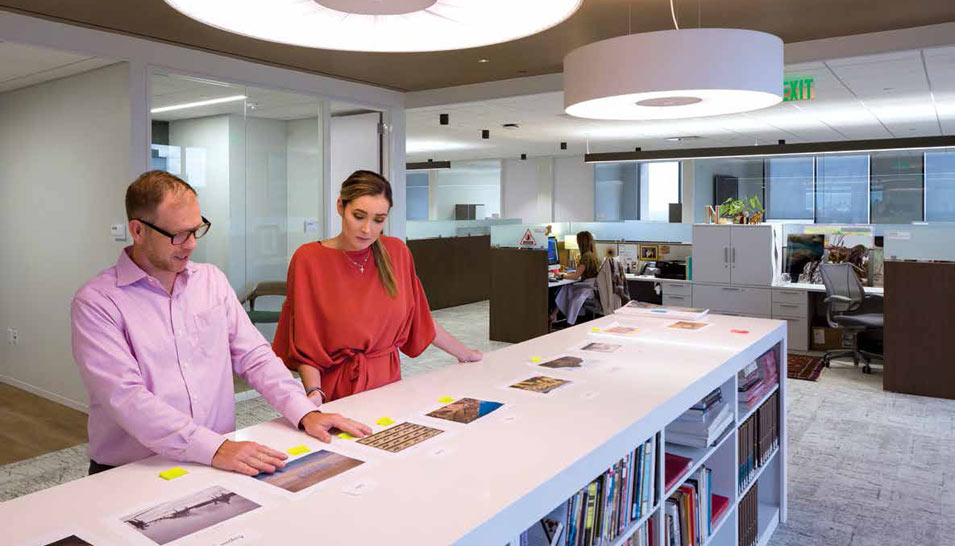 The new offices bring a bright, new look to the Aramco Services Company in Houston. Here, employees take advantage of a large open space to review images for an upcoming edition of AramcoWorld.
Houston — The Aramco Services Company (ASC) board has officially inaugurated ASC's new headquarters in North America.
Located in downtown Houston, the building's top six floors house ASC functions, including Procurement and Logistics, Public Affairs, Upstream, Technical Services, Finance, Law, and Industrial Relations.
The environment incorporates a "new era" of design that reflects today's best practices with open spaces for style and functionality.
While the move was brought about by the flood waters of 2017's Hurricane Harvey — one of the costliest natural disasters in U.S. history — a year later Aramco's resilient team finds itself in a bright, airy, and inviting environment designed for collaboration.
One of the drivers for the move downtown was synergy with Motiva Enterprises, LLC — a fully owned affiliate of Saudi Refining Inc., which is also headquartered in the same building complex. A leading refiner, distributor, and marketer of petroleum products throughout the U.S., its portfolio of assets includes the Port Arthur Motiva Refinery. This refinery has the distinction of being the largest oil refinery in North America, with the capacity to produce more than 600,000 barrels per day.
With the Houston skyline in the background, teams can gather in dedicated collaboration areas.
Whether it is by providing common areas designed to support collaboration, or a design incorporating bright and airy areas that connect the various workspaces, the new ASC headquarters in downtown Houston incorporates a "new era" of design that reflects today's best practices.
Completed in Record Time
The renovation of ASC's headquarters took place in three phases, and in record time.
"From the first hammer swing to completion of all floors took 10 months," said project lead Kerim Koseoglu.
The industry standard for a commercial space retrofit in Houston is approximately 18 months. Koseoglu credits team members across all departments for their valuable input and hard work.
"Harvey tested our systems and our own endurance — on personal and professional levels," said ASC president and CEO Basil A. Abul-Hamayel. "One of the many things I have learned during this process is the willingness of the Aramco workforce to step up in any way necessary. Our move to the new headquarters is a perfect example of this."
He noted that throughout the transition there was no disruption of service.
"Moving our headquarters downtown takes us back to the heart of the city where we began our Houston operations in 1974," said Abul-Hamayel. "We've come full circle."
ASC's new headquarters served as the venue for the recent board meeting. Said A. Al Hadrami, ASC chairman of the board and vice president of International Operations with Saudi Aramco, toured the facility, noting the on-time completion, smooth transition, and thoughtful space planning.
ASC joins a number of global energy and Fortune 500 companies with offices in the downtown area. Houston has been recognized as a world energy capital because it is home to more than 5,000 energy-related firms.
New Era of Style and Functionality
In 1974, ASC moved from New York City to Houston, setting up its corporate offices in the downtown area. A few years later, the offices were moved to the city's southwest side. Now, 40-plus years later, the U.S. subsidiary has once again established its offices in the downtown area, after Hurricane Harvey — but has written a new chapter on design and functionality.
The U.S. affiliate's new space mirrors the clean look of Motiva's headquarters, housed in the same building complex, with key features to "energize" the work environment.
This includes natural illumination, recessed LED ceiling lights, and sound absorption; as well as "adjustable" work spaces, including ergonomic chairs and adjustable height desks. Neighboring skyscrapers house other energy companies, engineering and construction firms, international banks — key partners for Aramco's growth.