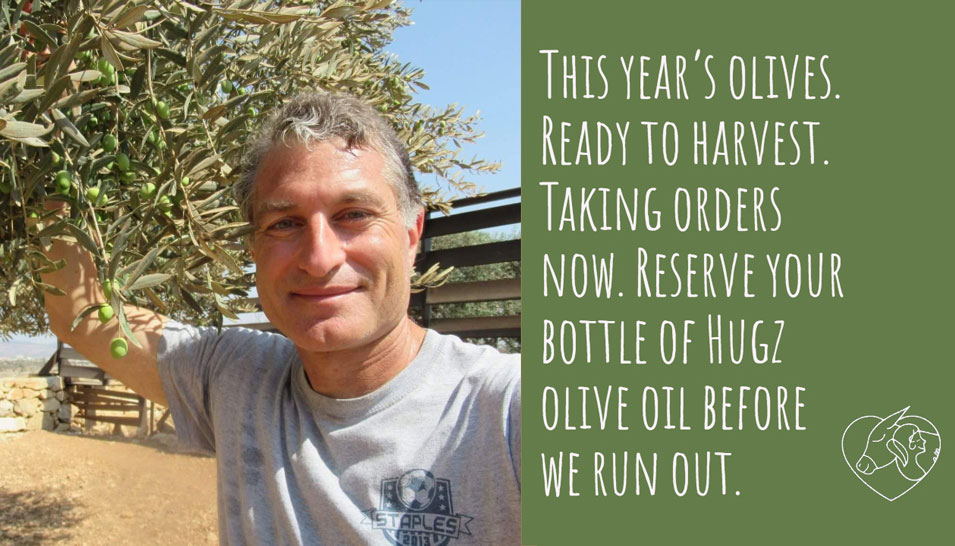 Are you looking for a taste of home? Would you like to support an Aramco Brat-run charity helping animals and children in Palestine?
Well, you're in luck!
It's olive harvest season at Daily Hugz! Last year we quickly ran out of our amazing, delicious, green olive oil. This year, a $50 donation will still get you a bottle, but you should sign up early so that we can be sure to meet the demand by shipping enough oil to the US around the end of October.
Donations made by October 31, 2018 will also receive a complimentary bag of za'atar spice – a fantastic accompaniment to the oil.
Please make your donation here: "Daily Hugz - Take Action" and include your shipping address and e-mail in the comments.
If you'd like to give someone Hugz olive oil for the holidays, we will provide a timely electronic gift card notification to that person and ship to them directly if you also provide their address and e-mail.
The olive oil will be sent out in February 2019, as soon as it gets to the US — it is literally coming on a ship!