Thomas Andrew Dodge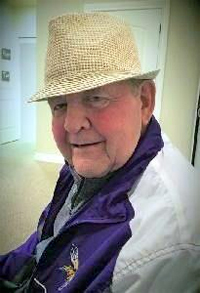 Thomas Andrew Dodge was born July 31, 1939 in Covington, Kentucky, and passed away on June 27, 2020 in Austin, TX. He was the first child of Thelma Stephenson Dodge and Frank Naylor Dodge. When Tom was six, the family, now with Tom's new brother Jim, moved to Minneapolis, Minnesota to a home near Lake Calhoun. Tom attended Calhoun grade school and liked to swim and run around the nearby lake. Nine years later the family, now with another new brother Dave, moved to Edina, a newly developing, post-World War II suburb of Minneapolis, into a house designed by Tom's father.
The new location was still undeveloped enough that the family across the road had horses and plenty of land to ride them on and other neighbors near-by had a pool so Tom and his brothers were kept busy enjoying the new neighborhood. Tom was also able to satisfy his long-standing wish of persuading his parents to let him have a new black Labrador puppy which he promptly named Sport.
Tom's early taste for industriousness and his caution in making certain his pockets were never empty led him to take on a paper route and then pass it on to his younger brother.
As Tom grew to high school age, he lettered in wrestling which earned him the nickname "Tiger Tom." He also pursued another passion in customizing and drag racing his 1950 Ford Coupe with a lowered suspension and a distinctive, loud exhaust which he was proud to share with his mother when she needed to go shopping.
Summers were spent in northern Minnesota, water-skiing, partying and engaging in intrigues of various types. On one such occasion, his uncle was able to leave the normally nonchalant Tom pale and shaking from a dare devil ride in his flimsy two-seater plane.
Having reached the age of 18 and under strong encouragement from his father, Tom went on to college at the University of Minnesota where he joined Alpha Tau Omega (ATO) fraternity and met his future wife Bonnie Anderson. Tom's routine partying practice in high school stood him in good stead at the fraternity and he eventually graduated with a degree in business administration.
After graduating, Tom satisfied the required-at-the-time military service by joining the Army and immediately on honorable discharge, married his college sweetheart, Bonnie Carol Anderson.
Tom and Bonnie had three children (Steve, John and Laura) born in Minneapolis, MN whom he indoctrinated into being Viking fans before the kids could even walk.
Taking the temper of the times, Tom decided to enter the newly burgeoning field of computers and automation, first at Sperry Rand Univac and then at Honeywell Corporation where he worked in project management, first in Minneapolis and subsequently in Clearwater, Florida, then New Hope Pennsylvania, and afterwards, Scottsdale, Arizona. Tom had the privilege to work on some of the leading-edge automation projects of that time including the "Race to the Moon" as a Control Systems Manager on the Mercury, Gemini, and Apollo Space Programs.
He also was the Project Manager for some of the largest Oil and Gas Projects ever automated including SASOL and Aramco. He transferred one final time to Austin, TX where his entrepreneurial spirit led him to starting up Advanced System Integration (ASI) along with his two sons.
Tom figured out the perfect balance of being an "ICON" in the automation world while also being an amazing father, Grampy and husband. He was a coach for his kid's little league baseball teams and a mentor to thousands of people that worked with him. He also made time to enjoy all that life has to offer including sunsets, golf, gardening, sports cars, beach, steaks on the grill, Wild Turkey Bourbon and a cold beer. Always the optimist, Tom enjoyed everything in life and never met a stranger with whom he didn't share a smile. He loved to be with his family and enjoyed the times by the pool with his kids & their spouses (Steve/Meg, John/Suzie, Laura/Deepak) and grandkids (Jack, Caiti, Amber, Emily).
He truly lived life to its fullest! Information regarding the "Memorial of Tom Dodge - Celebration of Life" will be coming soon and will most likely take place in Fall 2020 due to COVID-19. Memorial contributions can be made online at the Tom Dodge Tribute page on the Alzheimer's Association website, link below:
The only thing missing from Tom's life was a Minnesota Vikings Super Bowl win, so from the Heavens above, we expect to be hearing a loud SKOL VIKINGS!!!! whenever his team takes the field!