Sherri Alazraki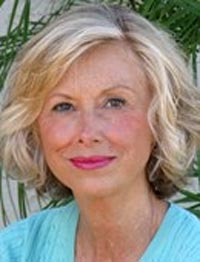 Sherri Alazraki of San Diego died suddenly in her Scripps Ranch home of an apparent heart attack on February 19, 2020. She and her family have lived in San Diego since 1993, moving from Wilmington, Delaware. Sherri had been treated for a lung condition for several years, but it was not considered life-threatening.
Sherri was born April 5, 1947 in Wilmington to Earl and Dorothy Davis. Earl was a civil engineer and Dorothy a stay-at-home mother. In 1952 Earl took a job for Aramco in Saudi Arabia to work on an oil pipeline and the family soon followed. Sherri returned home to Wilmington to attend high school and then on to college at the University of Pittsburgh, graduating with a BA in art and dramatic arts.
Sherri married her first husband in her senior year and gave birth to her son Sean. When the marriage ended, Sherri and Sean returned to Wilmington, where she pursued varied careers, before she tried selling insurance. During an insurance sales call in 1979 she met her future husband, Eliot. They married in 1980. Eliot adopted Sean as soon as he was able and in 1982 their son Jason was born. Sherri switched over to banking for several years, and during a business trip in 1986 discovered San Diego and was smitten. She and her husband planned to relocate six years later. After settling in Scripps Ranch, she had several positions before landing at Scripps Health Foundation, where she worked as a development officer for ten years, retiring in 2007.
In retirement, Sherri donated her time to the NPR radio reading and tutored at the International Rescue Committee. She also joined a bridge group and a women's book club and found time to write and publish two novels. Besides all the above, Sherri sang in community events, played the piano, acted in community theatre and painted beautiful artwork. She was a true Renaissance woman. She is survived by husband Eliot of 40 years and her sons Sean and Jason, brother Brian Davis, and five nieces and nephews.