Mary Lou King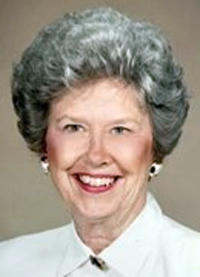 Urbandale - Mary Louise King passed away at Deerfield Retirement Community on February 10, 2020 at the age of 99.
Mary Lou was born in Des Moines, Iowa to Arthur and Aldine Kenworthy. She attended Hanawalt, Callanan, Roosevelt and Drake University where she graduated with a degree in education. While at Drake, she became a member of Delta Gamma sorority.
After teaching for one year, her independent nature influenced a move to San Francisco. She worked for Shell Oil Company where she met her future husband, William Reid King. After their marriage in 1949, they moved to New York City where Bill worked for Arabian American Oil Company. Upon being transferred to Saudi Arabia, the couple made the decision to move back to Des Moines where Bill joined StoreyKenworthy Company. They welcomed two daughters and enjoyed 46 years of marriage until Bill's death in 1996. In 2005, she established a new home at Deerfield Retirement Community.
Mary Lou was a dedicated wife, mother and friend. A lady in the classic sense, she exuded style and class. Her friends were a source of joy and she worked hard to keep in touch with all she came in contact with.
She adored spending time in the north woods on Star Island, Cass Lake, Minnesota and wintering in Naples, Florida.
Social and civic involvement included Symphony Guild, Prevention of Blindness, Delta Gamma Corporation Board, Pioneer Club, P.E.O., and Questers. Plymouth Church held a special place in her heart her entire life. A longstanding member of Des Moines Golf and Country Club, Mary Lou was an avid, competitive golf and tennis player. In addition, she loved to win at bridge.
Mary Lou is survived by her daughters Nancy (Gordon) Cheeseman, Kathryn (Paul Mascovich) Bradley; grandchildren Kristin (Delsin) Knowler, Jeff Cheeseman, Ellen (Tim) Pommer, Reid Bradley; great grandchildren Davis Knowler, Cal Patterson Cheeseman and Emma and Georgia Pommer. She was preceded in death by her husband, Bill King and brother, James Kenworthy.
The family wishes to extend its profound thanks to the staff at Deerfield Retirement Center and Suncrest Hospice for their unwavering compassionate care.
A memorial service will be held at Plymouth Church on Friday, February 14, at 11:00 a.m., with a luncheon to follow. Private interment of cremains will be at Resthaven Cemetery, West Des Moines, Iowa next to her husband Bill.
Memorials can be directed to Plymouth Church or Deerfield Foundation.