John Cherif Guillot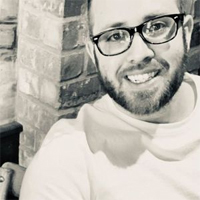 John Edward Cherif Guillot passed away on Sunday, March 21, 2021 at his home in Baton Rouge, LA. He was born on Tuesday, September 26, 1989 in Seoul, South Korea to his loving parents, the late Raymond Charles Guillot and his beloved mother, Viki Anne Wall Guillot.
Cherif is survived by his devoted wife Kelly Zimmer Guillot and his stepdaughters, Emma Elise Tubre and Annie Rosalie Tubre.
As the child of overseas educators, Cherif had the privilege of being raised internationally. He lived in Ras Tanura as well as Udhailiyah, Saudi Arabia. Throughout his entire childhood, Cherif traveled the world visiting countries such as Egypt, Yemen, Germany as well as many other Middle Eastern & European countries. However, Cherif will be most cherished by his family through the experiences they had in Bahrain. Cherif loved Bahrain. Cherif Guillot completed his Bachelor of Science Degree in Addiction Studies at Northwestern State University. At the time of his death, he was working on his Master's Degree at Hazelden Betty Ford Graduate School of Addiction.
Cherif Guillot was preceded in death by his father, Raymond Charles Guillot, his maternal grandparents, Diamond Hammonds Wall Newman and Ralph Thurston Wall, his paternal grandparents, Olga Holupka Guillot and Raymond Guillot.
Family and Friends will be honoring Cherif with a Celebration of Life Ceremony at First United Methodist Church of Baton Rouge, 930 North Boulevard, Baton Rouge, Louisiana 70802 on Saturday, March 27th from 9:00am until 12:00pm.
Face masks are mandatory to attend the service. We ask that you maintain a respectful distance when paying your respects to the family. Viki Guillot and her family would also appreciate that all their attendees pay their final respects at the service site. The family would like their privacy once the Celebration of Life Service has completed. We appreciate your attendance to celebrate Cherif's life and wish for your understanding during this tragic time. We thank you for your cooperation.
In lieu of flowers the family requests donations to Cherif's favorite non-profit treatment and recovery organization, The Hazelden Betty Ford Foundation.