Guy Albert Birmingham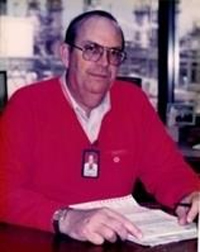 Guy Albert Birmingham was proud to be a chemical engineer, a manager of refineries and a devoted family man. He passed away on April 16, 2021 at the age of 86. Guy was born August 3, 1934 to the late Amanda and Ray Birmingham in Sweetwater, Texas, where he grew up and attended Newman High School. He graduated from Texas Tech University with a B.S. in Chemical Engineering after which he served in the U.S. Army Reserves with the Chemical Corp R & D Command in Dugway, Utah.
Guy began work as a process engineer for Texaco in Port Arthur, Texas, where he met his wife Dorothy Marie Bates. Guy had a remarkable 38-year career with Texaco which took him and his family to locations in Texas, Louisiana, and New York City, as well as overseas assignments in Saudi Arabia, The Netherlands, and Wales. In New York he worked with the Strategic Planning group in the landmark Chrysler building at Lexington and 42nd Street. He served as Refinery Manager at the Texaco refineries in Port Artur, Texas, Convent, Louisiana, Rotterdam and Pembroke, Wales, and at the Aramco refinery at Ras Tanura, Saudi Arabia.
Guy was a devoted husband and father. As a young man he spent most of his free time with his family supporting his children's endeavors. During their years living abroad Guy and Dorothy began traveling around the world which they continued to enjoy together for many years after retiring.
Guy is survived by his beloved wife of years, Dorothy, his daughter's husband Michael J. Padgett of Houston, his sister Mary Ruth Cohlmia and husband Mickey of Midland and his niece and nephew, Paige and Paul Lamothe of Baton Rouge, La. He is preceded in death by his daughter Dana Kay Birmingham Padgett (March 7, 2021), his son Britton Ray Birmingham (July 17, 2015), his brother Ray Birmingham and sister Nancy Birmingham.
Guy's ashes have been placed next to those of his son and daughter in Glenwood Cemetery, Houston. Colleagues and friends are encouraged to post remembrances on Guy's tribute on the Bradshaw-Carter website or contribute to a charity of your choice in his name.