Glenn Roland Bagley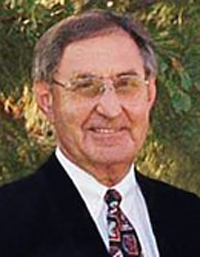 Glenn Roland Bagley, beloved father, grandfather, great-grandfather, brother, and friend, peacefully passed away on June 15, 2018 at the age of 91. Glenn was born in Garfield, Utah on May 5, 1927 to Roland Phelps and Irene Nelson Bagley. Along with High School, Glenn went to the trade school where his Uncle Eldon taught him mechanics. Glenn loved to work on cars and enjoyed hunting and fishing.
Glenn joined the Navy when he was 17 working with electronics. He was in the historical battle of Iwo Jima during World War II.
Glenn married his sweetheart, Doris Mae Morrow, on September 4, 1947, and was sealed in the Salt Lake Temple for time and all eternity, on May 25, 1957.
While studying to become an electrical engineer, Glenn managed the Old Timp Drive-In Movie Theater with Doris. While working full time at Geneva Steel, he was also a full-time student at BYU and graduated with a Masters Degree in Electrical Engineering. He supervised in the rolling mills at Geneva and was integral in computerizing systems there. Glenn later worked in Saudi Arabia for 10 1/2 years for Aramco Oil Company. They returned to Utah in September of 1989 and built their home in Provo. Glenn and Doris had a second home in St. George, where they enjoyed the winter months before deciding to make St. George their permanent home. Shortly after completing their new home in St. George, Doris sadly became ill and passed away after 56 loving years of marriage.
Glenn stayed in St. George and later married Barbara (Bobbie) Rae Mott on February 25, 2006. Bobbie passed away in 2016.
Glenn was a member of The Church of Jesus Christ of Latter-day Saints. He enjoyed his service in the church, which included serving as a counselor in the bishopric of the Orem13th Ward.
Glenn was an active and adventurous man, who enjoyed exploring the outdoors until the day he lost his eyesight. He was a determined, but loving man, who would do whatever he could for his family and friends.
Glenn is survived by his children, Stephen (Janice) Bagley, Teri (Brian) Howell and Kristine (Jude) Todd; 18 Grandchildren and 28 Great Grandchildren. He is also by his siblings, Betty Clark, Richard Bagley, Don Thompson, and Paul Thompson.
Glenn was preceded in death by his wives, Doris Morrow and Barbara Mott; his parents, Irene Nelson and Roland Bagley; Stepfather Earl Thompson and his two daughters, Kathrine Bagley and Cheryl Bagley Doman.
A memorial service will be held in honor of Glenn on Saturday, June 23, 2018 at 5:00 pm at the LDS chapel on 1068 W. Chandler Dr, St. George, Utah 84770.
Funeral services will be held Monday, June 25, 2018 at 11:00 am in the Riverside Ward Building, 180 East 3500 North, Provo, Utah 84604. Family and friends may attend a viewing Sunday evening from 6-8 pm at Olpin Family Mortuary, 494 South 300 East, Pleasant Grove, Utah 84062 and at the church on Monday one hour prior to services. Interment will be in the Provo City Cemetery with military honors conducted by American Legion Post 72. Condolences may be sent to the family at www.olpinmortuary.com
The family would like to offer heartfelt thanks to the staff at both The Southern Utah Veterans Home in Ivins, Utah and the Southwestern Veterans Home and Blind Center in Tucson, Arizona for the excellent care and kindness shown to Glenn.