Donna Lucille Stewart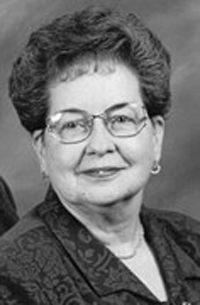 It is with bittersweet sorrow, and yet celebration, that the family shares that Donna Lucille Stewart left this earthly life and entered into Heaven on the afternoon of January 21, 2020, at the age of 89.
Donna was born on December 8, 1931, in Copan, Oklahoma, to Tilden and Rosie Walls. She lived in Oklahoma until 1951, when she met and married the love of her life, Doyle Stewart, whom she was married to for over 50 years. They lived in West Virginia, where Doyle was from, for much of their lives together. She worked for Union Carbide (now Dow Chemical) as a secretary for a number of years at various offices around Charleston. She also spent six years living in Dhahran, Saudi Arabia in the 1980s and '90s where both she and Doyle worked for Aramco - him as an engineer and her as a secretary. They had two sons, Michael and Garry, both born in South Charleston.
Donna was deeply devoted to her family and had many interests and hobbies over her lifetime. She was very committed to her church family and served faithfully there in her beloved Sunday school class and in her craft group. She enjoyed traveling and seeing the world while living overseas and collected quite the assortment of odds and ends. She also enjoyed square dancing with Doyle.
Donna was sweet, humble, generous, kind, talkative and a woman of great faith. She leaves a wonderful legacy behind to all who were fortunate to know her.
She was preceded in death by her parents, Tilden and Rosie Walls; her younger brother, Joe Walls; and her husband, Doyle.
She is survived by her two sons, Michael (Karen) and Garry; four grandchildren, Sarah Stewart (Joe McQuerrey), Lara McClurkin (Nathan), Robert Stewart (Jennie) and Kyle Stewart (Tabitha); and seven great-grandchildren, Katie and Camden McQuerrey, Elisabeth and Jonah McClurkin, Beau Stewart, and Mary Ellen and Deacon Stewart.
A service to Honor the Life of Donna will be held at 1 p.m. Monday, January 27, at First United Methodist Church, South Charleston, with Rev. Paul Helmick, OP officiating. Burial will follow in Cunningham Memorial Park, St. Albans.
Family and Friends may visit from 4 p.m. to 6 p.m. Sunday, January 26, at Snodgrass Funeral Home, South Charleston.
Memories of Donna may be shared by visiting snodgrassfuneral.com and selecting the obituary. Snodgrass Funeral Home is assisting the family with these arrangements.