Bernard J. Schaeffer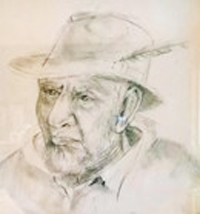 Bernard "Duke" Joseph Schaeffer, 84, passed away May 16th, 2019 of natural causes in Fort Collins, CO.
Duke, an only child, was born in 1934 to the late Bernard "Ben" J. Schaeffer and Madeline Powers in Farmingdale, Long Island New York. He graduated from Oceanside High School in 1952, Oceanside, NY. He earned an Associates in Engineering from Pratt Institute, Brooklyn, NY and a Masters in Real Estate (MRE), Fort Collins Board of Realtors. He married Barbara Ann Pettit June 23rd, 1956 and have shared life together for 62 years.
Throughout Duke's career, he worked for Sperry Rand, Grumman Aerospace, International Harvester (IH) dealership in Hot Sulphur Springs, CO; AMAX molybdenum mine, Occidental Oil Shale, ARAMCO - Arabian American Oil Company, Real Estate - Cabin Country and Broker of NorthWest Real Estate. In addition, Duke served as Mayor of Hot Sulphur Springs CO in the early 70s, served as Colorado Region 17 Representative, served on the Fort Collins Board of Realtors (FCBR) CAR NAR, and was a licensed Religious Science practitioner.
Duke is survived by: wife, Barbara Ann Pettit-Schaeffer; children, Thomas J. Schaeffer (Sandra), Bonnie A Weekley (David C.) and Lorraine Schaeffer; grandchildren, LeAnn Bennett (Wes), David Paul Weekley (Lindsay), Tiffany Tesmer (Tyler), Michael Schaeffer (Adrianne), Samuel Weekley, and Sarah Ashbaugh; great grandchildren, Harper Rose Bennett, Easton Bennett, Kayley Bennett, Sylvia Schaeffer and Remington Tesmer.
Memorial Service will be held Saturday, June 8, 2019 at 1:00pm from the Allnutt Drake Chapel, 650 W Drake Rd, Fort Collins.
Reception will follow the service at Island Grill, 2601 South Lemay, Unit 12, Fort Collins, CO.
We extend our thanks to the Collinwood staff for their care of Duke.
Family and friends may sign the online guestbook or leave a personal note to the family at www.allnuttftcollins.com.