Ann Louise Billings Anderson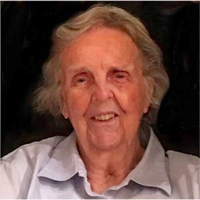 A private graveside service was held Wednesday for longtime former Hammond resident, Ann Louise Billings Anderson, who died Saturday in her daughter's home in Oakton, VA, after a long battle with cancer. She was born on July 31, 1929 in Malvern, AR to Dr. Ammon Alexander Billings and Mrs. Ruth Mae Hinkle Billings. Ann, 90, was buried alongside her husband, Conrad Edward Anderson, at Grace Memorial Episcopal Cemetery.
After graduating Malvern High School in 1947 she moved to Little Rock, AR to attend secretarial school. She then relocated to Dallas, TX to work for the Dallas Times-Herald. In the early 50s, she took a job with Aramco and moved to Dhahran, Saudi Arabia where she worked as a secretary. It was during this time her love of travel and culture was instilled. She organized events for the king and foreign dignitaries and met Conrad who was working in operations at Aramco.
She and Conrad would return from Saudi Arabia to settle in his hometown of Hammond, LA.
There they had two children, Fritz and Amanda. Ann worked as a loving mother and caretaker while supporting Conrad in his political and banking careers. She lived in Hammond for over 40 years.
Ann is remembered as an avid traveler, who visited all 50 states and over 80 countries. She is fondly remembered by her six grandsons as a loving Gran, prolific needleworker, and vibrant story-teller. She discovered the bountiful joys of a giving life, and practiced generosity at every opportunity she was given.
She was preceded in death by her husband, Conrad Edward Anderson; parents, Dr. and Mrs. Ammon Alexander Billings; and brother, Norman Billings.
She is survived by her son, Fritz William Anderson II (Jan), of Hammond, LA; her daughter, Amanda Anderson Gorog (Peter), of Oakton, VA; a sister, Elizebeth Billings Smith, of Tulsa, OK; a brother, Ammon Alexander Billings Jr. of Hot Springs, AR; and six grandsons: Conrad Edward Anderson II (Mary Catherine), William Francis Gorog II, Fritz William Anderson III (Caley), Henry Anderson Gorog, Richard Augustus Gorog, and John Carroll Gorog.