Alfred C. DeCrane, Jr.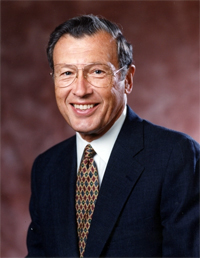 Former Texaco executive and philanthropist Alfred C. DeCrane, Jr., died peacefully on September 22, surrounded by family in his home in Vero Beach, FL, at the age of 90. The cause was complications from primary progressive aphasia, according to his wife of 67 years, Joan Hoffman DeCrane.
On learning he was scheduled to be kidnapped along with Saudi Petroleum Minister Zaki Yamani and three others from Yamani's home outside Beirut in the early 1970s, a Palestinian contact assured Mr. DeCrane, "Don't worry, Al, they wouldn't have hurt you." The assertion, true or not, was emblematic of Mr. DeCrane's ties in the Mideast, forged in his days as a lawyer with Texaco, which he joined in 1959, through years negotiating with OPEC, and his eventual roles on the board of Aramco, and as Chairman and CEO of Texaco. He was simultaneously active throughout his career with Texaco's subsidiaries elsewhere throughout the world, particularly in the eastern hemisphere.
Born in Cleveland in 1931 to construction contractor Alfred C. DeCrane and Verona Marquard, a homemaker. Mr. DeCrane attended Cathedral Latin School, where he graduated as valedictorian, working summers as a florist and delivering ice. He graduated magna cum laude from the University of Notre Dame, where he was named National Singles Debate Champion (and runner up in Extemporaneous Speech) his junior year. Upon graduation he was commissioned an officer in the US Marine Corps- and married the former Joan Elizabeth Hoffman of Algona, Iowa, in 1954. With an honorable discharge from the Marines as Captain, he went to work for Joseph P. Kennedy, father to the senators and president, as a speechwriter. Feeling Joe Kennedy gave his most interesting issues to the lawyers, Mr. DeCrane left to attend the Georgetown University Law School. He joined Texaco two years later and argued in front of the US Supreme Court at the age of 34. Referring to one case he presented, he told his family, "The good news is that the decision was unanimous. The bad news is we lost, nine to zero."
Mr. DeCrane's extensive international travel began early in his career with Texaco as OPEC (formed in 1962) began its evermore-assertive role in setting prices and controlling resources. He was on the frontlines as VP Production Eastern Hemisphere when the cartel began its oil boycott of the US and other nations in the 1970s. He was named Texaco's general counsel in 1976, elected to the board the next year, and became president in 1983. It was in the following year that the company's biggest travail began: Texaco made an offer for Getty Oil and Texaco acquired the company, but Pennzoil sued, claiming it already had an agreement in principle to purchase less than half of Getty. Mr. DeCrane, who had been named Chairman the year prior, successfully steered the company through the ordeal and became CEO in 1993. (Pennzoil was subsequently acquired by the Quaker State Motor Oil Company; Chevron acquired Texaco in 2001.) Following his retirement in 1996, Mr. DeCrane served on many corporate boards, among them Bestfoods, Cigna, Birmingham Steel, Harris Corp., and Dean Whitter Discover. He continued to consult for Chevron for several years.
Paramount among Mr. DeCrane's many extra-business interests was education. He served as a trustee of the American University of Beirut since 1973, and after many years of support on the university's Arts Council and board, was named a Father Theodore Hesburgh Trustee at Notre Dame in 2019. He and his wife Joan established the DeCrane Foundation Chair in International Economics at Notre Dame, as well as the Joan Hoffman DeCrane scholarship funds at both Notre Dame and St. Mary's College in South Bend, IN, Mrs. DeCrane's alma mater. They also established a student scholarship fund at the Georgetown University Law Center in 1984.
Mr. and Mrs. DeCrane raised their six children in Bronxville, NY. They contributed to their church St. Josephs, and we're strong supporters of Lawrence Hospital and Maxwell Foundation, an organization serving those suffering from alcohol and drug addiction.
On retirement, he and Mrs. DeCrane relocated to John's Island in Vero Beach, FL. They became active sponsors of many charities including Habitat for Humanity, the Indian River Land Trust, the Woman's Care Center of Indian River, and Food for the Poor, Inc. Retirement also afforded him and his wife more time to travel, spend time with their children and grandchildren, and participate in the activities Mr. DeCrane enjoyed, including golf, sailing, cycling and paddleball. He also enjoyed jigsaw puzzles, opera, ice cream, dogs and watching sunsets with his family from their cottages in Lake Okoboji, Iowa.
Alfred C. DeCrane, Jr. was predeceased by a daughter, Stacie, in 2009, and is survived by his wife, Joan, a brother, Vincent, and sister, Clare; five children, David (Linda), Lisa (Alvaro), Stephanie (Paul), Sarah (Dan) and Jennifer (Jon), 16 grandchildren and one great-grandchild. The family requests in lieu of flowers any donations be made in his honor to Notre Dame University, Hope for Families Center, Inc, in Vero Beach, FL or a charity of your choice.