Pursuit of Happiness-Starting with Nikah to a Valuable Life
"The most blessed Nikah (Wedding) is the one with the least expenses."
Prophet PBUH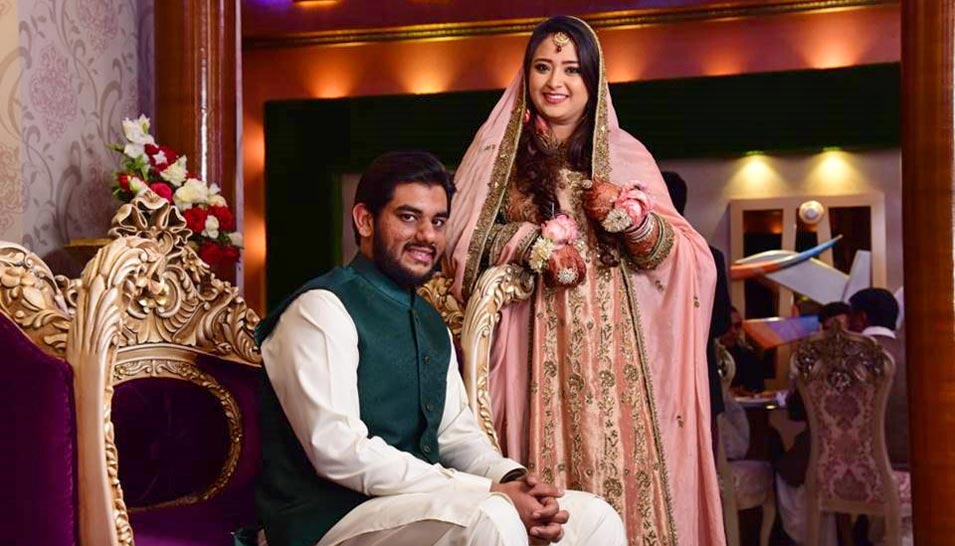 Nikah Ceremony of Taha with Samia
With the idea of Sharia Wedding, Engr. Taha Ahmed Khan got Nikkahfied with Samia Siddiqui in a simple way on Saturday, December 14, 2019 at Al-Moosa Banquet, Gulshan-e-Iqbal in Karachi, Pakistan.
In today's world where media influence creates hype for a wedding of splendor; making everything available at the sight of money, Taha realized the importance of this saying of Prophet PBUH for the beginning of a blessed wedding.
"The main idea to a much simpler wedding is to follow Sharia and if you cannot then try to minimize your cost of event with lots of memories of love and joy because blessing cannot in any way be exchanged with money and exhibition of things, and that's true happiness," says the newly Nikkahfied couple.
Taha is the nephew of Engr. Iqbal Ahmed Khan-VP SAEEA. Engr. Taha A. Khan has completed his Bachelor's Degree from NED University of Engineering & Technology from Polymer & Petro Chemical Department in 2014. At present, he is working at Online Luxury Clothing Company in London as Quality Analyst.
Samia is the daughter of Mr. & Mrs. Asif A. Siddiqui. Mr. Siddiqui is working with Dubai Petroleum Company in UAE. Samia is graduated in Hospitality Management and in Apparel & Textiles from Karachi University in 2018 and at present, she is teaching in College of Tourism and Hotel Management Research Faculty.
She believes that life is more about investing in relationships and wellbeing of others rather than being materialistic, where you can drive happiness from sharing and caring rather than spending on things while supporting each other through thick and thin to lead a good life.
First Glance of Taha and Samia
The "Arsi Musaf" is a Muslim wedding ritual and is performed after the signing of the Nikah. A veil is placed over the bride and groom's head and a mirror is placed on their laps. This is a secluded moment that the bride and groom share at first glance as Husband and Wife together and it illustrates tenderness towards the acceptance of the new couple culturally.
Typically, something sweet is shared later which in this case it was a cake cutting ceremony. It is a very sweet ritual as the bride and groom have a moment of fondness to remember for their lives.
Last but not least we wish Taha and Samia a very Happy Married Life and pray for their prosperous and bright future.