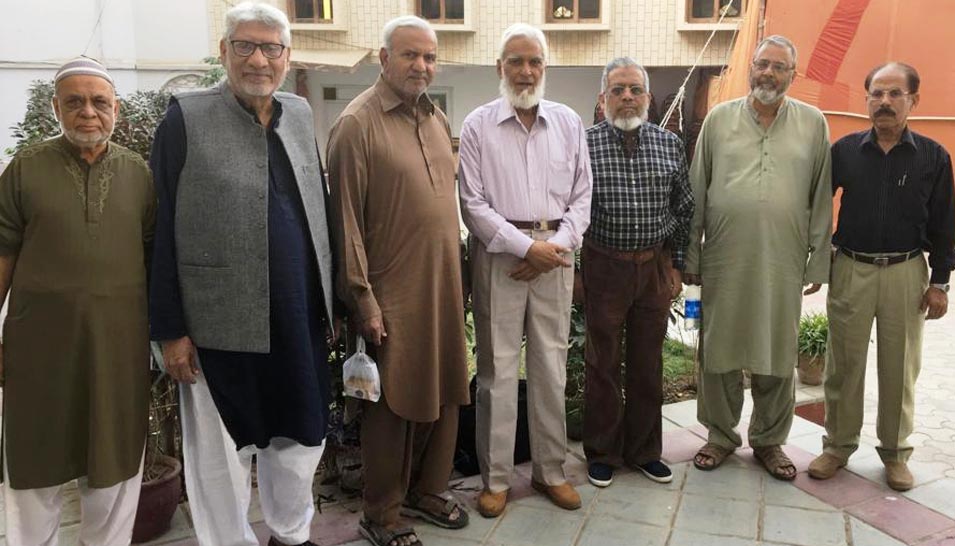 Nabil K. Al Dabal congratulates participants in the "Emerging Leader Program — Community One," which was recently launched in Dhahran. Al Dabal highlighted the company's commitment to developing leaders, reminding the participants of the importance of taking advantage of such opportunities to invest in their leadership capability. (Photo: Moayed Al-Qattan/MPD)
Dhahran — In an effort to accelerate the development of the company's emerging leaders, Saudi Aramco's Management Development Division (MDD), in alliance with the Harvard Business School, recently launched the "Emerging Leader Program — Community One" for 50 participants.
The program offers nominated grade code 12 and 13 employees an opportunity to develop leadership capabilities and learn cutting-edge skills relevant to today's global business climate. It is a seven- month blended learning program in Dhahran with a mix of in-person and virtual sessions via WebEx.
The program consists of four modules, addressing such topics as strategic thinking, global perspective, relationship management, collaboration, execution, and personal leadership.
Each module features an address by the Saudi Aramco executive sponsor, Yasser M. Mufti, vice president of Strategy and Market Analysis; a virtual lecture by a top Harvard professor; and an in-person workshop with a Harvard moderator. It also includes application exercises and peer learning in teams of five.
Investing in Developing Leadership
The launch event featured opening remarks by Human Resources executive director Nabil K. Al Dabal, who congratulated the participants on being selected, highlighting Saudi Aramco's commitment to developing leaders and reminding the participants of the importance of taking this opportunity to invest in their leadership capability.
Al Dabal was followed by Vinay Hebbar, senior vice president of Harvard Business Publishing, who emphasized the importance of "learning agility" to leadership development success.
Mufti then spoke about the increasing importance of collaboration — both within and across boundaries. He was followed by moderator Robert Huasmann, who led a case study workshop.
The presentations were closed out with a virtual faculty session on "Collaborating for Competitive Advantage" with Harvard professor Jeff Polzer.
Participants Praise Program
The launch event, which included the module one workshop, was very well-received by management and participants alike.
"Module one of the program focuses on collaboration within teams through team exercises and discussions, and it offers great insights from the Harvard Business School faculty. Additionally, the case studies we are working on are particularly beneficial due to their relevancy to our present challenges," said participant Ghadah Hamidi.
"The Harvard-Saudi Aramco Emerging Leader Program is wisely structured and has the potential to influence future leaders of Saudi Aramco,'' said participant Hesham Hesham.
"The Harvard Alliance and Emerging Leader Program is a very positive step toward developing Saudi Aramco's future leaders through participation in meaningful ways. Also, it is an opportunity to translate our passion and vision into reality,'' added participant Basim Harbi.
A Worthy Partnership
Christian J. Hobson, head of the MDD, said Saudi Aramco is proud to be working with a university that holds such high esteem globally.
"We are immensely proud to be working with a school with an educational heritage of over 100 years old and is consistently rated as one of the top business schools in the world," said Hobson, adding that the Harvard Business School Emerging Leader Program is one of many planned interventions and connections that Saudi Aramco will have with the school — ranging from tailored programs on the Boston campus, to accessing online learning modules and case studies.
"We're looking to ensure that employees and leaders alike benefit from their exceptional offerings and teachings."
Program coordinator Afnan Abushaheen echoed Hobson's comments.
"It is such a privilege to work on this exciting initiative with a preeminent top-tier business school, partnering to accelerate the capabilities of our talent in Saudi Aramco, the Kingdom, and beyond,'' said Abushaheen.
Program leader Stephen McIntosh said it is a great opportunity for Saudi Aramco's emerging leaders to build a foundation of leadership knowledge and perspective that will help them throughout their careers.
"This experience is further enhanced by the launch of the community, which will continue beyond the program to provide further development and an invaluable peer network,'' said McIntosh.