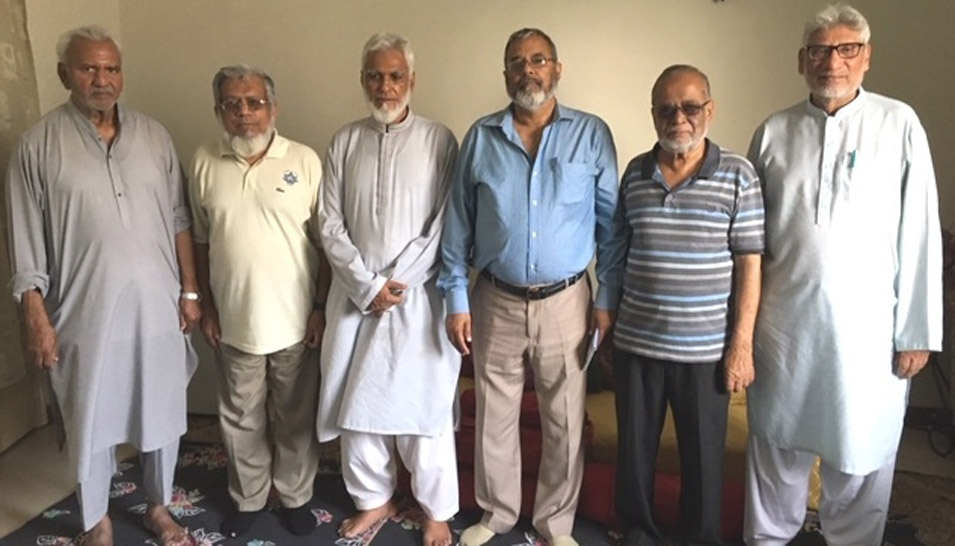 Ghulam Qutubuddin Khan, Engr. Iqbal Ahmed Khan, Kamal Ahmed Farooqi, Arif Qamar, Mohammed Abdul Matin, Muhammad Salim Hamid
The monthly progress meeting of Saudi Aramco Ex-Employees Association (SAEEA) was held on April 22, 2019 at Mr. Wazir Ali Qadri's residence.
The attendees were as follows:
Kamal Ahmed Farooqi (KAF)
Engr. Iqbal Ahmed Khan (IAK)
Ghulam Qutbuddin Khan (GQK)
Mohammad Abdul Matin (MAM)
Arif Qamar (AQ)
Muhammad Salim Hamid (MSH)
The highlights of the meeting were as follows:
KAF thanked Wazir Ali Qadri for sparing his house for SAEEA monthly meeting. He also thanked Mrs. and Mr. Qadri for arranging very delicious snacks for all attendees.
KAF updated all attendees about SAEEA activities during March/April, 2019.
During SAEEA 20th reunion, the majority of attendees agreed in increasing the annual subscription from Rs.2500 (Rs.2000+500) to Rs. 3,000 (2500+500). The change will be implemented from July 01, 2019. By increasing Rs. 500, SAEEA may manage three gatherings in a year. SAEEA will officially circulate the changes when they will announce 21st reunion.
Arif Qamar visited three farm houses in order to hire one of them for SAEEA 21st reunion function. All attendees went thru all aspects of the farm houses and agreed to visit two of them. The team will physically visit farm houses on April 27, 2019 and will then finalize the place for Picnic, Eid Milan tentatively on June 23.
IAK updated about SAEEA web.
MSH presented SAEEA updated accounts.
SAEEA visited two ailing members; Syed Mahboob Asgher Bokhari and Iftikhar Ahmed.
KAF prayed for all sick people, especially Iftikhar Ahmed, Mahboob Asgher Bokhari, Daughter of Mahboob Asgher Bokhari, Rashid A. Qureshi and others; and Maghferah for deceased; brother in law of M. Salim Hamid and others.
If you have any questions then please call Engr. Iqbal Ahmed Khan on +92-321-701-4929 or write to him on iqbalkhan.2010@live.com.