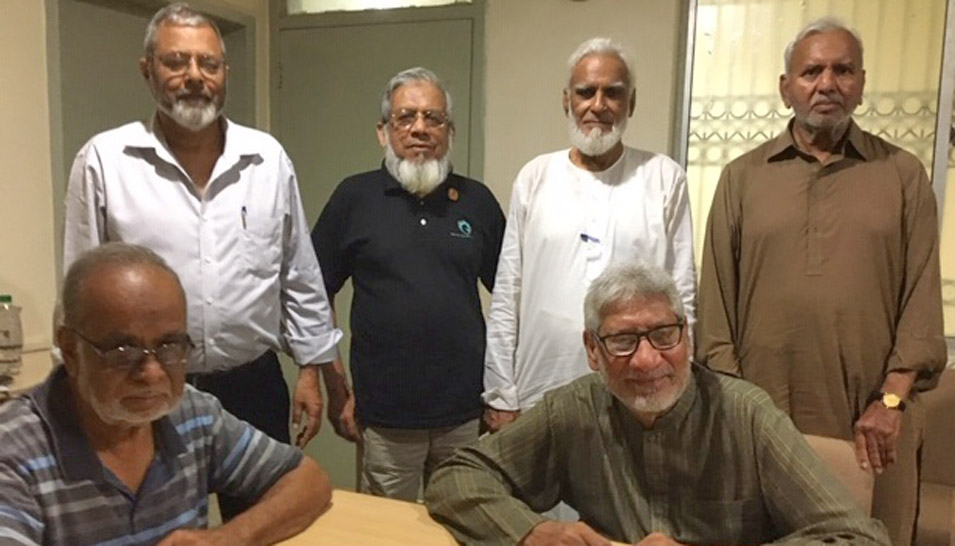 Standing: Arif Qamar, Engr. Iqbal Ahmed Khan, Kamal Ahmed Farooqi, Ghulam Qutubuddin Khan
Sitting: Mohammad Abdul Matin, Muhammad Salim Hamid
The monthly progress meeting of Saudi Aramco Ex-Employees Association (SAEEA) was held on September 28, 2019 at Faran Club, Karachi.
The attendees were as follows:
Kamal Ahmed Farooqi (KAF)
Engr. Iqbal Ahmed Khan (IAK)
Ghulam Qutbuddin Khan (GQK)
Mohammad Abdul Matin (MAM)
Arif Qamar (AQ)
Muhammad Salim Hamid (MSH)
The highlights of the meeting were as follows:
KAF updated SAEEA activities during August/September.
Two members of SAEEA Mohammad Younus Khan and Farrogh Siddiqui passed away. SAEEA attended funeral of Younus and because of late information could not attend the funeral of Farrogh.
As always, KAF again emphasized immediate reporting of any incident/s to enable SAEEA to take on time action.
KAF informed that the 21st reunion function went well. No major complaints reported except the non availability of sound system. KAF requested AQ to double check ahead of time that all the agreed facilities are provided. KAF appreciated all attendees for their support for making the event successful.
SAEEA next reunion will tentatively be held during December/January. KAF requested AQ to look for place for the event.

The next SHERO ADAB gathering further delayed for some more time. This is because of busy schedule of Shabbar Abidi.
IAK updated about SAEEA web.
MSH presented SAEEA updated account.
KAF prayed for all sick people, and Doae Maghferah for deceased; Younus and Farrogh.
If you have any questions then please call Engr. Iqbal Ahmed Khan on +92-321-701-4929 or write to him on iqbalkhan.2010@live.com.