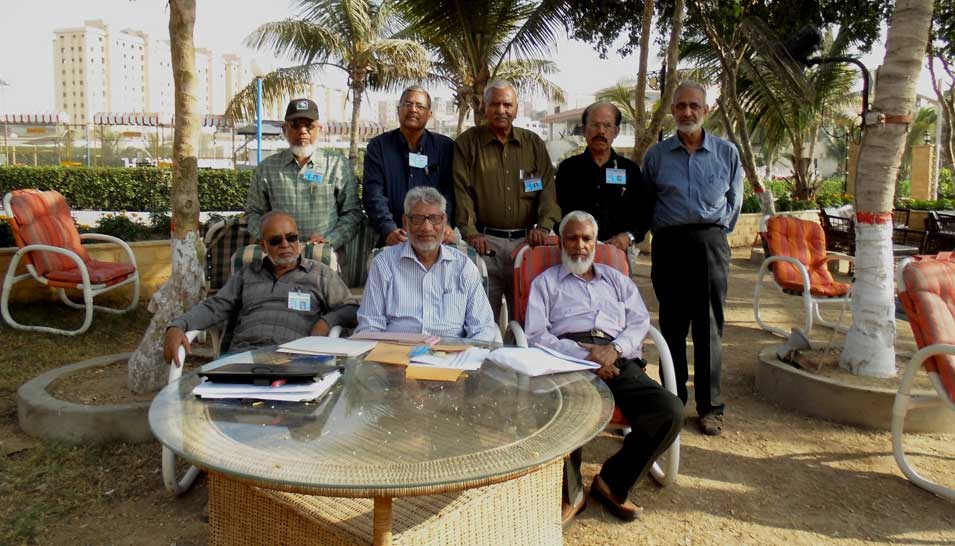 A group of SAEEA Office Bearers
Saudi Aramco Ex-Employees Association (SAEEA) celebrated its 16th reunion on December 04, 2016 at Pavilion End Club, Gulshan-e-Iqbal, and Rashid Minhas Road, Karachi. The highlights of the function are as follows:
A total of 126 people attended the function (76 men, 37 women, and 13 children)
All attendees met with their old buddies and enjoyed the event.
Three new members to SAEEA attended - Ikramullah Khan, Riazul Haque and Abdul Raheem.
Two attendees came from the USA and one from Islamabad.
Function Secretary, Syed Shahid Ali started the event with the recitation from the Holy Qur'an by Engr. Iqbal Ahmed Khan.
In his speech, Kamal Farooqui, President, updated the attendees on the activities of SAEEA.
Kamal Farooqui stated in his speech that this reunion function is in a very big Club with several playing facilities for children and others. Therefore, he shortened his and others' speeches and requested that attendees enjoy the Club facilities.
Kamal Farooqui announced an open invitation for attending SAEEA Management monthly meetings. This is just to get Members opinions/suggestions to improve SAEEA activities.
SAEEA distributed TEA/COFFEE Mugs to SAEEA paid members 2015-2016.
Kamal Farooqui announced a mini picnic in the near future. The date of the picnic will be announced soon.
Kamal Farooqui thanked all participants and requested them to be more active and close with SAEEA.
Kamal thanked all friends for their hands in making the sixteenth reunion a SUCCESS. Special thanks to Shabbar Abidi, Atauddin Qureshi, Samina Ovais and Snobar.
Kamal also thanked Club Management for providing very delicious food and good services during our stay.
There was one death in between fifteenth and sixteenth reunion; ANWAR MIRZA. Several Members of SAEEA have been sick; like Anwarul Hai, Habib Nabi Khan, Nizamal Haque, Mahtab Saeed Khan and several. KAF prayed for all of them.
The program concluded at 3:00 PM after getting several group and individual photographs.
View the Presentation - Part 1View the Presentation - Part 2View the Gallery
The kids are enjoying the trampoline at Pavilion End Clib