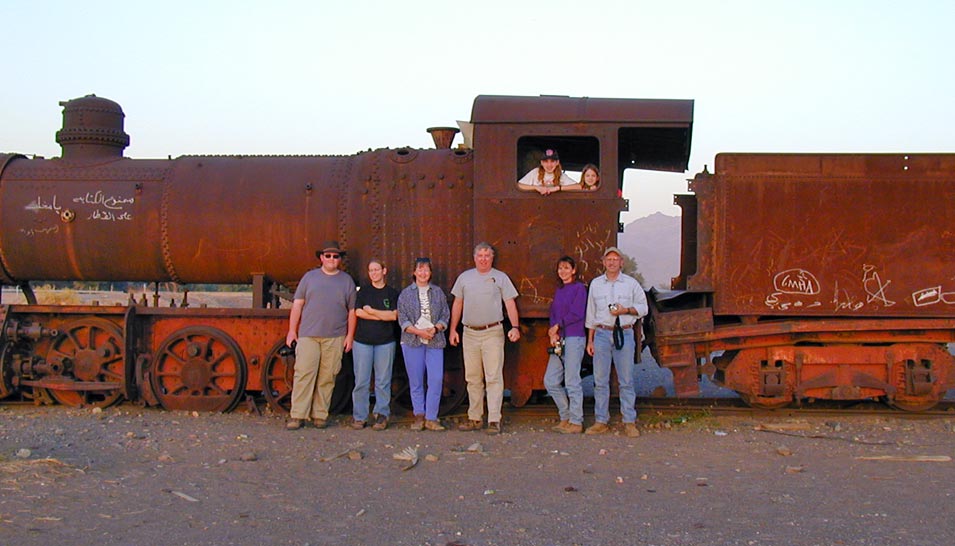 Wallace Colly along with his family and another family from 'Udhailiyah enjoy a memorable camping trip to the Hijaz region, December 2000.
Camping trips are among the most treasured family memories and many an Aramcon family ventured beyond the gates of Aramco camps to experience the great outdoors. In December 2000, Wallace Colly and his family, along with another 'Udhailiyah family, made a memorable camping trip to the Hijaz region (stay tuned for more on this trip next week when we bring you Part 1 of Journey to the Hejaz - Wahba Crater and Beyond by Carol Colly). Wallace recently shared a few photographs from this trip and it offered up a chance to reconnect with him. Wallace was with Aramco from 1981 to 1986 and again from 1988 to 2004 when he took early retirement. Most of his years were spent living and working in 'Udhailiyah with his family.
In a 2004 issue of The Arabian Sun, Wallace's retirement announcement reads:
"Wallace Colly, lead project engineer at 'Udhailiyah, retired recently from Saudi Aramco, ending a career with the company that began in 1981.
"Colly started in the construction business in the United States after completing a bachelor of science degree in building at Georgia Tech in 1974. He rose through the ranks of the J.A. Jones Construction Co. before joining Saudi Aramco's Project Management Department in 1981 as a construction engineer in 'Udhailiyah. Except for a short time in the 1980s, he has worked for the company sInce.
"Colly and his wife, Carol, raised two children. Pamela, 28, and Steven, 24, who now live in the Collys' hometown of Norcross, Georgia, where the Collys plan to retire. The children attended 'Udhailiyah School as youngsters. Pamela now is an elementary school teacher, and Steven works in media production.
"The Collys also were active with community groups and events. Wallace served as scoutmaster for Boy Scout Troop 259 in 'Udhailiyah and also held executive positions with the theater group and the Arabian Natural History Association there. Carol was active in the 'Udhailiyah Women's Group, Theater Group and the Arabian Natural History Association. She also taught piano.
Wallace and Carol Colly were active with Saudi Aramco community groups and events before their recent retirement.
"Wallace said he got a great deal of satisfaction from his work, which included training and mentoring many young Saudi engineers who have since moved up to positions of responsibility in Saudi Aramco.
"Most of my construction projects during the past 15 years have been the construction of Saudi Aramco-built government schools," Colly said. "To know that I have played a major part in providing dozens of quality education facilities in this country that are used by thousands of local children is very satisfying. In leaving the company at this time, I know I have done my part for Saudization."
"And as the couple moves on to new challenges, the past will not be forgotten.
""We leave with many memories of our life in Saudi Arabia," Wallace said. "The most important experiences have been developing new friendships over the years with our colleagues at work and in the community in which we have lived. The best thing is the people, helping one another in both a physical and spiritual sense.'"
Since retirement, Wallace attended both the 2015 and 2019 reunions in KSA. Of this experience, he comments, "I got to go back and see some of the people I worked and lived with as well as see all the changes to the country. That was a great experience. Things have changed tremendously since 2004. Most of it is change for the better, but there is a sense of loss as well. The mostly American community has largely left and been replaced by others from all over the world. Everyone I worked with (including the Saudis) have since retired. Many of the facilities are still there and many new ones have been built. Air-conditioned bus stops and sun shelters over the commissary parking lots were a big surprise when I visited in 2015. But it's not at all the same place that I loved living and working in. Those years were a magical time for me and my family that will only live on in fond memories, photographs, and other accounts of those times. People who were there understand that."
These sentiments ring true for so many. We here at AXP are thankful to Wallace for sharing photo records of one of those fond memories. In this way, the magic lives on.
---
Share your photographs with the Aramco ExPats community. Email them to info@aramcoexpats.com.