by Scott Baldauf
Remodeling of Area that Used to House AC facility Creates Venue for Residents to Interact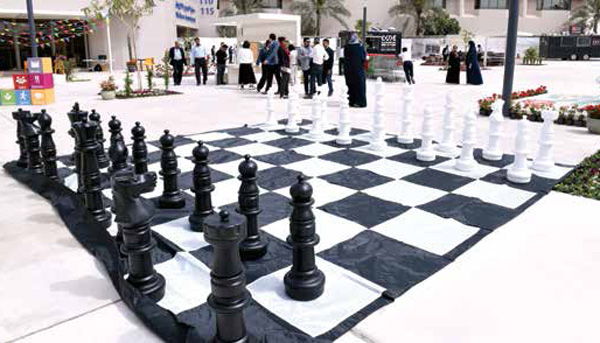 The Dhahran Chess Club set up a giant chess board for members of the community to play during the inauguration of the Community Plaza.
Dhahran — Members of the Dhahran community and management from Community Services gathered on Sunday to celebrate the inauguration of a brand new community plaza located next to the Dhahran Commissary.
The plaza has been designed to enhance the strong spirit of community that already makes Dhahran a special place to live. There will be additional venues for food trucks and bazaar booths. There will also be service kiosks where self-directed groups can reach out and inform members of their community of their activities. By blocking off the road and re-routing bus routes to run in front of the Dining Hall, the new plaza improves safety for pedestrians and eases traffic congestion.
'Reach Out to the Community'
"This is the hub of the community; it's really full of energy," Community Services executive director Nabil A. Al-Nuaim said at the inauguration. "Now that this plaza has been constructed, 56 self-directed groups will have a permanent place where they can reach out to the community and inform them of their activities.
"And there will be more improvements in the future. If we go back in history, this area was the first AC plant that was built in the Middle East in 1943. However, after operating the District Cooling Plant, this facility was out of service ready for remodeling."
The inauguration comes at a time of substantial investment by the company to improve the quality of life at Saudi Aramco communities around the Kingdom. The company, through a number of departments, including Central Community Services, Office Services, Transportation, and the Community and Public Projects, has initiated and completed a number of projects to enhance office and workspaces, improve the quality of homes, ease traffic congestion through new options for carpooling and "Park and Ride" services, and increase the number of food and shopping venues for community residents.
All of these efforts are already bringing positive changes for Saudi Aramco employees and their families, and more change is on the way.
"This plaza will bring the community together," said Mohammed A. Al Sultan, acting general manager of Community Services Projects and Technical Support. "We have a vibrant society here, and the people now have a comfortable place where they can interact, and meet with each other. It gives the community a different flavor."
The Community Plaza offers a place for the 56 self-directed groups in Dhahran to interact with visitors to the area and share information.
Eman Al Maghrabi, a board member with the Dhahran Art Group, paints calligraphy during the inauguration of the Community Plaza. (Photos: Ding/MPD)
"I think this is going to be a landmark for the community," said Central Community Services acting manager Raed H. Idrissi. "It can be a gathering place for self-directed groups — not only for giving out information about their activities, but to actually have the activities here. There can be musicians, and there can be artists drawing or painting here. The community members themselves can guide us on how they would like to use this area."
"We are blessed with the rich history and cultural diversity in our communities, which has been a strong foundation for us to always be in the forefront and continuously strive for creating more vibrant and thriving communities," said Ibrahim Khawaji, manager of the Community Services Technical Support Department.
"This plaza was designed with qualities to leverage the natural fluctuations, flexibility needs, accessibility, and comfort. This is a place where people are able to enjoy an array of social activities in a variety of smaller places within."
On opening day, every covered awning provided a spot where community organizations, self-directed groups, and vendors could reach out to the community. On opening day, the Art Group, the Toastmasters, and the Chess Club all had tables distributing information.
Suhad K. Alfaddagh from the Recycling Group in the Dhahran Gardening and Sanitation Division, handed out information on how to participate in recycling activities at work and at home.
"This is a great venue, because the target community members will all be here, and people coming from the offices will be passing by. It's a good way to reach out." Budoor Al Harbi, from the Concession Group in the Dhahran Recreation Services Division, led a team to raise awareness of the MyCommunity app.
"This is a place where we can inform people about activities in the community, related to health, environment, sports, classes, SAEA, and local eateries. When people use the app, they can be informed about what is happening around them."
Fuad S. Almuallem, from the Fire Protection Unit in the Utilities and Facilities Services Department, walked through the new plaza, watching people playing a game of chess on a giant chessboard, and taking a look at a variety of shops, including a silver jewelry stall, a carpet seller, an interior design shop, and a beauty salon.
"I will bring my family here," he said. "It's a nice, convenient place."