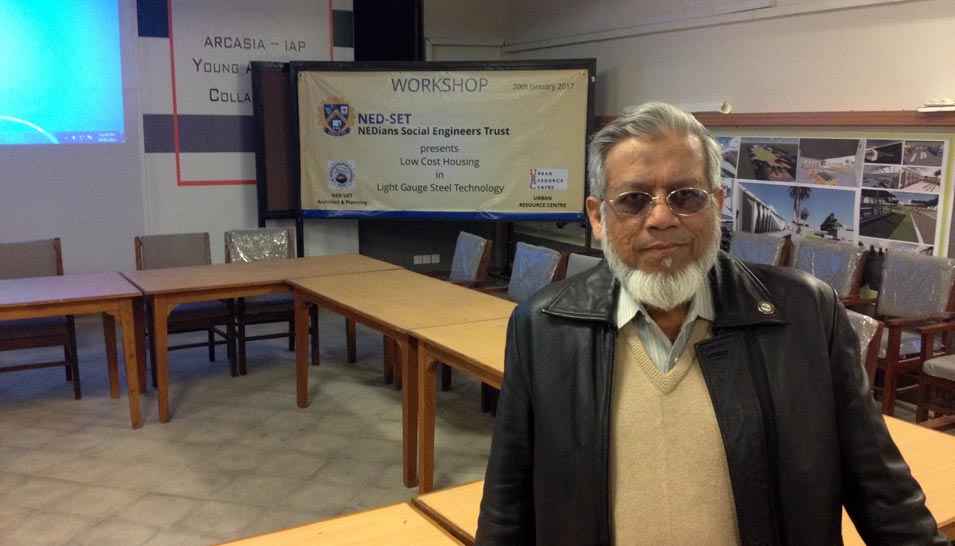 Engr. Iqbal Ahmed Khan in the Conference Room
Karachi is facing acute shortage of formal housing for the low income groups, while informal settlements becomes a natural choice for the people despite its legal shortcomings, lack of appropriate infrastructure and amenities. Costs involved in developing property is one of the critical issues in this connection, however, use of appropriate technology like Light Gauge Steel (LGS) construction could minimize the cost of construction.
This is the idea put forward by the NEDian Social Engineers Trust (NED- SET), (formed by NED Alumni) organized a Workshop in collaboration with NED UET Department of Architect & Planning and Urban Resource Centre (URC) on Low Cost Housing in Light Gauge Steel Technology at NEDUET City Campus on January 20, 2017, Karachi. The attendees were as follows:
Arif Hasan - URC
Zahid Farooq - URC-Also representative of Kati Pahari
Mansoor Raza - URC
Prof. Dr. Noman Ahmad - NEDUET (Architect & Planning)
Dr. Saeeduddin Ahmed - NEDUET (Architect & Planning)
Pervez Said - Managing Director-HBFC
Syed Mehdi Shah - Deputy Director (Engineering)-SBB Housing Cell
Imdad Ali Lashari - Deputy Director-Sind Kachi Abadi Authority (SKAA)
Engr. Badar Khan - NED-SET
Engr. Col® Javed Majid - NED-SET
Engr. Iqbal Ahmed Khan - NED-SET
Engr. Syed Javed Nasir - Fabricon (Pvt.) Ltd.
Mohsin Nasir - Fabricon (Pvt.) Ltd.
Engr. Aizaz Hyder - Fabricon (Pvt.) Ltd.
Rana Sadiq - All Pakistan Kachi Abadis Association.
Eng. Pervez Sadiq - IEP & Universities lecturer
And others - as per registration list if concerned with LCH
The workshop was officially started by the recitation of Holy Quran by Engr. Iqbal Ahmed Khan. Engr. Badar Khan of NED-SET emphasized with reference from Quran that we, the well to do (termed as ignorant by Quran), must help those whom, (again in words of Quran) we think they have no need). NED-SET considers the families who earn PKR 15,000-30,000 per month are those (mentioned in Quran) as they have no condition to acquire a house of their own.   Engr. Badar gave a PP presentation explaining the present ever increasing short fall of housing the aim and the scheme using a very effective technology through LCH will enable a decent living for such low income families.  Discussions and the question and answer session covered variety of aspects in connection with the topic. The workshop was moderated by Prof. Dr. Noman Ahmed, Chairman Department of Architecture and Planning NED University.
Arif Hasan, Prof. Dr.Noman Ahmad, Mrs. Badar Khan, Engr. Badar Khan, Engr. Col(R) Javed Majid, Engr. Iqbal Ahmed Khan, Engr. Syed Javed Nasir and a guest
Engr. Badar Khan in his presentation covered the issue of housing in all cities and Karachi in particular which are turning in to ghettos and slums. He introduced LGS construction technology as the way forward to solving Karachi's housing issues as per NED-SET; it is low-cost, light-weight, time-efficient construction, safer and low maintenance technology.
The introductory presentation was followed by Engr. Syed Javed Nasir's technical presentation on the LGS technology and construction system. Engr. Javed is the head of Fabricon Company which currently develop light gauge steel members for the construction locally. Engr. Javed showed a number of projects successfully completed in Karachi. According to him LGS has many characteristics that makes it an ideal for the housing purpose; it is 15% less in cost as compared to RCC and the cost comes around Rs.1300 /Sq ft. of covered area, at least 4 houses can be built by a team of four workers in a day, it is light weight, it is earth-quake resistant, requires less maintenance and can last for years without maintenance, it's a recyclable material, and requires local vehicles, like Shehzor trucks, to transport four housing units at a time.
However several impediments were also identified during the presentation. The housing for the low income would still require financing for land, for which builders and developers could help along with the possibility of subsidy from the government.
A view of the audience at the NED-SET Workshop
Panelists also added their observations after the presentations. Architect Arif Hasan appreciated the technology and its characteristics that make it a very useful technology. However, he thought the availability of land would be an issue and that without making a model house for the low income group it will not be possible to expect its acceptance, since, the culture of low income groups is much different and that needs to be understood before propagating for the technology. Furthermore, role of financing agencies would be critical such as HBFC in making this technology successful.
Engr. Badar added to the debate that the technology could also be used for the up gradation of existing informal settlements (Kachi Abadis or slums) and this would require phased development of demolition and construction in existing Katchi Abadis of the city. However, panelists did not agree with this thinking, as the informal settlements are not Katchi Abadis anymore, these are highly developed settlements with structures going up to four floors high and with RCC constructions inhabiting people from middle income groups. It will not be wise to think to demolish and rebuild the structures. Other panelists added that, the technology may be feasible for the recently settled squatters as the removal and rehabilitation would be easy provided it gains acceptance.
The attentive audience at the Workshop
Mr. Pervez Said, from HBFC, agreed to the overall concept and added that HBFC will be happy to help the NGO connect with builders and developers working with HBFC to avail land for the demonstration of the sample house. In addition, Mr. Imdad Ali Lashari from SKAA also agreed to the larger concept of the technology and its application, especially in the background of controlling encroachments, however, in his opinion, government will have to provide land to the people to support it.
Dr. Noman concluded the discussion with salient points emerged out of the discussion. Firstly, the technology should be made easy to reach masses, difficulties in housing delivery leads to failure of housing projects. Second, the technology should be shown to the people by making model houses within the city. Thirdly, infrastructure is also important to consider, which has not been discussed. House cannot be seen in isolation from that of infrastructure. The people can choose to live in the peripheries of the city because of the densification and dilapidated infrastructure in this connection.
The discussion is not concluded yet, and is ongoing, and may require further such sittings in the future.
At the end the guests and all the participants were served with tea and snacks and all the participant visited the model provided by Fabricon for demonstration in the open area of the campus.