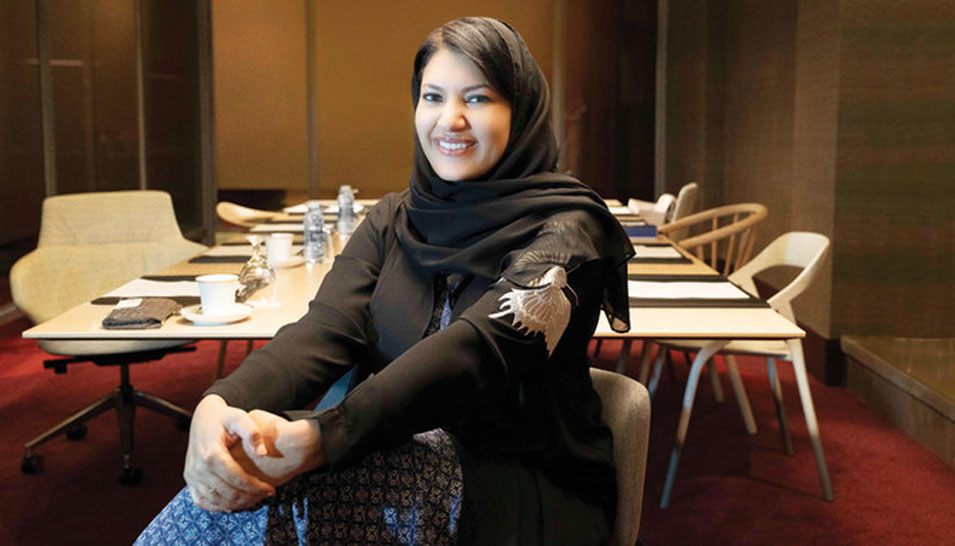 Princess Reema's appointment as the first Saudi woman ambassador was welcome news in diplomatic circles in the Kingdom. (AN photo by Ziyad Al-Arfaj)
Top diplomats in the Kingdom welcomed the news of Princess Reema's appointment as Saudi Arabia's ambassador to the US
RIYADH: The appointment of Princess Reema bint Bandar as Saudi Arabia's ambassador to the US has been welcomed by foreign diplomatic missions in the Kingdom.
Princess Reema made history last Saturday when she was appointed to the role, becoming the first Saudi woman to be named ambassador.
Top diplomats in the Kingdom welcomed the news.
Dominique Mineur, Belgium's ambassador in Saudi Arabia, said the appointment would be a stepping stone for more prominent female roles in line with Saudi Arabia's Vision 2030 reform plan.
"This is in line with Vision 2030, to give a more prominent role for women in Saudi society," she told Arab News. "Of course, she's an inspiring figure and has been supporting women in so many fields, such as sports, health, work and financial independence. It's a logical appointment considering the role she has played. This will undoubtedly be a strong support for all women of all origins and backgrounds to become leaders in their own expertise. I can only hope that there will more who will take such prominent roles."
The princess was vice president of women's affairs at the General Sports Authority (GSA), a position she held since 2016. She was also named president of the Saudi Federation for Community Sports in 2017, and appointed to the International Olympic Committee (IOC) in August 2018.
Simon Collis, the British ambassador to Saudi Arabia, recalled working closely with her on projects.
"I and many colleagues in the UK have enjoyed working with HRH Princess Reema bint Bandar in her current role, in which she has driven access to sports for women in the Kingdom of Saudi Arabia, and we look forward to continuing this relationship in future," he told Arab News. "I wish her every success."
Ridwaan Jadwat, Australia's ambassador to Saudi Arabia, wished the princess a happy and successful posting. "Mabruk/congratulations to HRH Princess Reema bint Bandar bin Sultan on her appointment as Saudi Arabia's first female ambassador. It is an important milestone," he told Arab News.
Princess Reema's father was a former ambassador to the US, and she spent several years there when she was young. She graduated with a bachelor's degree in museum studies from George Washington University, and is a philanthropist and entrepreneur.
She has spoken about the inclusion of women in the Saudi workforce, describing reforms as "evolution, not Westernization," and about the Kingdom's efforts to tackle bigger issues than women being allowed to drive or attend football games, calling them "quick wins."
Problems such as domestic violence demanded greater scrutiny, she told the Atlantic Council in Washington.