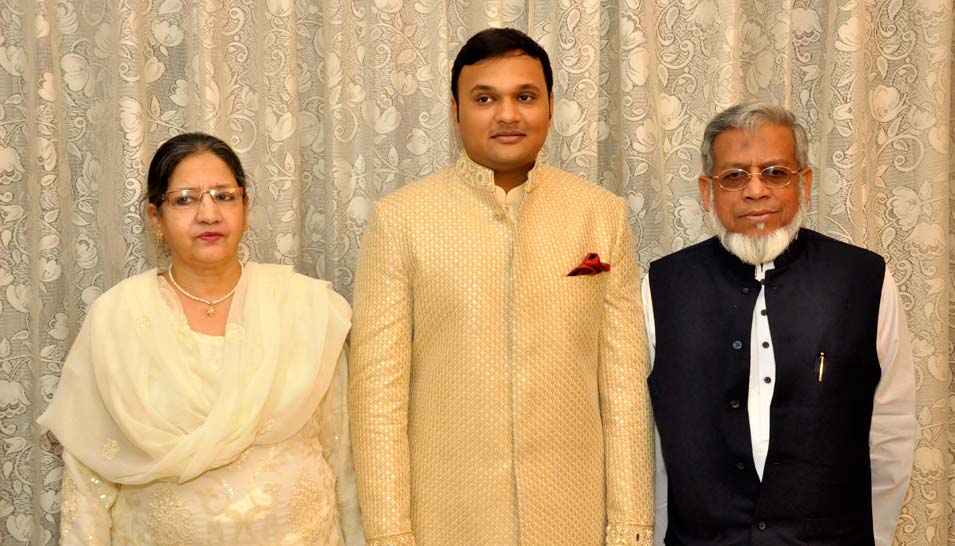 Mrs. Zohra Iqbal, Imran Pervez, Engr. Iqbal Ahmed Khan
The marriage ceremony of Imran Pervez, son of my cousin and brother-in-law, Pervez Haleem, was held on March 26, 2016 after being delayed since December 2015. Most of the family members from Pakistan applied for a visa; however, only three family members including my wife Zohra, my son-in-law Imran Khan and I, Engr. Iqbal Ahmed Khan, were granted visa by the Indian Embassy in Islamabad-Pakistan.
We travelled with PIA to Delhi, India on March 21, 2016. My cousins, Suhail and Nadeem, picked us from Indira Gandhi International Airport and traveled went to Noida. Our visa was for Meerut as first entry so Imran, my son-in-law, had to register there. My wife and I were exempted from this process being Senior Citizens. After lunch at Noida, Pervez Choudhary, a close friend of Pervez Halim, came from Meerut to take us to the family's home base in Meerut. Imran was sent to the police station for the formal legal entries.
The wedding details were divided in three functions, namely:
Mandhay Ka Khana
Wedding Reception
Valima Reception
A family group picture on the Mandhay Ka Khan reception
Mandhay Ka Khana:
Mandhay Ka Khana is a traditional family feast arranged at the family residence. This celebrative occasion provides a chance for all family members and friends to meet each other just one day before the marriage ceremony, March 25, 2016.  Four hundred plus people including family members from all parts of India and different parts of world were invited with excellent arrangements. Invitees from other destinations were provided residence in the family's base home as well as in the neighboring relatives' homes. It was all fun and pleasure to meet everyone.
Imran Pervez with his Puppo, Dadi and other guests on the wedding reception
Wedding Reception:
The main function of wedding was on March 26, 2016 being arranged by the bride's family at a large farm house in Modi Nagar, 40 KM away from Meerut. The large celebrative convoy or parade of cars and coasters carrying friends and family of the groom dance and sing their way to the ceremony site. This "Barrat" ended at the farm house where the bride's father Mr. Aftab Ahmed and his family received and garlanded everyone in the procession. Arrangements were made for three thousand plus guests. Nikah is the main religious and legal bonding ceremony in a Muslim Marriage headed by a Religious Scholar. All the senior family members accompanied the groom on stage for this sacred signing activity, to be witness and to give their blessings. Traditional sweets and dates were distributed to all by the groom's family, followed by different festivities. Mr. Aftab also gifted cash to close family of the groom, a tradition called "Malai".
After the Nikah ceremony, the groom, Imran, was taken to the Ladies/Family stage where the bride, Huma, was waiting for him. They were seated together and were offered traditional gifts and cash by family members from both sides. The bride's sisters and cousins took the shoes of Imran and the poor groom had to pay lots of money to get them back, a tradition called as "Joota Chopai".
"Rukhsati" the final departure of newlywed couple and groom's family took place with lots of tears and blessing of all and we reached Meerut at about midnight. The Bride was rushed to the excellently decorated bridal room but the Imran was blocked by all the young girls of the family and again Imran had to pay a huge amount to get the bride out of the car.
The next morning, all of the senior family members, friends and neighboring families visited the bride to shower their love, gifts and blessing for the new couple. My wife Zohra and I were also formally introduced to the bride, Huma, and we also gave her gifts including a gold set and dresses that we had especially taken from Pakistan for this occasion.
Pervez Halim, Imran Pervez are with their close friends at the entrance of Grand Heavens
Valima Reception:
The Valima function is the last function and is arranged by the groom's family. The reception was arranged at "Grand Heavens Garden". It is situated at the out skirts of Meerut City. Pervez Haleem, father of the groom, is an active politician and has been twice elected as Member of Legislative Assembly, MLA, from Meerut, and has many political connections in all religious and political groups of the locality. The families reached the hall at about 6 pm as the guests from far were expected to come and depart early. The food arrangements were made for non-vegetarian as well as vegetarian choices. There are about thirty buffet counters of different type of dishes for everyone to enjoy.  More than three thousand people attended the Valima Reception. Traditionally the guests are received by the family head on arrival. The guests greet the family along with the bride and groom. They are given their blessing and gifts, eat whatever they would like and leave the pandal, a ceremonial structure, at their own ease. Special arrangements were made for family and friends of Huma and some political friends of Pervez Halim. Finally, at about midnight all the family members and close friend had the chance to settle down for an exceptionally good dinner. Alhumduellah, all was completed successfully.
The next morning, Pervez made payments to all the chefs and their teams who had been preparing meals for last week of ceremonies. The family members who had arrived from different parts of India also started to leave for their homes, leaving behind only a few guest who had come from Pakistan, Dubai, UK, USA and other destinations.
As it was Imran Ahmed Khan Ghouri's, my son-in-law, first visit to India, all the our close relatives wanted to invite him for lunch or dinner at their place.
During my stay, I had chances to attend some other marriage ceremonies in Muslim as well as other communities. I observed with extreme sorrow that the dowry has flourished as a mandatory obligation in the Indian Muslim Culture where the groom and his family are to be showered with cash and expensive gifts. These gifts included a new car or at least a motorcycle which were gifted to the groom and his father. These demands are making the marriages difficult in the low income families.
I am proud of Imran and Pervez who refused to take anything on the name of dowry from the family of Huma.
Lunch at my Uncle Abdul Aleem Khan's place in Kithore:
The first party after Imran's wedding was at my uncle's place in Kithore which is also my birth place. My wife Zohra was too tired for travelling after attending all the wedding celebrations, so I went to Kithore with my son-in-law Imran for lunch. We enjoyed the lunch and Imran received gifts from my Uncle as well as my cousin Rashid Choudhry. The son of Rashid also got married, December 2015, and I met his wife Uzma Choudhary for the first time so I gave gifts to the couple as per the family tradition. We had a short photo session and then we came back to Meerut. On our way back, we visited the Mango Orchid of my uncle and also we offered Fateha at the family graveyard which is located at the entrance of the Old Mango Orchid.
Lunch parties in Meerut at my cousins Places:
For the next two days, we had lunch at Aqil and Anjum's place which is the next door of our family house. We enjoyed the lunch and congratulated the Anjum's daughter, Dr. Azra Choudhary, who had just completed her MBBS, from local Medical College. Imran was also presented gifts by Anjum and her husband Aqil Choudhary.
The next day, we were invited by my other cousin, Perveen and her husband Asim Choudhary. Here we met Engr. Faisal Choudhary Perveen's son. Imran was presented gifts by my aunty who is sick at present and is staying with her daughter Perveen as her doctor is close to her house in Meerut.
We stayed with one of our cousins, Engr. Reyaz A. Choudhary for the wedding days. He took Imran Ahmed Khan around the city to do some shopping for his family. On Monday, March 28, 2016, Imran left for Karachi.
Engr. Iqbal Ahmed Khan is enjoying the tractor ride at Asilpur
Lunch at Asilpur:
After most of the guests had left, it was time for my wife Zohra and me to visit a few family cousins. The first place we were invited for lunch was Asilpur where Bubbo Bhai, the first cousin of my wife and her aunty lives. We had a good lunch and enjoyed the village life. I had chance to drive a tractor on the farm. We also met with other brothers of Bubbo Bhai. It was good to see our relatives after a long time.
The few remaining days we visited Hapur where my uncle Ch. Masood Ahmed Khan and his family lives and my wife's uncle Sadaqat Ali lives with his family. The visit was too short as there was no time and the idea was just to meet the family. When these short family visits were over, we went back to Noida where the after wedding parties were waiting for us to join them.
Lunch at Suhail Halim Apartment:
A family lunch was arranged by my cousin and brother in law Suhail Haleem at his Noida ATS Apartment Tower number 10 on 24th floor; all the close cousins were invited. It was nice that after the hectic wedding activities we had time to sit together peacefully and chat. The occasion was further enlightened by the presence of many family members from Meerut.
Lunch at Javed Halim Apartment:
As all the cousin and family guests were already in Noida, Javed also arranged a family lunch the very next day in his ATS Apartment Tower No. 8 19th floor. Javed is the eldest brother after my wife Zohra Iqbal of a family of seven siblings.
Two days before leaving India I decided to visit Okhala City were few of my cousins live. I requested Zeeshan Zafar, son of my father's friend and is from the same place where my father is, Dhakka-Moradabad, to pick me up from Noida so that I can have lunch at his place and later I can also visit my cousin Arif Choudhary. As it was a Friday, an hour after we reached Zeeshan house, we went for the Friday prayers and then we had our lunch. While we were having our lunch, Arif Choudhary called and tried to understand the location for Zeeshan residence so that he could pick me up. Arif came after an hour and I left with him to visit his family.
I reached at Arif house and met his wife Safia Choudhary and his daughter Tahura Choudhary and his son Abeer Arif. We had a very brief meeting, discussing few family issues, and in short it was great. As another cousin also lives in the same vicinity he was also called by Arif and he came along with his daughter Arisha Fatima to join us. Finally, in the evening Arif and Safia dropped me at Noida which is about a forty-minute drive from Okhala.
My visit to Mumbai:
I had visa for Mumbai also; however, shortage of time and unstable political circumstances in Mumbai did not allowed me to visit. I had to excuse all Saudi Aramco friends on the phone who were waiting for me in Mumbai.
Finally, the day came for us to say good bye to all and leave for Indira Gandhi International Airport as our flight was in the morning. It was really difficult to reach Delhi Airport in time as the traffic on the road was massive and we were thinking that we might miss the flight. Alhumduellah, we reached in time. The flight was on time and we reached home safely.