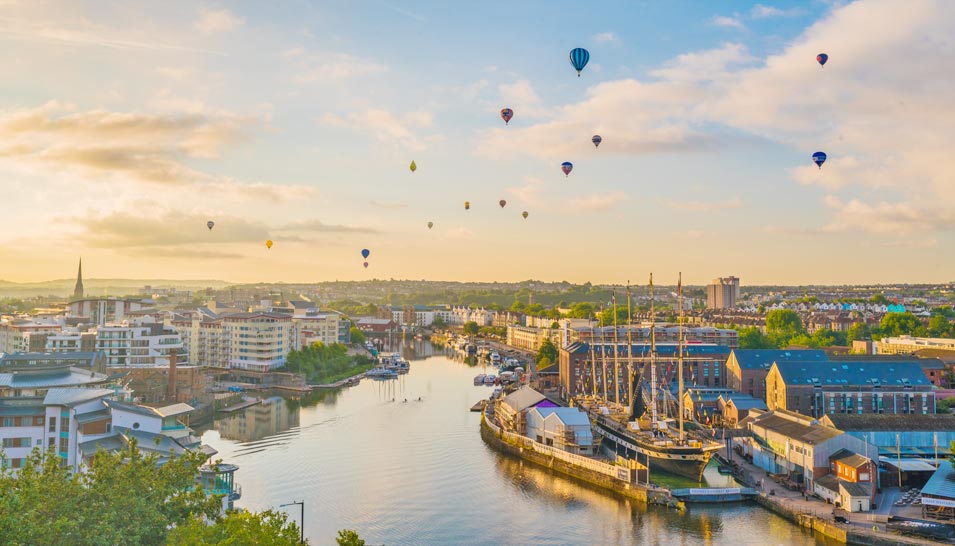 If you're an inveterate world traveler (and what Aramcon worth their salt isn't?) that's never visited the United Kingdom city of Bristol, this article may interest you. If you're also (or instead) one of the growing number of people keeping a bucket list for such things as seems to be the fashion these days, you may want to reconsider your line-up of travel must-sees to make room for Bristol. Such an addition would make sense if you take seriously the words of the people responsible for those ubiquitous DK Eyewitness Travel Guides you see on sale everywhere you venture on this Planet Earth, each one of them touting a top-10 list for this, that, or some other place or thing. If you're an Aramco annuitant currently living in the U.K., you may very well want to pencil in a trip to Bristol for this coming September whether you've visited there before or not.
In 2009, in an unexpected move surprising to some, the well-regarded travel gurus at DK anointed Bristol one of its top ten cities of the world. Other locales on their list that year included Cape Town, South Africa; Buenos Aires, Argentinia; Gdansk, Poland; Vilnius, Lithuania; Washington, DC, USA; Vienna, Austria; Copenhagen, Denmark; Fes, Morocco; and Seattle, USA—each one a worthy candidate for the honor, no doubt. But Bristol? Why Bristol and not London, twenty times its size and one hundred times as well known outside the U.K.? Something truly extraordinary about this city at the confluence of the Avon and Severn rivers must have caught the attention of the DK staff. Bigger must not always mean better in their eyes. Why?
Nine years have passed since Bristol was awarded that lofty rating by DK, and we all know how quickly opinions can change on such matters in that span of time and how rapidly new "in" travel destinations come and go in this breakneck paced world we live in. Even so, Bristol's charms remain a compelling attraction by any measure. It's attractions are timeless. Just ask the organizers of this year's UK Aramco annuitant reunion. They'll tell you.
They regard Bristol so highly, in fact, they've chosen it as the site for this year's 7th annual UKaramcons reunion scheduled for the 21st and 22nd of September, six months hence. Seventy rooms are being held at the Bristol Hotel, centrally located on Prince Street on a side channel off the River Avon a short distance from a dizzying array of points of interest. If you're a UK annuitant and interested in reconnecting with old Aramco friends and making new ones, it's not too early to make your reservations. As residents of the United Kingdom, you probably are already aware of Bristol's manifold charms. For readers living elsewhere than Fair Albion, here are some of the attractions that await you should you decide to someday visit Bristol.
Remnants from the area's rich historical past dating from the Iron Age and Roman times can easily be visited using the Bristol Hotel as your travel base. Eight miles to the east from your hotel you'll find the Stanton Drew Circles and Cove, featuring the third largest collection of standing stones in England. If you haven't enough time to visit Stonehenge, 40 or so miles further to the east, the Stanton Drew Circles offer a stunning alternative well worth your time.
To learn more about the Stanton Drew Circles and Cove, visit: english-heritage.org.uk
We've all heard of the Roman ruins at Bath, but they, too, are some distance away from your hotel. Luckily, Bristol has its own alternative set of Roman ruins you may find interesting as an alternative—the Kings Weston Roman Villa at Long Cross, replete with original mosaic floors and remnants of Roman central heating and only seven miles west of the Bristol Hotel.
To learn more about the Kings Weston Roman Villa at Long Cross, visit: bristolmuseums.org.uk
Where else in the world but in Bristol can you tour "the ship that changed the world?" The answer is, "Nowhere!" For it is in the city's famed Dockyard Museum that you will find moored Isambard Kingdom Brunel's history-making SS Great Britain. The museum describes its prize exhibit thusly:
"Brunel's SS Great Britain is one of the most important historic ships in the world. When she was launched in 1843 she was called 'the greatest experiment since the Creation.' By combining size, power, and innovative technology, Brunel created a ship that changed history. His vision for the SS Great Britain made her the great-great-grandmother for all modern ships."
For more information on the S.S. Great Britain, visit: www.ssgreatbritain.org
Fans of modern engineering and architecture, meanwhile, will enjoy visiting the engineering marvel known as the Clifton Suspension Bridge. The bridge touts itself as "one of the world's great suspension bridges," is considered "the symbol of modern Bristol," and spans the Avon Gorge, connecting Bristol with North Somerset.
For more information on the Clifton Suspension Bridge, visit: www.cliftonbridge.org.uk.
For extensive lists of other attractions in Bristol, visit: visitbristol.co.uk.
Enough said by AXP about the joys of Bristol. It's time to let the UKaramcons reunion organizers speak for themselves. Here's what they have to say about this year's reunion:
Saudi Aramco (AOC) and your co-hosts Veronica, Sue, Jimmy and Mike are pleased to announce the 7th UKaramcons reunion will be held on September 21 and 22, 2018 at the Bristol Hotel, Bristol.
The Tom Henderson Memorial Golf Tournament will be held on Friday 21st September and the dinner will be held on Saturday 22nd September.
Hotel prices are as follows: Friday 21st September Single room £100, Double room £110 per night (including breakfast). Saturday 22nd September Single room £135, Double room £145 (including breakfast)
We have 70 rooms being held for the reunion, but you will need to make your own booking and secure with a credit card. Please ring the Bristol Hotel 01179 23 0333 then dial 1 for reservations and quote 'Ukaramcons reunion 2018' to make your booking. These rooms will be released to the general public on 31st August 2018. There is an NCP car park beside the hotel. Guests at the hotel pay £5 per day for parking. Anyone attending the dinner only is entitled to a 50% discount on parking cost for the evening.
Once you have reserved your room please email us at [email protected] to reserve your place at the dinner, or ring Jim and Veronica 01249 783389.
Should you live near Bristol and do not need to stay at the hotel, you are welcome to attend all the activities. Just let Veronica know if you wish to attend the dinner on Saturday 22 September.
The Bristol hotel enjoys an unbeatable waterfront location in the heart of one of the UK's most exciting cities. The hotel's River Grille and Shore Café Bar offer relaxed harbourside dining for all occasions coupled with lovely harbourside views.
With its lively harbourside position, the hotel is at the heart of a thriving creative quarter, restaurant and nightlife scene and perfectly placed to access Bristol's theatres, museums and art galleries; shopping in Cabot Circus, home to ninety shops including Harvey Nichols and House of Fraser; local attractions like the Clifton Suspension Bridge and SS Great Britain.
Bristol Temple Meads Station is a 15-minute walk away and has high-speed connections to all major UK cities. Bristol airport is a short distance away with connecting flights to Europe and beyond. There is a shuttle bus service from the airport to Bristol Temple Meads Station.
Golf tournament details and an outing on Friday night will be confirmed nearer the date.
Your co-hosts are looking forward to meeting and greeting you all and spending time with special friends to create another memorable UKaramcons reunion.
Veronica, Sue, Jim, Mike