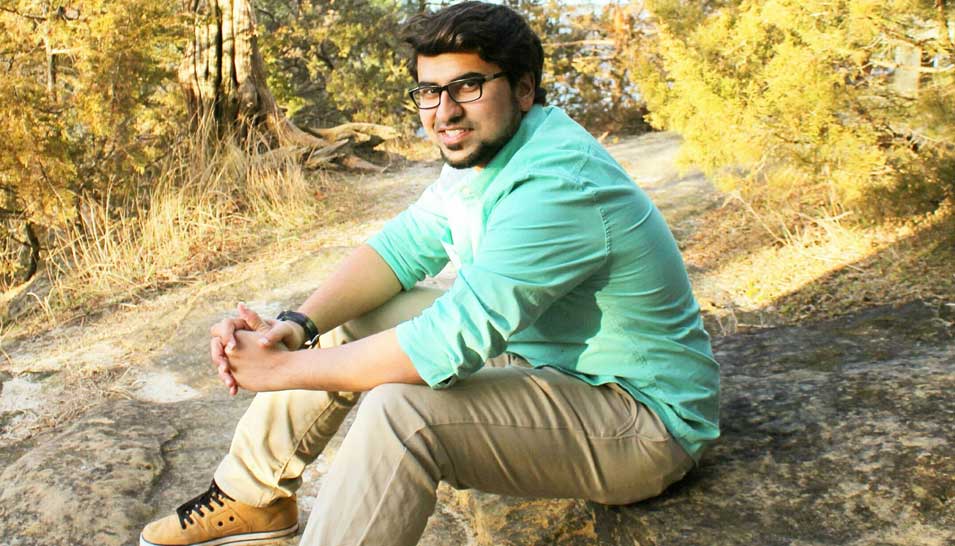 Zubair Iftekhar's love of swimming began when he was just a boy playing in a Saudi Aramco pool. But it wasn't love at first site. He first had to conquer his fears.
Thanks to his father who used an innocent form of bribery to encourage him along, he finally overcame his fears and now he makes swimming not only a passionate hobby but a business as well. Zubair has put years of training and certifications to work founding his business Razorfish Swimming University in Hyderabad, India where he teaches people how to "swim smart, swim safe".
Here is his story,
Turning Passion into Progression
These days, swim lessons start early in life with parent-child aquatic classes enrolling babies as young as six months. However, some of us have over-protective moms like mine who believe their kids are never old enough for swimming. Daddy had a hard time convincing Mom to let me swim.
I was blessed to have my dad work for Saudi Aramco - one of the world's biggest oil companies. Aramco always had and continues to have an employee-first attitude which has directly benefitted the company by leaps and bounds. To elaborate in the manner of a typical Indian TV series, Saudi Aramco treats their employees as its only son while most other companies, in my opinion, barring a few prominent names, treat their employees as the evil daughter-in-law, looking for mistakes in everything they do. Whenever Aramco comes up as a topic of discussion, I usually get carried away heaping praises on the company. It has become second nature to me.
The Saudi Aramco aquatic center boasts modern clubhouses and floodlit swimming pools. There are organized weekend events for young children as well as swim meets for all age groups. Good training and practice facilities have propelled the Saudi Aramco pools to become, in my opinion, one of the best swimming locations in Saudi Arabia.
My first time in the pool was at the age of four during the summer of 1995. I remember clinging on to my dad and splashing around for the first few sessions. I gradually got comfortable with my swim wings and started having fun. My dad's aim was to get me into the Saudi Aramco swim team and thus began the training which my mom and I detested. Cold and cough often got the better of me. Mom blamed it all on Dad and swimming. But my dad was adamant, and so she left it to him.
Meanwhile, the thoughts of sharks, crocodiles, and alligators circling around me in the water petrified me. My awesome dad came up with a brilliant idea - one which he knew I would never say no to. "Babaa," called my dad with a smile, the usual way he addresses me lovingly. "Swim a lap and I will be waiting for you there," pointing to the end of the pool. "On the way back home, I'll get you two portions of Mandi," my favorite Saudi chicken and rice dish. It was the biggest dilemma I faced at that time. The tough choice had to be made. I swam like a Razorfish and never looked back. It was an offer no foodie could ever decline. It was an amazing plan by Dad which worked like magic and helped me overcome the fear of getting into the water at the cost of a few Mandi's which are still fresh in my mind - the aroma, the delicious ghee dripping off the meat, and the long basmati rice, those are the few things which I most definitely miss now.
My first professional coach was my dad's American friend's son. He was in Saudi Arabia spending time with family during the U.S. winter holiday. The fee quoted was around US $8, or SR 30 to be precise, for 30 minutes. I took 10 sessions and it was worth every penny. My freestyle stroke was picture perfect and within a few days, I met the pre-requisites to join the Saudi Aramco swim team in Ras Tanura, Saudi Arabia.
This kick-started a new journey; every day after school I was in the pool, swimming lap after lap. Learning the freestyle, back, breast, butterfly and the side strokes along the way was an amazing experience in itself. My immunity and energy grew leaps and bounds. I represented my team in different age groups all over Saudi Arabia's eastern province with great returns and I usually finished in the top three.
I remember at the age of 8, we couldn't make it to a swim meet in Abqaiq because Dad was busy with work and there was no possibility of me going alone. The event was almost 100 kms away from where we used to live. I cried my heart out that day. Swimming had become a passion!
During the off-season, Dad enrolled me in the Safwa Sports Club. It was a 20-minute drive from our home. With the help of a few daring Saudi friends at the club, I made my first attempt on the highest diving board available. The adrenaline rush was real. It was an off-season well spent.
A few years later, I joined the Dhahran International Hotel Swim program for a few lessons. Getting tips from professional coaches helped me improve my technique.
Once I completed high school, I was enrolled in a scuba diving certification class. The thought of exploring the sea excited me but at the same time, I was a bit scared. Having watched a lot of National Geographic Wild and Animal Planet, I had my fears of being out in wild water. The class had four pool sessions followed by four dive sessions in the Arabian Sea. Safety was given utmost priority before each dive, and the details were discussed several times until every participant was comfortable enough. Putting on the diving gear including the cylinders and the pair of fins is an experience that cannot be shared, it can only be felt. It's a must-do activity for everyone at least once in a lifetime.
Under the supervision of the instructors, the transition from the pool sessions to the actual dive was smooth. After undergoing the exhilarating training sessions which were spread over two months I finally got certified as an open water diver by the Professional Association of Diving Instructors (PADI).
Swimming continued to be my main fitness routine in India, although only occasionally as I was in school. I majored in engineering from the Muffakham Jah College of Engineering & Technology in Hyderabad, India which is affiliated with Osmania University.
Years rolled by and I pursued my Master's degree at the University of Illinois at Chicago (UIC). The university realized my potential in the field of aquatics and got me enrolled in the American Red Cross lifeguard certification class at the University's expense.
Working for the UIC Aquatic Centre for two academic years was an eye-opening experience. During my time there, I got another American Red Cross certification as a Water Safety Instructor. I have plans to get many more certifications in the future.
Statistics show almost 1,020 people lose their lives to drowning accidents every day all over the world, that's close to 400,000 deaths annually! My opinion of drowning is that it's suicide, a life wasted. Every individual needs to know how to swim.
To help reduce this drowning crisis, I set up an aquatic firm in India and established the first swim school in my home city of Hyderabad - 'Razorfish Swim University'. With the support of the government and a few corporate sponsors, we plan to run awareness campaigns and promote swimming as a lifesaving skill.
Now picture yourself in the pool for a swim, a hushed gallery on the left with your hand-picked foursome and a pro watching. Imagine you have just had one of those great starts, a moment that lasts a lifetime. With football and cricket fever at an all-time high, swimming takes a backseat. But considering current statistics, it's time for swimming to takes its place as a spotlight sport.
If you don't know how to swim, it's never too late to learn. The sport relaxes the mind and nourishes the soul. Indeed, there is a lot more to swimming than we have space to talk about. Go out there and enjoy yourself. Let's join hands to ensure that everyone has a water safe day.
Looking back on my journey from an aqua-phobic to a person who plans on running campaigns to raise water safety awareness and nurture aquatic businesses as well as organize learn-to-swim programs, I guess I have come a long way, yet this is just the beginning of something bigger and better.
~ by Zubair Mohammed Iftekhar