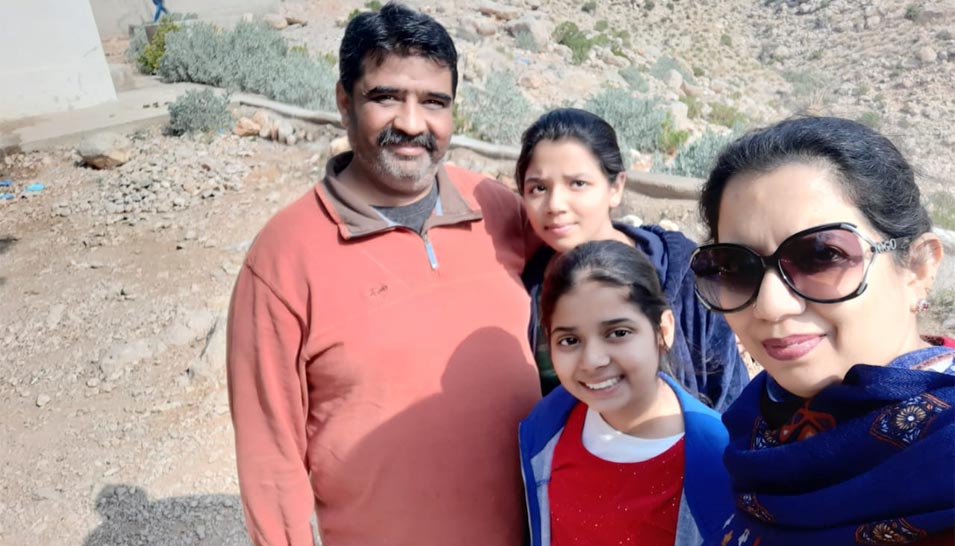 Imran, Zoya, Zara and Erum are at Johi on their way to Gorakh Hills
The following report was written by Zoya Imran, Grade 7, granddaughter of Engr. Iqbal Ahmed Khan of Karachi, Pakistan.
Our winter vacation had started and as my father works with a company which is situated outside the city, he was at home on his two weeks off. So, we decided to go to the closest serene place possible and that was how we ended up going to Gorakh Hills. It is a hill station situated in Sindh and has an altitude/elevation of more than 1,734 meters (more than 5,600 feet) in the Kirthar Mountains.
Everything was packed. We were ready to go on an adventure trip to Gorakh Hill Station. As we were going by way of our own car on December 28, 2019 we had to leave early. We barely slept the night before, conscious that we didn't want to forget anything. We left our house at 4:15 a.m. sharp. It was an extremely long ride. The following is a report of our journey from Karachi to Jamshoro to Sehwan to Dadu to Johi to Wahi Pandhi and finally Gorakh Hills.
My sister and I slept for the first hour or two. Then we watched the sunrise. It was amazing and gave out a lively vibe. As we moved further into the Interior Sindh it became colder and the temperature suddenly dropped.
We stopped at Aamri Gas Station to use the washroom and believe me, as we got out of our car the wind and cold weather hit us hard. By the time we finished, our bodies were completely frozen and icy. Smoky breath came out from our mouths and our cheeks had turned pink due to the cold. After we continued on our journey it was only fog for about 45 minutes. We could barely see anything through the thick fog so we had to drive really slowly and carefully. It took us six hours to reach Wahi Pandhi.
Zara and Zoya are in front of
Sarso Field
in Dadu while on their way to Karachi
We unloaded our baggage from the car and by 10:30 am we were seated in a jeep and had started to make our way up - it was another adventure. Gorakh is situated high above the mountains and as our car was not a 4x4 we had to take the jeep on rent to reach our destination. The ride was extremely bumpy.
We passed a flock of baby lambs and goats. I felt a little nauseous with all the bumps and dizzy as we were climbing up the mountains in a circular motion. It was roughly a constant 3-hour drive by jeep moving at the speed of almost 100 km/ph. The ride was indeed extremely dangerous. We reached our destination at about 1:00 p.m. so in total the whole journey was approximately 9 and a half hours.
We finally reached the top and it seemed like we could touch the clouds! We had booked two large-sized tents as the rooms were already full. One tent was for my parents and the other for me and my sister. Lunch was served right after. We saw a species of donkey roaming around; their faces and bodies were so fluffy they almost seemed like koalas with four feet. We had to cross a slope, a bridge, huge blocks of rock that looked like stairs and a ramp that had a cut between it so we had to jump across it to get to the washroom!
Chicken Biryani was for lunch but I couldn't eat much as I was still dizzy from the jeep ride. We then went back to our tents after lunch to rest for a while. It was 8 degrees Celsius in Gorakh by that time even though the scorching sun was blinding me and heat was practically sizzling me! We first made a comfy atmosphere in our tent laying down all the comforters and sheets they had provided us and then our own blanket we brought from home. We rested till 3:45 p.m. and then a guide informed us to get ready as we were going on a hike to see the sunset!
Zara in front of the view of Gorakh after climbing 1500 Feet
It was 4:15 p.m. by the time we got ready; I wore two hoodies and two shirts underneath, the same as my sister. The temperature was 2 degrees Celsius by then. The hiking part was AMAZING! but only for me. We first had to climb a steep slope and then began the mountains. I made it up almost 1500 ft. high in about 20 minutes but my parents and sister took forever!! Anyway, we went down another slope and walked for almost half a kilometer and reached a cliffside. That was where we were seeing the sunset.
The sight and site were breathtaking. It left us so mesmerized that we didn't even know that we stared at it for so long. The sunset was due at 5:45 p.m. and it was 5 p.m. at the time so for the next 45 minutes, we captured the moments on camera. There was nothing beneath the cliff as I bent over it, there was only darkness. The horizon line looked absolutely phenomenal and unrealistic! As the sun dived down, the scene was bewildering and amazingly unbelievable. We made our way back to our territory, this time taking the steep slope route instead of the mountains. By the time we reached camp, darkness took over.
Winds had started howling fiercely, our bodies had started shivering and teeth had started chattering. It was severely cold as we were sitting on a hill beside our tent and taking in the whole view of Gorakh. When we couldn't stand the cold any more we went inside and snuggled into our blankets. Then we lay in silence as there was nothing to do. There was no internet or phone service, so we decided to have dinner at 7:30 p.m.! It was too early but we had no choice. My mother made a very delicious Aloo Qeema. The temperature had dropped at such rate that we bought luke warm water to drink but when my sister asked for a glass, it was literally freezing! We finished eating and then the music concert started.
Zoya is enjoying on a rock beside a lake
In my family, only I am fond of music so when nobody was interested in going, I refused too. We went out for a stroll, drank coffee but the cold was too much to bear. We went back inside. Now there was nothing to do so we decided to sleep. The temperature had now gone into minus. I turned and turned but couldn't sleep the whole night. I later learne that it was not only me but my father, mother and sister had not slept either due to the severe cold. We had not even changed into our sleeping suits but put on more warm clothes but it was no use.
At about 3 a.m. the bonfire started, We wanted to go but our feet were so stiff and numb because of the cold that we didn't have the energy to go outside. It was truly the definition of the saying that winter nights are long. It seemed like time was not even passing. After what felt like an eternity, morning came. We watched the sunrise from the hills beside the tent and it was as astounding as the sunset. We started making our way down Gorakh Hills at 8:15 a.m. in the same jeep after loading our stuff inside. We reached Wahi at 10 a.m. and were off to Karachi once again. We passed by our father's workplace as his office was located in Dadu. We passed by many beautiful, evergreen fields. We stopped at Aamri gas station again for lunch and it was mouth-wateringly delicious! We reached Karachi at 5:00 pm, Alhamdulillah. It was an amazing experience to visit Gorakh Hill Station. It was an absolute flabbergasting trip. Surely, I'll visit again with more members of my family, Insha'Allah!!