Stephen Brundage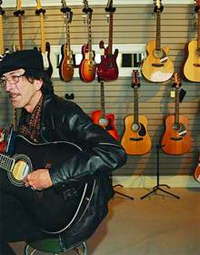 Stephen Brundage was born on Feb. 10, 1954, in Dearborn, Mich., to Dr. Robert and Marion Brundage.
At the age of 12 he taught himself to play the guitar by listening to records by guitar master John Fahey. Steve was left-handed so he simply turned his guitar upside down and played it that way for the rest of his life. However, as a young man he was asked to teach guitar lessons; he taught himself to play the guitar "right way up," a style that he used only to teach others the standard way to play.
Even as a teenager, Steve was involved in the Detroit and Ann Arbor music scene, playing a wide range of musical styles, including electric rock guitar, acoustic blues, folk and R & B. He was in several Michigan-based bands, including JZ Terramine, Nick Neutron & the Holocatz, The Exquisites, the Jazz Rhythm & Blues Trio (JRB3) and the Toronto-based Soul Citizens. He also performed solo in New York City at several Greenwich Village clubs. After returning to Ann Arbor from Toronto, he was a manager for several years at the Second Chance music venue, which featured many of the hottest rock, punk, blues and R & B bands.
Steve's work at the Ypsilanti Press inspired him to earn his bachelor's degree in journalism from the University of Missouri-Columbia. He then moved to the St Joseph/ Benton Harbor area to work as a copy editor at The Herald-Palladium. He always managed to keep his musical career active by hosting open mic events and performing in various bands throughout Southwest Michigan. Most recently, Steve worked as a public relations specialist for the Arabian Sun, the Saudi Arabian-based, in-house newspaper of the state-run oil company, Saudi Aramco. During his 10-year tenure there, he continued to gather musicians around him and make dozens of friends. He had wonderful stories to tell about playing acoustic music with friends out in the desert, late at night.
He met and married his love, Shirley Gast, and they spent many joyous times traveling much of the world. Steve especially loved Ireland and Amsterdam. In Ireland, he often joined in on many Celtic music "trad sessions" in Dublin pubs.
He was brilliant and gregarious, a talented musician, an accomplished newspaper man, an international public relations specialist and a wonderful husband, father, stepfather, brother, uncle and friend to many. He was a great man, and his death is a great loss to us all.
He is survived by his wife, Shirley Gast; son, Jean-Paul (Jordana) Brundage; stepdaughter, Marisa (Alan Creasap) Gast; stepson, Shawn Gast; brother, John Brundage; sisters, Marcia Brundage, Jane (Marc Le-Card) Brundage and Susan Brundage; sister-in-law, Julie Houser; plus many nieces and nephews.
Also surviving is his beloved 20-year-old, semi-famous cat, Miss Pumpkin.
A private service has been held. A Celebration of Life will be held at a later date. Donations may be made to the Humane Society of Southwestern Michigan or to the Box Factory for the Arts, St. Joseph.