Shirley D. Losch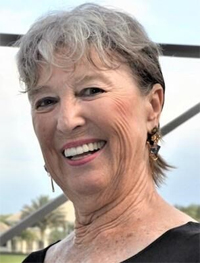 Palm City - Shirley D. Losch, loving mother, devoted wife and beloved friend, died on July 29, 2021, at her home in Palm City, FL. The mother of three, cherished her children (Bill, Dave and Cathy), six grandchildren (Nicole, Paul, Emily, Matt, Elizabeth and Will) and six great grandchildren (Kaya, Gunnar, Jasper, Malcom, Matilda and India Rose). Shirley was married to Edward D. Losch for 67 years, until he passed in 2019. Together they made a life full of friends and family, travel and entertaining. Her dinner parties were renowned for their scrumptious menus and exuberant company.
Shirley was committed to volunteerism and gave generously of her time to several non-profits. She was chairman, editor and co-author of the cookbook, Once Upon a Table, published by the Women's Auxiliary of the American Cancer Society, Pittsburgh, PA. The cookbook raised record funds for the organization.
A lifelong Californian at heart, Shirley grew up in California with her parents, Phyllis Galvin and Frank Martin, and two siblings, Lindy and Bill. She and Ed met in Bahrain, where Ed served in the U.S. Navy and her family was posted with Aramco. They married and moved to Pittsburgh, PA, transferred briefly to California, then back to Pittsburgh, which was their home for more than 30 years. They retired to Palm City, FL, in 1990 and continued to make lifelong friends.
A voracious reader and enthusiastic tennis and bridge player, Shirley led book clubs, captained tennis teams and organized bridge groups that brought dozens of friends together.
She was much loved by all and will be missed terribly. The family is remembering her in private. In lieu of flowers, please donate to your favorite charity.