Richard Franklyn Holmes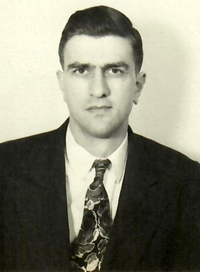 Richard Franklyn "Dick" Holmes was born in Salt Lake City, Utah on June 20, 1921. He died on August 8, 2021, in his sleep at his home in Lafayette, California at age 100. His funeral services will be on Saturday, September 11th, at 11 AM at the LDS Chapel, which he proudly helped build and pay for, at 3776 Via Granada in Moraga.
Dick was the son of Ernest Samuel Holmes and Ida Eldredge. He was the last surviving child of his parents' family which included three brothers and two sisters whom he dearly loved. He was raised in Salt Lake City and graduated from the University of Utah with a degree in Economics at age 20 in June of 1941. He married Alice Jean Elkins in the Salt Lake City LDS Temple on November 19, 1941. She was his first steady girlfriend and they were married for 66 years until her death in 2007.
He served in and worked as a civilian employee for the US Army during World War II. In August 1948, he joined the Arabian American Oil Company (Aramco), and soon moved to Saudi Arabia with his family, rising to General Superintendent of Industrial Relations. In 1959, after ten years in Saudi Arabia, he transferred to the Standard Oil Company of California (Chevron) at its world headquarters in San Francisco. During his career at Chevron, he served as personnel manager for all of overseas operations and traveled extensively to the Middle East, Africa, South America, and many parts of Asia.
Dick believed that "when ye are in the service of your fellow beings ye are only in the service of your God." He served in many volunteer positions while working full time and when he retired at age 60 in 1981, he was elected to the Lafayette City Council and served for ten years, twice as Mayor. Among his achievements, he worked with Willie Brown and the State of California on a special reimbursement of property taxes to the city of Lafayette. He also worked on developing a road to a new parking area on the dam and a new hiking trail at the Lafayette Reservoir that thousands of people have enjoyed for many years.
Dick was a faithful member of the LDS Church and served as the first counselor to two different bishops. He enjoyed traveling and circled the globe several times on many trips abroad with his wife, children, and grandchildren. He was a great believer in the value of travel to open minds and hearts to other cultures. His favorite destination was London where he enjoyed the gardens, the theatre, and being a tourist in 'the best city in the world'. He never tired of London, and quoted Samuel Johnson – When a man is tired of London, he is tired of life! He was an expert gardener with an affinity for daffodils, tulips, azaleas, begonias, and rhododendrons. He won prizes for his beautiful daffodils that carpeted his hillside and he treasured sharing this beauty by delivering pots of flowers to friends and neighbors. Although they loved his flowers, his grandchildren will most fondly remember time spent with Grandpa in his raspberry patch! He joked that some grandchildren would leave with buckets full of raspberries and others would leave with red-stained lips and hands! He was a family man who was dedicated to his children and grandchildren and they will all miss his wise counsel, his sense of humor, and his encouragement to 'Be as good as you are good looking!'
He is survived by his daughter Janet Nelson (Elvoid Nelson, deceased) of Martinez, his son Richard Ernest Holmes of Ventura, and daughters Victoria Mack (Lloyd Mack) of Seattle, Cindi Teichert (Rich DeRose) of Martinez, and Alice Holmes (Geordie McKee) of Palo Alto. He was blessed with 12 grandchildren (one grandson sadly predeceased him) and 13 great-grandchildren.
In his memory, take a moment to enjoy the beauty of the flowers in spring and give an extra hug to your loved ones.