Laurence Edwin Johnson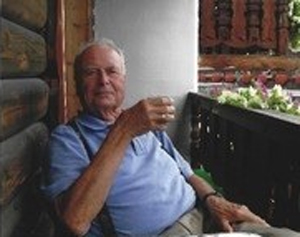 Boise, Idaho - Laurence Edwin Johnson, age 88, passed away peacefully after his long battle with Alzheimer's on April 15th at the Cottages of Boise. Laurence, son of Edwin Johnson and Edna Anderson Johnson, was born January 10, 1933 in Indian Valley, Idaho during one of Idaho's wild January blizzards. Laurence was born in his grandmother's home which also served as the Indian Valley post office and the doctor who delivered him arrived on an early version of a homemade snow machine. He attended Cambridge High School where he played football and baseball. Laurence was particularly proud of his junior and senior year high school baseball teams. Before high school sports were classified by size his Cambridge high school teams played the likes of Boise, Pocatello and Nampa for State Championships. He graduated from Cambridge High School in 1951 and went on to the Collage of Idaho and then the University of Idaho where he graduated with a Bachelor's degree in civil engineering. In 1954, while at the U of I he married his high school sweetheart, Marthlyn (Westfall).
Even before graduation Laurence was recruited and hired by Standard Oil Co. of California and began his long and varied career in the oil industry. He was the project manager on many pipelines and refineries and his work took him and his family on an amazing adventure. His career began in San Francisco at the Headquarters of Standard Oil of California and then on to Washington and Oregon where he worked on the Salt Lake oil pipeline. As his career evolved his work took him to San Mateo, Santa Barbara, San Bruno, Concord, Walnut Creek and Pleasant Hill, California. It was during his time in Santa Barbara that Laurence was granted a patent for developing a new way of anchoring off shore oil platforms. As Laurence moved up in the company his work took him and his family to Fort Madison, Iowa; El Paso, Texas and Pascagoula, Mississippi (twice). Then in 1968 Laurence was offered an overseas position. He and his family moved to The Hague, Holland for three years then on to Waterloo, Belgium for five more years and in 1975 they moved to Vancouver, Canada. After Canada he was then transferred to Saudi Arabia where he worked in Abqaiq, 'Udhailiyah and Ras Tanura for ARAMCO. He finished his career as he started - building a pipeline – this one in Rock Springs, Wyoming and finally retired to Boise Idaho after 30 years in the oil industry. He was very proud of his career and he loved traveling from place to place with his family.
He retired to Boise where he and his wife have lived for 35 years. As an outdoors kind of guy Laurence enjoyed his retirement and was an accomplished hunter, fisherman and enjoyed hiking into mountain lakes with his friends. In addition, he and Marthlyn loved to travel in their motorhome. Laurence also was a lifelong Boston Red Socks baseball fan and in his later years he adopted the Boise Hawks as his team. When possible he liked going to professional baseball spring training games in Arizona. Laurence was always proud of Idaho and his Idaho roots. He was a great genealogist, doing most of his research prior to the advent of computers.
He is survived by his wife of 66 years, Marthlyn Johnson and two children, son Steven Johnson and his wife Debbie (Tate) of Star, Idaho and a daughter Janet Johnson-Loveland and her husband Gerald of Payette, Idaho. Laurence also leaves behind three grandchildren, Michael (Jennifer), Lindsey and Brad and three great-grandchildren Carol, Korben and Logan. In addition, he leaves his brother, Loyal Johnson (Barbara), of Grants Pass, Oregon and numerous nephews and nieces.
The family would like to thank the wonderful staff at the Cottages for the loving and patient care they provided Laurence over the past few years. Graveside services will be held at a later date for the family.